Hall of Fame Boston Red Sox LF Jim Rice has come to MLB: The Show 22 in Diamond Dynasty mode as a reward in one of the programs. Jim Rice can make a great addition to any lineup, so how can you earn his player card in Diamond Dynasty?
You can earn 94 OVR Lightning Jim Rice in the May Monthly Program by earning 150 stars. To earn stars in the May Monthly Program, go to Programs, select May Monthly Program, then scroll down to the Moments to complete.
Related: How to complete 'maybe I should try a new bat' mystery mission in MLB The Show 22 Diamond Dynasty
The May Monthly Program is broken up into three stages, which require you to collect players before moving to the next stage. These players can be collected by completing the Topps Now Weekly Moments as they release. Throughout May, more moments will release, giving access to the next stages. Much like the April program, you will not be able to earn all the rewards until all the moments release. Luckily, the programs seem to not expire, so Jim Rice will be attainable through the program for a while at least.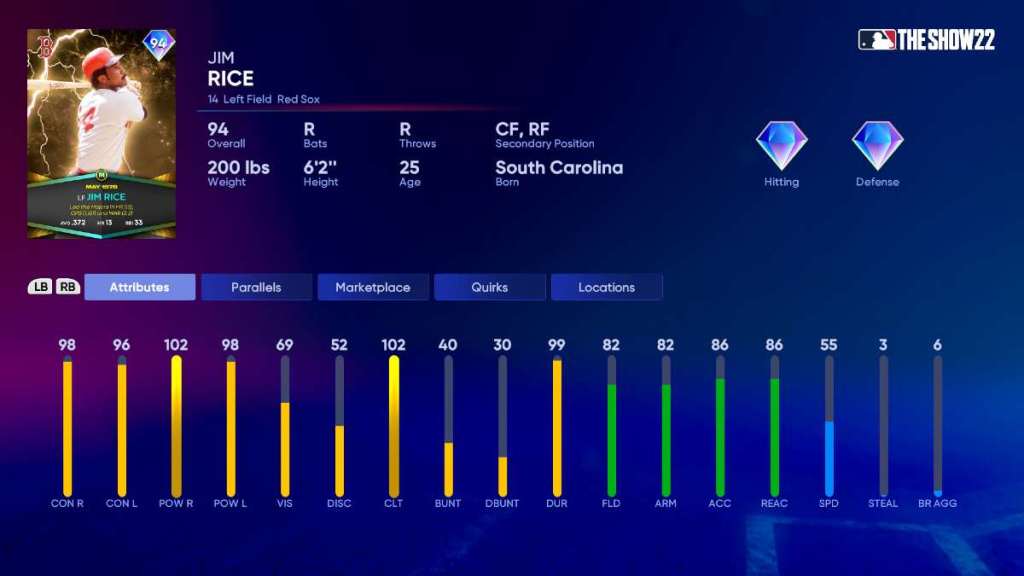 Most of the moments are short and are played on Rookie or Veteran difficulty, so they can be completed pretty quickly. Stage 2 and 3 do feature tougher challenges, but more stars are earned, giving you more of the top rewards. Besides Jim Rice, you can earn the Lightning Strike stadium sound, the Lightning Bat Skin, and a ton of mystery rewards.
Lightning Jim Rice is an overall beast in Diamond Dynasty. Rice is among the best hitters in the game with insane contact and power against both righties and lefties and boasts a 102 Clutch rating. His fielding is also great, and the only area he lacks in is speed and base running.
For a 94 OVR card, Rice does not have as many quirks as others, but he does have six of them that are very useful. Rice can play any position in the outfield, so look to add him to your lineup, even if it is at a secondary position for him.
Looking for more MLB: The Show 22? Check out MLB: The Show 22 Spring Cleanup Program – Rewards, missions, and XP track on Pro Game Guides.