Monster Hunter Rise: Sunbreak is a large expansion coming to the popular Nintendo Switch title Monster Hunter Rise in 2022, and with pre-orders becoming available, players can secure some coveted bonuses. Depending on which edition of the game players grab, they'll garner different rewards. Make sure you know what comes with each edition of the game.
The Digital Deluxe Edition of Monster Hunter Rise: Sunbreak includes content exclusive to this version of the game. While the Deluxe version is more expensive, it comes with additional bonuses that players can only find here. We've showcased these benefits below:
Related: All new monsters coming to Monster Hunter Rise Sunbreak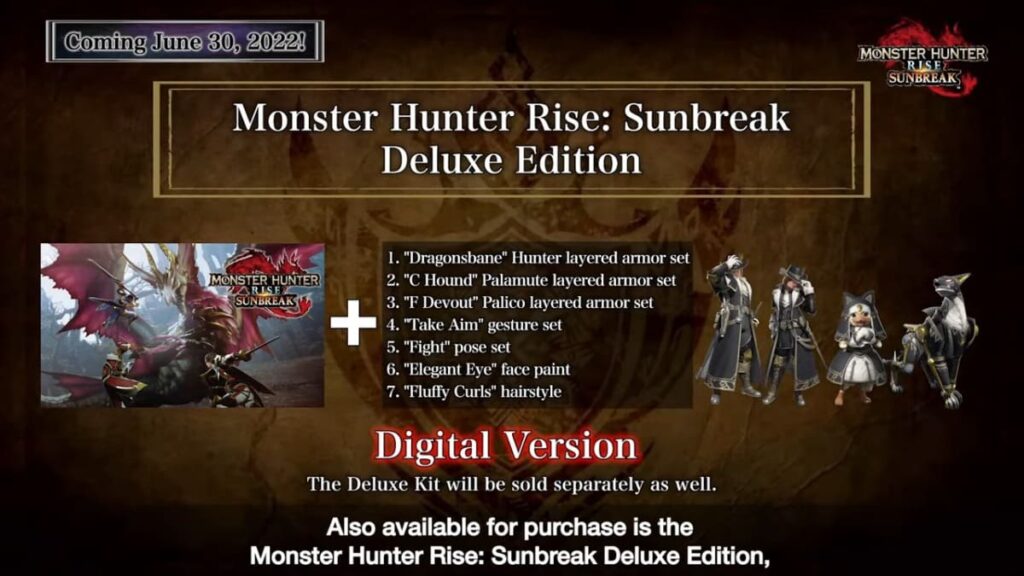 "Dragonsbane" Hunter Layered Armor Set
"C Hound" Palamute Layered Armor Set
"F Devout" Palico Layered Armor Set
"Take Aim" Gesture Set
"Fight" Pose Set
"Elegant Eye" Face Paint
"Fluffy Curls" Hairstyle
The Deluxe Edition of Monster Hunter Rise: Sunbreak costs $49.99, while the Standard Edition costs $39.99. The Deluxe Kit can be purchased separately at a later date, as well.
Additionally, those who pre-order any version of the game will receive unique skins for their Palico and Palamute companions.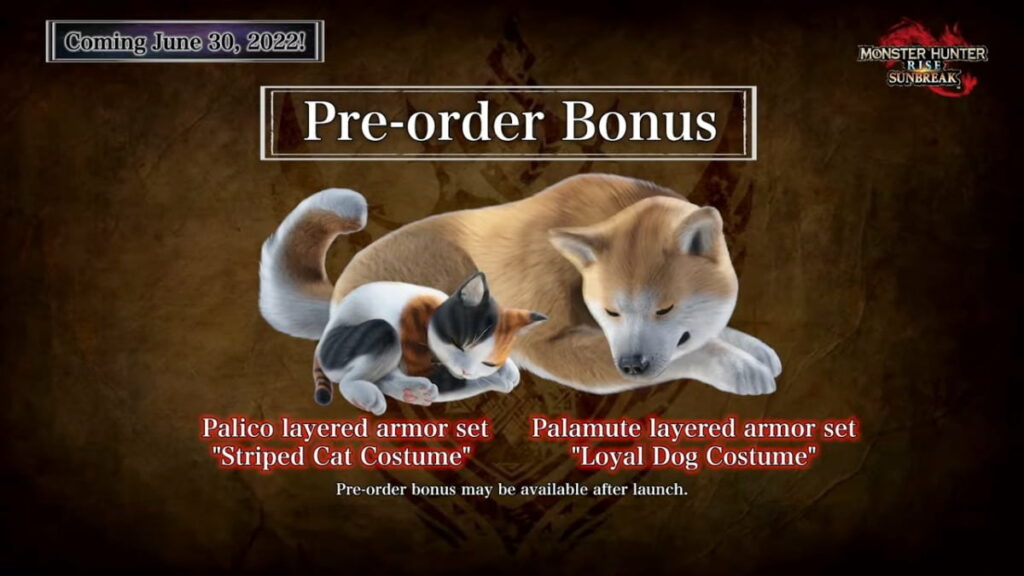 Palico Layered Armor Set: "Striped Cat Costume"
Palamute layered Armor Set: "Loyal Dog Costume"
Monster Hunter Rise: Sunbreak releases on the Nintendo Switch on June 30, 2022. Pre-orders for the expansion are available starting March 15, 2022, on the Nintendo eShop.
For more on Monster Hunter, be sure to visit some of our other articles here on Pro Game Guides.