Golden Muck is a material that, while initially available in Monster Hunter Rise, has had renewed prominence in Sunbreak due to its uses in several upgrades. An uncommon material that only drops occasionally from monsters, Golden Muck can be hard to farm without a guide. Here's how to get Golden Muck in Monster Hunter Rise: Sunbreak.
Where to find Golden Muck in MHR Sunbreak
Golden Muck is a Low-Rank material from the Monster Almudron. Unfortunately, if you're playing Monster Hunter Rise: Sunbreak, you may be missing out on this material, as there's not a tremendous amount of opportunity for it to drop outside of Low-Rank hunts of the Almudron.
Golden Muck has a 22% chance to be a target-hunted reward, 13% chance for two to drop from a captured reward, and 30% chance to be carved from the Monster upon slaying. This means that you'll likely get one or two Golden Muck's per Almudron you hunt. Almudron can also occasionally drop Golden Muck while you're fighting it.
Related: All new endemic life introduced in Monster Hunter Rise: Sunbreak
Quests to get Golden Muck & Best Way to Farm Golden Muck in MHR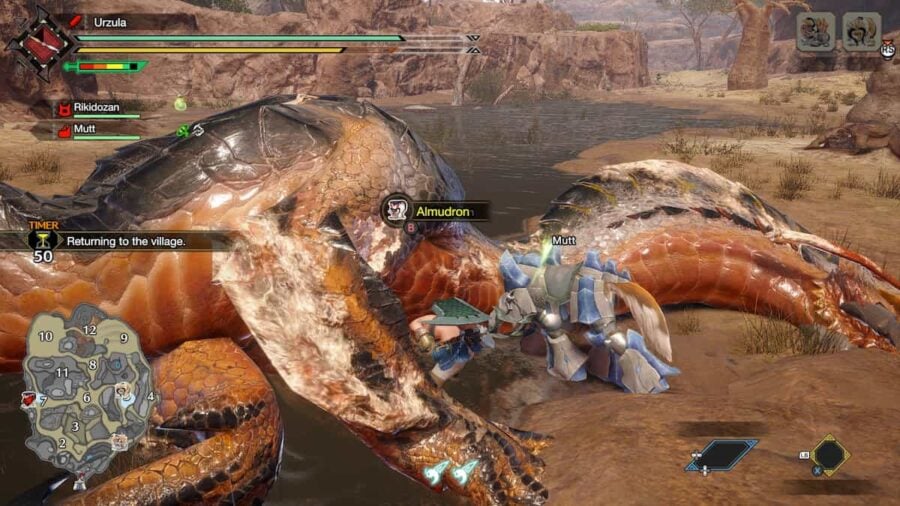 Your best chance to farm Golden Muck is to take on quests that have hunting Almudron as a target. For example, the six-star Urgent Village Quest, Hermit of the Swamp, has you hunt an Almudron. It's unlocked by completing the required amount of five-star Village Quests. Alternatively, Almudron is a three-star monster in the Hub Quests, under the quests Tail to Tail and Down 'n' Dirty.
Weapons crafted with Golden Muck in MHR Sunbreak
Golden Muck is used to craft several weapons, including the majority of the Almudron weapons. It's also a material used in the Ninja Parasol I, Odyssey Blade I, and Origami Axe. In addition, you'll need two Golden Muck to upgrade almost all Almudron weapons, as well as items such as the Mud Ripper I, Sleepy Shellsword II, and Wroggi Hammer II.
For more Monster Hunter Rise: Sunbreak guides and info, check out Where to find Purecrystal in Monster Hunter Rise Sunbreak on Pro Game Guides.