In each home region in Monster Hunter Stories 2: Wings of Ruin, near the Quest Board, you'll find a large pot with what looks like a grinning face on the front. This is the Prayer Pot, and it offers Riders all sorts of different boons that prove useful for adventuring—for example, obtaining more items out in the wild, or earning extra EXP points during battles.
You can level up the Prayer Pot by frequently using charms. You can also use prayers, amiibos, and Tsukino's Lunar Luck here.
Related: How to farm EXP and level up quickly in Monster Hunter Stories 2: Wings of Ruin
How to use Prayers
Every Rider will start out with only one prayer, which increases your EXP earned during battle. The more you level up the Prayer Pot—a process which involves turning over plenty of charms—the more prayers and benefits will be offered to you. Some examples of these later prayers include perks for gathering, luck, defense, and more.
Prayers last for as long as you're out in the field; the prayer's effects will end once you return to your village or any home region.
How to use Charms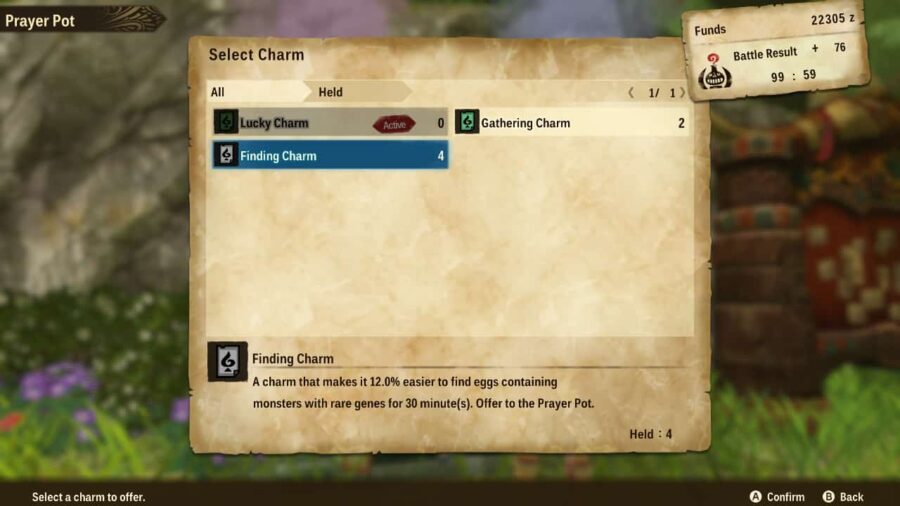 Each charm lasts for 30 minutes, but you can stack multiple charms at once to extend the duration of a certain perk. Charms and prayers can be active simultaneously. Every time you level up the Prayer Pot, you'll receive a small number of charms. You can also obtain more charms while exploring out in the wild.
How to Level Up the Prayer Pot
For each level until 11, you'll need to "feed" the Prayer Pot five charms. After the Prayer Pot reaches level 11, the amount of charms needed to level up will slowly increase. Levels 11-15 will require 10 charms for each advancement, then 15 charms for levels 15-20, and so on.
Reaching level 20 with the Prayer Pot will double the effects of many charms as well as strengthen the offered prayers. You will also receive 30 Heart Churros.
Tsukino's Lunar Luck
After meeting Tsukino, you'll be able to request a daily fortune telling from her, which will net you helpful items or party buffs.
We've got guides on how to make all monsters retreat in Monster Hunter Stories 2, as well as how to redeem DLC items, where to find all Royal Monsters, and more!