My Time at Sandrock is a cozy game where you undertake the role of builder and help restore the town of Sandrock to its previous glory. You will do this with the help of your workshop by completing commissions for the town and citizens. This may leave you wondering how to upgrade and expand your workshop in My Time at Sandrock.
How to upgrade your yard in My Time at Sandrock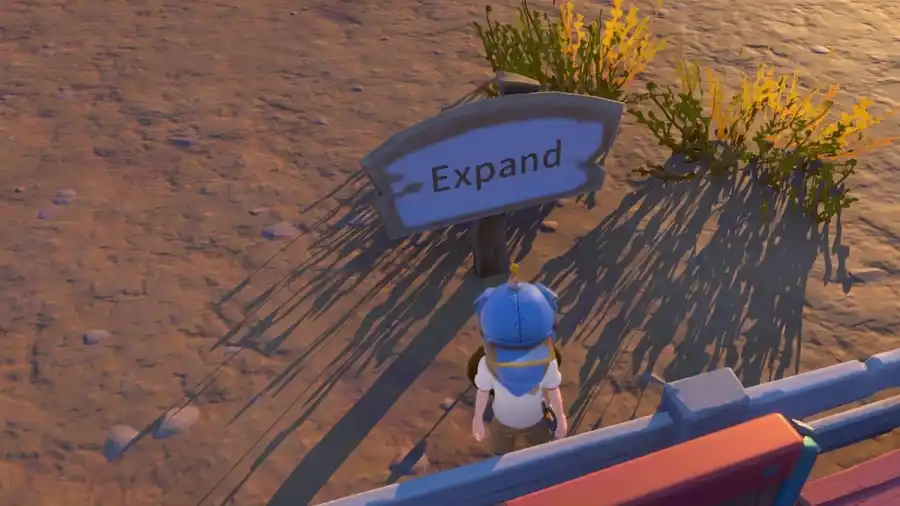 Early on, you will notice that your workspace, your yard, is fairly limited in the beginning. Fortunately, you can expand it and increase the size of your yard. To do this, simply hop over the fence behind your workshop and interact with the Expand sign. You will need 1,000 Gol to expand your yard, but this is well worth it, as you will need more and more room as your production expands.
How to upgrade your workshop in My Time at Sandrock
To upgrade your workshop, you will need to make a trip into town. Look for the Construction Junction located near City Hall. This shop is owned and operated by Heidi, Sandrock's local architect. You can purchase valuable construction materials here, but that isn't why you are here now.
Look near the entry of Construction Junction to find Heidi's desk. Here, you will find a book titled Construction Junction Manual. This will let you upgrade your workshop and move things around. For now, find the two arrows, as this is the option to upgrade your workshop. You will need materials and Gol to do this. The materials are typically:
Stone Slate
Wooden Board
Copper Screws
The cost and required materials will increase as you continue to expand and upgrade your workshop, and you'll require other materials as well. Make sure you are stocking up on the required materials so you can continue to upgrade your workshop and yard.
For more information on My Time at Sandrock, check out How to increase your inventory space in My Time at Sandrock and How to get Old Parts in My Time at Sandrock on Pro Game Guides.