A publication in Taiwan called 'The Economic Daily News' reported multiple manufacturing sources saying, the new version of the Nintendo Switch will include enhanced interactivity features and improved visual quality. This could mean anything from playing games at a higher framerate to a higher resolution from full HD or even 4k. A report from Bloomberg also mentions that Nintendo may have a full line up of games that could be announced soon in regards to this new Nintendo Switch, however, this is still speculation.
To support such a high resolution would require significantly stronger hardware and would likely mean a higher price. This would be out of character for Nintendo since they've always had a history of affordability and gameplay, rather than visuals. However, back in February 2020, a job ad was posted by NVIDIA. According to this new ad, NVIDIA is looking for a Senior Embedded Software Engineer for the Tegra Solutions Engineering team to work on "next-generation graphics & AI technologies for gaming consoles and AI edge devices." This new engineer will work on "solutions to use artificial intelligence in graphics technologies like NVIDIA's DLSS 2.0."
This technology is known as Artificial upscaling (AI upscaling) which allows the game to render the visuals at a significantly lower resolution, and the AI upscaling software adds pixels and detail itself to make its final output be in 4k resolution. This method almost perfectly recreates the image to look, how it would have looked if it were originally rendered at 4k. This method also was reported to increase performance by up to 40%. This means it is theoretically possible for Nintendo to be creating a console that takes advantage of NVIDIA's DLSS 2.0 upscaling method to deliver games at 4k resolution with little additional costs on hardware.
Finally, the Nintendo Switch recently received a firmware update 10.0.0 that was discovered by Mike Heskin who posted this tweet: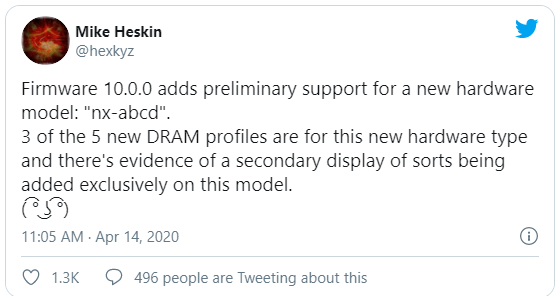 This could mean a that the new Nintendo Switch could come with a second screen or support a second screen. For example, mirroring the display to the living room TV as well as the console's display. This could also be used similarly to how the Nintendo's last console, the Wii U that used Asymmetrical gaming. Where one person only sees the console's screen, while other players can only see the TV.
Could it be the Switch 2, Switch Pro, or take the route of the 3DS and simply be named, "New Nintendo Switch?"