Doomfist is a tank hero in Overwatch 2. Doomfist has been reworked in Overwatch 2 to be a Tank hero. Junker Queen and Doomfist expand the tank roster in Overwatch 2, using the new design philosophies in Overwatch 2. Doomfist has been significantly reworked in Overwatch 2, changing his role to the tank. Here is our guide for Doomfist in Overwatch 2.
Doomfist Abilities Explained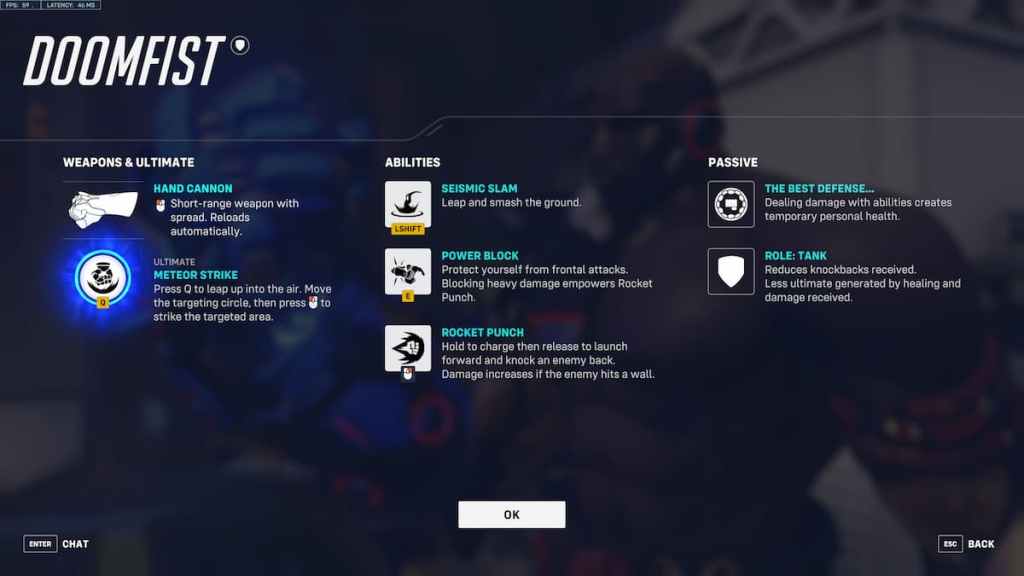 Weapon and Ultimate
Hand Cannon - A short-Range weapon with spread. Hand Cannon reloads automatically.
Meteor Strike - Leap into the Air. Move the targeting circle and press Primary Fire to strike.
Abilities
Seismic Slam - Leap and smash the ground.
Power Block - Protect yourself from frontal attacks. Blocking empowers Rocket Punch.
Rocket Punch - Hold to charge, then release to launch forward and knock an enemy back. Damage increases if the enemy hits a wall.
Passive
The Best Defense... - Dealing Damage with abilities created temporary personal health.
Role: Tank - Reduces knockback received. Less ultimate generated by healing or damage received.
Doomfist changes from Overwatch
Rising Uppercut was removed from Overwatch 2. Doomfist's other abilities remain essentially the same but their effects have changed. With moving to the tank category, Doomfist's overall damage potential has been reduced while his survivability has been increased. Rocket Punch can now hit multiple targets, significantly decreasing its damage, and seismic Slam can no longer be charged to increase its damage.
Doomfist General Tips
Doomfist is a dive tank similar to Winston or D.Va. Doomfist has extreme mobility that allows him to cover large distances to attack the enemy supports and make it back to his team when needed. Doomfist players should focus on this playstyle while using their mobility to stay alive.
Doomfist is one of the most mobile tanks. Use this to your advantage.

Cancel Power Block into Rocket Punch to get extra movement.
Jump at the end of Rocket Punch to travel further.
Meteor Strike can be used to escape.

Rocket Punch can now hit multiple enemies.

Power Block charges Rocket Punch's damage.

Use Hand Cannon to apply pressure when your other abilities are on cooldown.
For more Overwatch 2 hero guides, check out How to play Junker Queen in Overwatch 2 – Tips and Abilities Guide here on Pro Game Guides.