Orisa is a tank hero in Overwatch 2. Like Junker Queen, Orisa follows the new design principle of Overwatch 2, trading defensive capabilities for offensive prowess. Orisa has been significantly reworked in Overwatch 2 to be more mobile, with unique abilities. Here is our guide for Orisa in Overwatch 2.
Orisa Abilities Explained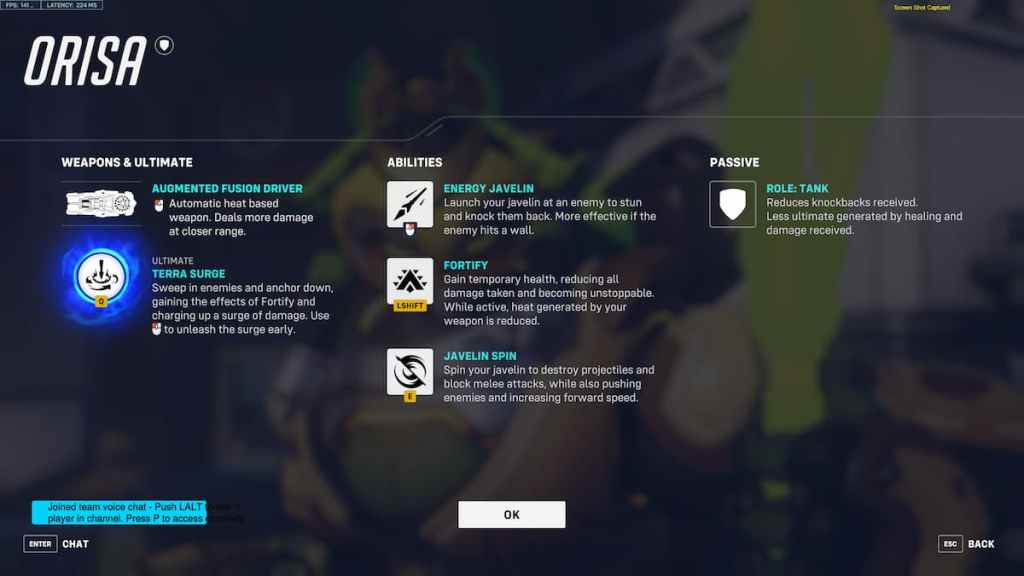 Weapon and Ultimate
Augmented Fusion Driver - An automatic projectile-based weapon. The weapon has unlimited ammo but overheats after use, requiring time to cool down. It deals more damage at close range.
Terra Surge - Gain Fortify, sweep in enemies and anchor down, charging up a surge of damage. Use Primary Fire to release the surge early.
Abilities
Energy Javelin - Launch your javelin at the enemy to stun and knock them back. More effective if the enemy hits a wall.
Fortify - Gain temporary health, reducing all damage taken and becoming unstoppable. While active, heat generated by your weapon is reduced.
Javelin Spin - Spin your javelin to destroy projectiles and block melee attacks while pushing enemies and increasing your movement speed.
Passive
Role: Tank - Reduces knockback received. Less ultimate generated by healing or damage received.
Orisa changes from Overwatch
Orisa has received significant reworks from Overwatch to Overwatch 2. The primary difference is that Orisa is now more mobile and has no barriers. Orisa's Overwatch abilities Halt, Protective Barrier, and Supercharger, have all been removed. Orisa's Fusion Driver was updated to have unlimited ammo and use an overheating mechanic rather than having ammunition.
Orisa General Tips
Due to Orisa's changes, their playstyle is quite different in Overwatch 2 but they still fit a defensive Tank role. Orisa is best used to control a particular position on the map, utilizing her Energy Javelin and Javelin Spin to prevent enemies from taking space against you.
Automated Fusion Driver has low overall damage and effective range.

Focus on Supports and DPS.
Energy Javelin is a great way to finish off enemies weakened by Automated Fusion Driver.

Fortify, and Javelin Spin make Orisa one of the most durable tanks. Cycle these abilities to stay active in fights.
Use your Javelin to displace enemies and keep them away from your team.
For more Overwatch 2 hero guides, check out How to play Junker Queen in Overwatch 2 – Tips and Abilities Guide here on Pro Game Guides.