Our Overwatch Baptiste Guide will go over all of the currently known info and go into his backstory as well as how-to use him effectively! We're taking a look at the lore behind the character, tips, release date, abilities, skins, and any other information we can get our hands on!
A lot of information has been revealed quite quickly now that Baptiste is in the PTR and soon to be on live servers. We've got his full origin story listed below, and there's also information on his abilities including his ultimate and interesting passive.
Baptiste Release Date
Baptiste has been released into the Public Test Region (PTR) on February 26th, 2019! Baptiste will be released to live servers on March 19th, 2019!
What Are Baptiste's Abilities?
Main Weapon: Biotic Launcher
Baptiste's three-round-burst Biotic Launcher rewards accuracy and recoil control with significant damage output. It also doubles as a healing device, lobbing projectiles that heal allies near the point of impact.
Your main fire mode is a three round burst that does a fair bit of damage. You get 45 rounds before having to reload, and the recoil on this appears to go directly upwards. The alt-fire is your healing grenade, and you get 10 rounds before having to reload. You can hold down the alt-fire and repeatedly fire grenades onto your target. The healing projectiles do not deal damage to your enemies and you cannot heal yourself with them. Reloading replenishes both ammo types.
Ability: Regenerative Burst
Baptiste activates an intense regenerative burst that heals himself and nearby allies over time.
This will heal you and nearby allies for 150 hp over time, it has a 15 second cooldown.
Ability: Immortality Field
Baptiste uses a device to create a field that prevents allies from dying. The generator can be destroyed.
This isn't really a shield, and it only prevents damage when you are basically at death's door. You can't die while you are inside of the field so this will be a pretty important part of his kit. The device you place can be destroyed, so you will need to either hide it around a corner or be prepared to heal anyone inside of it immediately. It works really well against 1-shot heroes like Widowmaker and Hanzo who won't be able to destroy the device if it is covered correctly. The Immortality Field has a 20 second cooldown.
Ultimate: Amplification Matrix
Baptiste creates a matrix that doubles the damage and healing effects of friendly projectiles that pass through it.
This is your ultimate ability and it will double damage or healing effects from friendly projectiles that pass through it. It operates a lot like Mei's Ice Wall, and you can change the direction of how it is placed by hitting the ultimate key again.
Passive: Exo Boots
By first crouching, Baptiste can jump higher.
This can be charged by continually holding crouch for maximum boost. You need to press jump when you want to engage the boost, when it is fully charged you can let go of crouch and the boost will still be enabled briefly.
Tips for Baptiste
Your Immortality Field (bot) is best placed behind cover and has usability in many different scenarios. If you are playing against a team that has combo ultimates like Zarya with Hanzo then it's best to hold it if you think their ultimates are on the way.
LOS (line of sight) is required to obtain the invulnerability from the bot. So, while it's good to put it behind cover, you can't go too far away from it regardless of if you are in the boundaries of it.
You can use the bot to cover yourself from long range snipers and give you and your teammates the ability to peak against them without worry of getting one shot.
You can throw the bot very far! If you get good enough with this you can save players who dive in on the other team.
The bot will counter ultimates like Junkrat's tire and D.Va's bomb.
You can tell players are under the influence of the Immortality Field when you see a bar at the end of their health bar. The health is also highlighted a different color, it's in blue by default.
You can take damage in the field, but only up until that aforementioned bar.
Baptiste's jump boost can be charged and launches you very high when full. You can release crouch and move around a bit and still use it by pressing jump.
You can use the jump boost to get to high spots and hold high ground at times.
Believe it or not your Regenerative Burst heals teammates around you. It seems like an ability that would only heal yourself, but it does heal team members that are in range.
Regenerative Burst is a heal over time, it does not give you the health instantly.
Your heal grenades will splash heal, so the majority of the time you will want to land it on the ground near your teammates.
You cannot heal yourself with the heal grenades.
Baptiste's ultimate can be paired with other damage boosting abilities like Ana and Orisa's ultimate or Mercy's damage boost.
The ultimate does NOT protect you from damage. It does look like it should mitigate damage or prevent some but it doesn't.
Baptiste's Skins & Cosmetics
Baptiste's first batch of skins has been released on the PTR, so check those out below! Rare skins cost 75 credits, Epic are 250 credits, and Legendary are 1,000 credits.
Baptiste's Backstory
Biography
Jean-Baptiste Augustin, Age: 36

Occupation: Combat Medic

Base of Operations: Tortuga, Haiti (formerly)

Affiliation: Caribbean Coalition (formerly), Talon (formerly)
Backstory
An elite combat medic and ex-Talon operative, Baptiste now uses his skills to help those whose lives have been impacted by war.

Jean-Baptiste Augustin was one of the 30 million children orphaned by the Omnic Crisis. With limited opportunities and resources, he enlisted in the military. The Caribbean Coalition, a pan-island force formed in response to the Crisis, became his new home. Guided by his innate desire to help people, Baptiste chose the path of a combat medic and served in an elite branch of the Caribbean Coalition's special ops.

After his service was complete, Baptiste struggled to find a demand for his unique skills. He turned to one of the few opportunities open to him: joining the Talon mercenary group, one of the many organizations that were poised to profit off the chaos in the war's aftermath.

For the first time ever, Baptiste had a taste of the good life. Talon's missions were easy and paid well, and he put aside some of his earnings to set up a clinic in his hometown. But slowly, his unit's orders escalated in brutality, expanding into assassinations and operations with civilian casualties. Confronted by his team's actions, Baptiste realized he was perpetuating a cycle of violence like the one that had destroyed his own community. He abandoned Talon, disgusted with what he had done and determined to forge a new path for himself.

But Talon would not let him go. Baptiste knew too much, and they sent operatives after him to silence him. Agent after agent came for him, including Baptiste's former comrades. To stay under the radar, Baptiste drifted from place to place, aiding in humanitarian efforts around the globe. The few Talon members who managed to track him down were never seen again.

Now, Baptiste works toward a better world, healing where he can and fighting when he must. He knows that he cannot undo his past—but that making a difference now is what matters.
Baptiste Gameplay
If you want to see Baptiste in action, take a look at Seagull pilot him a bit in the PTR!
Baptiste Teasers
Update: Baptiste Trailer (2/25/2019)
The origin story of Baptiste has been revealed! Check out the video below. Looks like he'll have a weapon that kind of reminds me of Junkrat, but also strongly resembles Demoman from Team Fortress 2. It's likely that his weapon will be similar to Ana's and it will heal or deal damage depending on the target. We still don't know for sure, so we'll keep you updated once we get the details!
Original Release
⚠️ Unauthorized Access Detected...

> TALON FIREWALL... Bypassed
> Accessing file... [CLASSIFIED] Communications Record of Captain Cuerva, D.

📂 🔎 https://t.co/BsA5OherBz pic.twitter.com/hqmknCo9HB

— Overwatch (@PlayOverwatch) February 21, 2019
If you follow the link in that tweet, you'll find an account by Captain Cuerva about his missing strike team. It appears that Baptiste's real name is Jean-Baptiste Augustin. He was trained by Talon and Captain Cuerva, he was a medic and a particularly good shot. It almost sounds exactly like Ana, but we'll see what he actually ends up being like. Here's the key bit in the letter:
I know better than to underestimate Baptiste. I helped train him myself, and he was one of our best. I've never known a medic to be such a good shot, and his adaptability to new situations is a rare talent. All of us have seen our fair share of conflict, but Baptiste was built to survive. I swear he has the Devil's own luck.
The key takeaways are medic, good shot, and adaptability. So, it's very likely a support class with potentially more ability to be aggressive than the previously mentioned Ana. The adaptability part is also different, potentially he might be able to switch into different combat modes that favor either offense or healing? It's all speculation right now, but take a look at everything down below for more information.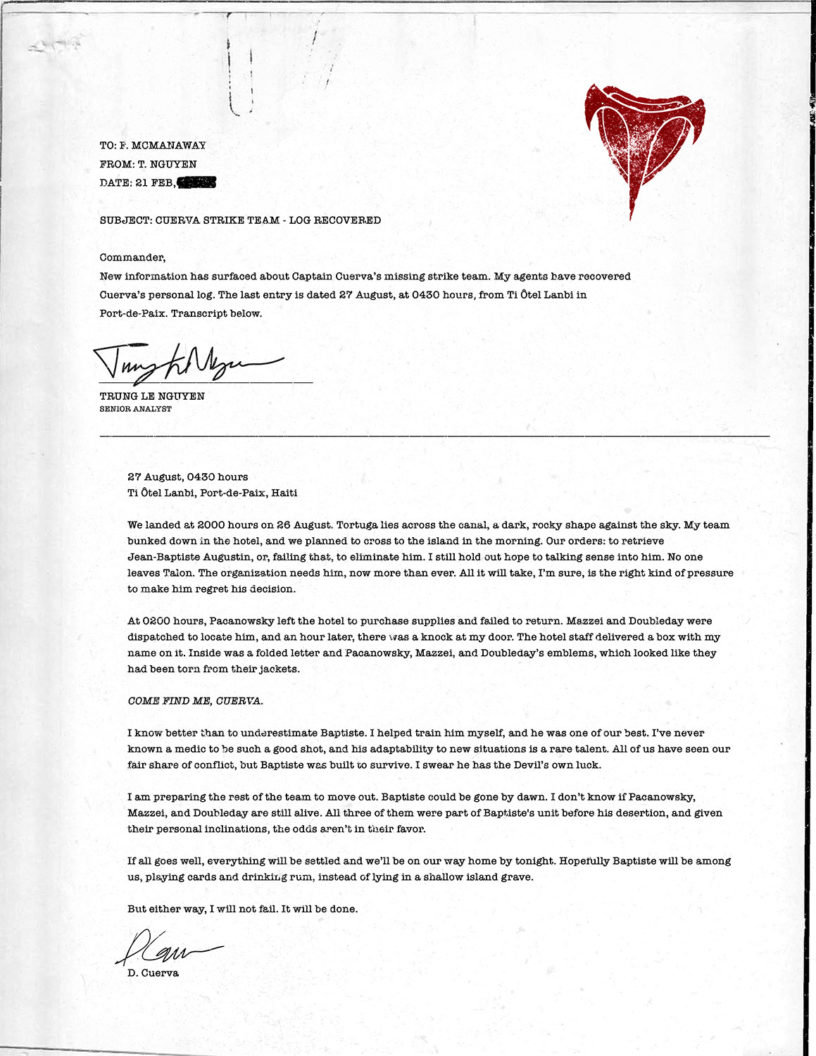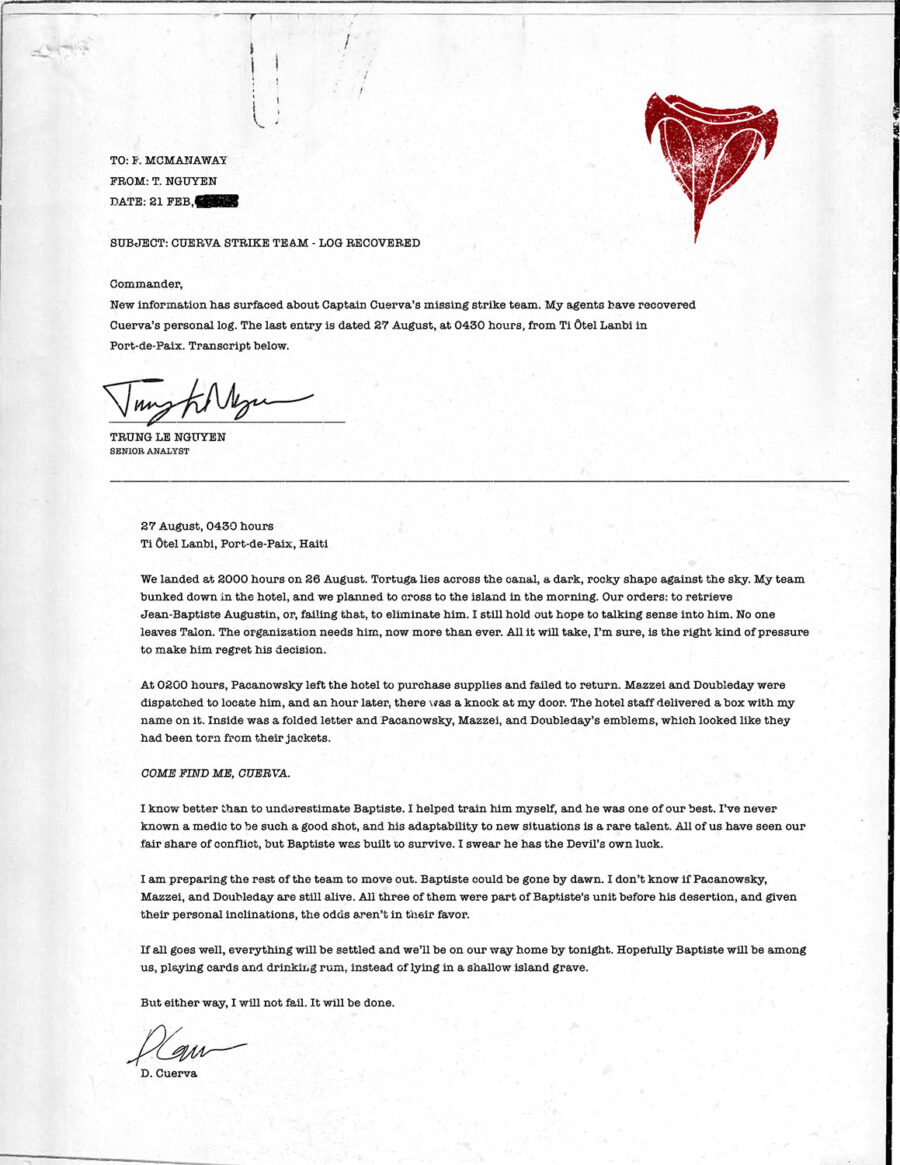 Here's a full transcript of the letter:
TO: F. MCMANAWAY
FROM: T. NGUYEN
DATE: FEBRUARY 21, ____

SUBJECT: CUERVA STRIKE TEAM - LOG RECOVERED

Commander,

New information has surfaced about Captain Cuerva's missing strike team. My agents have recovered Cuerva's personal log. The last entry is dated 27 August, at 0430 hours, from Ti Ôtel Lanbi in Port-de-Paix. Transcript below.

SENIOR ANALYST
TRUNG LE NGUYEN

27 August, 0430 hours

Ti Ôtel Lanbi, Port-de-Paix, Haiti

We landed at 2000 hours on 26 August. Tortuga lies across the canal, a dark, rocky shape against the sky. My team bunked down in the hotel, and we planned to cross to the island in the morning. Our orders: to retrieve Jean-Baptiste Augustin, or, failing that, to eliminate him. I still hold out hope to talking sense into him. No one leaves Talon. The organization needs him, now more than ever. All it will take, I'm sure, is the right kind of pressure to make him regret his decision.

At 0200 hours, Pacanowsky left the hotel to purchase supplies and failed to return. Mazzei and Doubleday were dispatched to locate him, and an hour later, there was a knock at my door. The hotel staff delivered a box with my name on it. Inside was a folded letter and Pacanowsky, Mazzei, and Doubleday's emblems, which looked like they had been torn from their jackets.

Come find me, Cuerva.

I know better than to underestimate Baptiste. I helped train him myself, and he was one of our best. I've never known a medic to be such a good shot, and his adaptability to new situations is a rare talent. All of us have seen our fair share of conflict, but Baptiste was built to survive. I swear he has the Devil's own luck.

I am preparing the rest of the team to move out. Baptiste could be gone by dawn. I don't know if Pacanowsky, Mazzei, and Doubleday are still alive. All three of them were part of Baptiste's unit before his desertion, and given their personal inclinations, the odds aren't in their favor.

If all goes well, everything will be settled and we'll be on our way home by tonight. Hopefully Baptiste will be among us, playing cards and drinking rum, instead of lying in a shallow island grave.

But either way, I will not fail. It will be done.

D. Cuerva