There are many, many foods to try in Pokémon Scarlet and Violet. Frequently they are foods inspired by Spanish cuisine, but occasionally they are just common foods that mostly anyone enjoys, like ice cream. Ice cream and other foods found in Paldea are frequently worth buying, as they all have meal powers that can help you in various ways.
What does ice cream do in Pokémon Scarlet & Violet?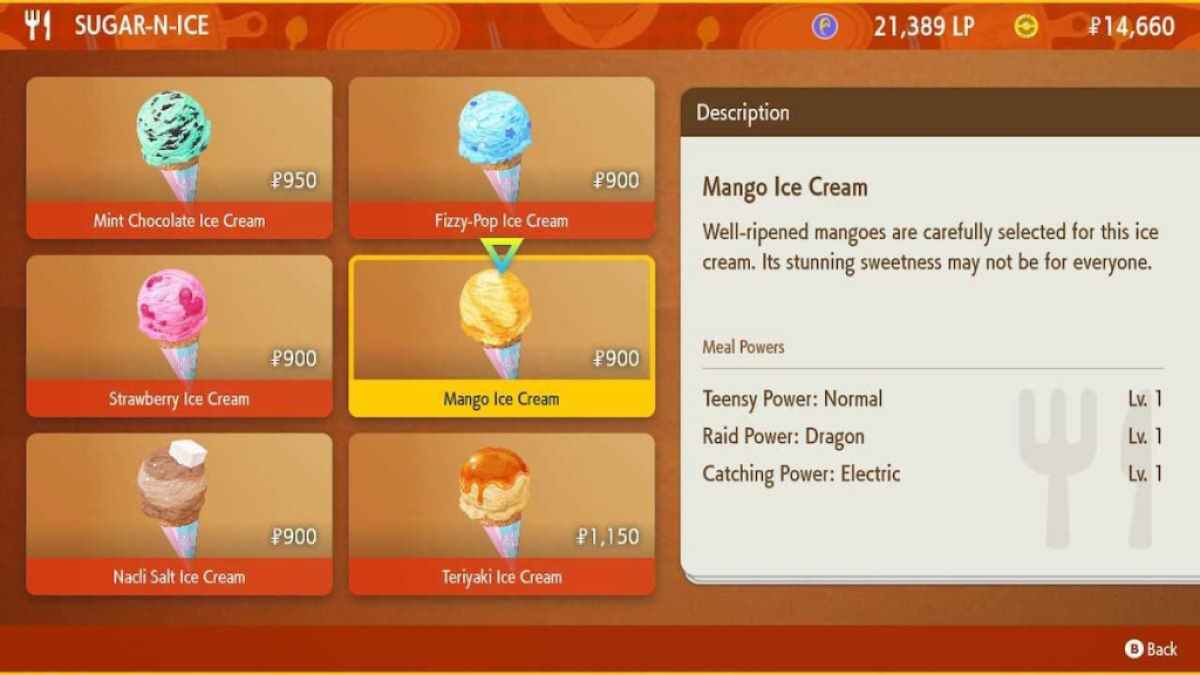 Buying and eating ice cream will provide you with various meal powers depending on the type of ice cream that you get. In the example above, eating Mango Ice Cream will increase the likelihood of finding small, Normal-type Pokémon in the wild, increase the raid items dropped by Dragon-type Raids, and make catching attempts of Electric-type Pokémon more successful. So, if you're looking for Tandemaus, eating this dish will help you.
Related: Best Nature for Rolycoly, Carkol, & Coalossal in Pokémon Scarlet & Violet
Ice cream can be found at various stalls in cities throughout Paldea. There is one just on your right as you walk up your first set of steps in Mesagoza, the first city you reach in Pokémon Scarlet and Violet. There are also many, many other shops that sell other food with meal powers. If you're on a budget, you could also try fixing up a sandwich with your Pokémon on a picnic.
Looking for more info on things around Mesagoza in Pokémon Scarlet and Violet? Check out Which direction to go first in Pokémon Scarlet & Violet or What do you get for taking Classes at school in Pokémon Scarlet & Violet? here at Pro Game Guides.