Are you ready for the freezing temperatures of the Crown Tundra? That's right, the latest DLC for Pokémon Sword and Shield has been released, and instead of taking you into caves, beaches, and lush forest in the Isle of Armor, it takes you to the freezing peaks of the Crown Tundra where a boatload of Legendary Pokémon await to be captured!
How to find Dynite Ore
You can get more Dynite Ore in the Crown Tundra by completing Dynamax Adventures. Dynite Ore is actually a new type of item, and it's one of those that is essential to capturing the rare Pokémon in these Dynamax Adventures, so of course, you want a lot of it!
On your journey throughout the DLC, you'll come across certain NPCs that only trade in Dynite Ore, one of them being a farmer who trades for Carrot Seeds. Another one is a collector at the entrance to the Dynamax cave with a scientist, in front of the Sableye. These two have numerous items up for grabs, and they, like the farmer, only trade in Dynite Ore.
Dynite Ore will always be awarded when going on Dynamax Adventures, regardless of whether you win or lose. Of course, strive to win as you get more rewards if you manage to capture the Pokémon waiting for you at the end. But ultimately, even if you fail, you still get some, so at least you're getting something. Dynamax Adventures work very similarly to the Dynamax Raids, which no doubt, if you're playing the Crown Tundra, you know how they work, that if all 4 players Pokémon faint, then you get ejected out of the fight and will have to retry.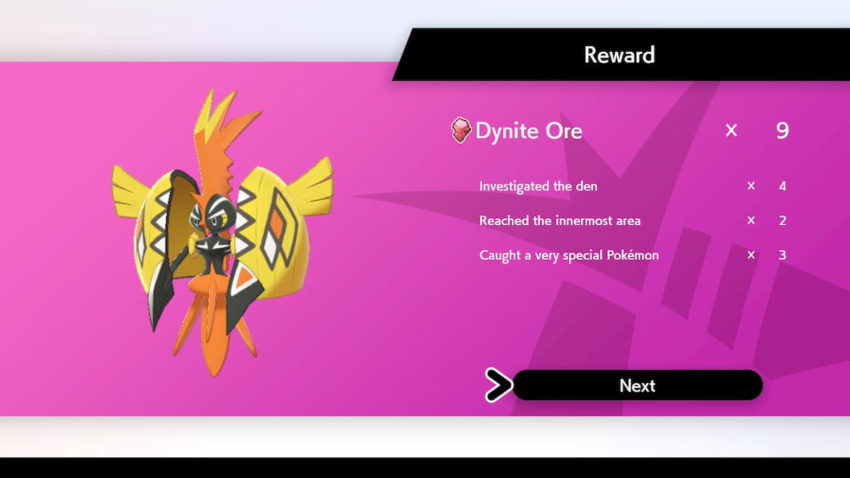 At the end of every Dynamax Adventure, each player will receive a breakdown. This breakdown explains the reasons why additional Dynite Ore was awarded, so if you manage to get quite far into the Adventure, you'll get more. If you manage to capture the Pokémon, especially if it's rare, you'll get more Ore. Once you think you have a decent amount of Ore, go back to the two in the cave and buy some stuff!
The quickest way to acquire Ore is playing these Adventures with your friends, as you'll be able to get into them quicker, as well as having several trustworthy partners helping you out, especially if the Pokémon is worth catching!