Our Pokemon Go how to play with your buddy guide will quickly walk you through the process of interacting with your friend Pokemon in this new update! The buddy update brings a whole slew of new ways you can interact with your buddy Pokemon, and that includes getting to play with them.
How to Play With Your Buddy in Pokemon Go
It's not too difficult to play with your buddy Pokemon! All you need to do is tap on their avatar which is right next to your face at the bottom left of the application. This will initially guide you through feeding your buddy and maxing out their food intake. Once you've done that, your buddy will now be able to go on an adventure with you. You will see them running around you on the map. Now that you've got this done, you can then press on its face again which will open up the buddy menu. You can also access this by tapping on your face and then tapping on your buddy.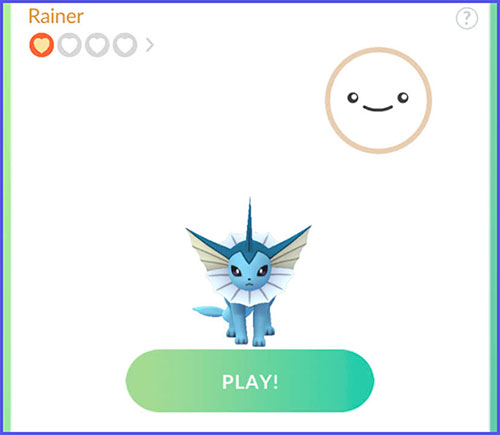 Hit the play button and you will be asked to find a flat surface for you buddy to spawn on. Once you've done that, you will be able to interact with them! Tap on them to get them to do kind of an attack move, and you can also scratch their head which will make them happy (scratch on the glowing golden sparkles)! Those are pretty much the only things you can do for now, but I'm sure they will add some additional ways to play in the near future.
You will want to play with your buddy periodically because it's one of the ways it gains hearts and will unlock additional benefits from having a buddy. Once you level up to a Great Buddy, your Pokemon may help you in encounters and also can bring you items. If you get them to Ultra Buddy, they will let you know about interesting placing nearby and sometimes bring you Souvenirs. Finally, there's the Best Buddy rank which means they will wear a Best Buddy Ribbon, and they will get a CP boost in combat as long as they are assigned as your Buddy Pokemon!
There's also a mood level, as you can see by the face in the screenshot above. If your Pokemon reaches the excited mood, your buddy unlocks some additional Perks: distance for you buddy to find Candy is cut in half, number of hearts earned in actions are doubled, and you can earn bonus hearts.