Roark is the first gym leader in Pokemon Brilliant Diamond and Shining Pearl. Depending on your team, dealing with his Rock-type team can be a solid challenge without the right preparation.
Note: This is for the gym leader fight, not for the rematch fight(s).
Preperation
The biggest difficulty with Roark is how limited your options are early in the game. Water, Grass, Ground, Steel, and Fighting-type Pokemon (and moves) will be your closest friends against Roark, but there aren't a ton of Pokemon (or moves) of these types available just yet. What's more, Rock-types resist Normal, Flying, and Rock-type moves, all of which are readily available this early on. This makes certain early-game options mostly unviable.
If you chose Turtwig or Piplup as your starter Pokemon, then you'll likely have an easy time with Roark. But if you chose Chimchar, you may need to seek out a new party member—even if they're only temporary.
The best option would be the Fighting-type Pokemon, Machop. You can find Machops in the small patch of grass on Route 207, just north of Oreburgh City. You'll need to train it up a bit (against Geodudes preferably), but that shouldn't take too long.
If you're still having problems, you may want to splurge on a few extra healing items at the Poke Mart. There's no shame in healing through a tough fight.
Related: Where to find the Quick Claw in Pokémon Brilliant Diamond and Shining Pearl
The Fight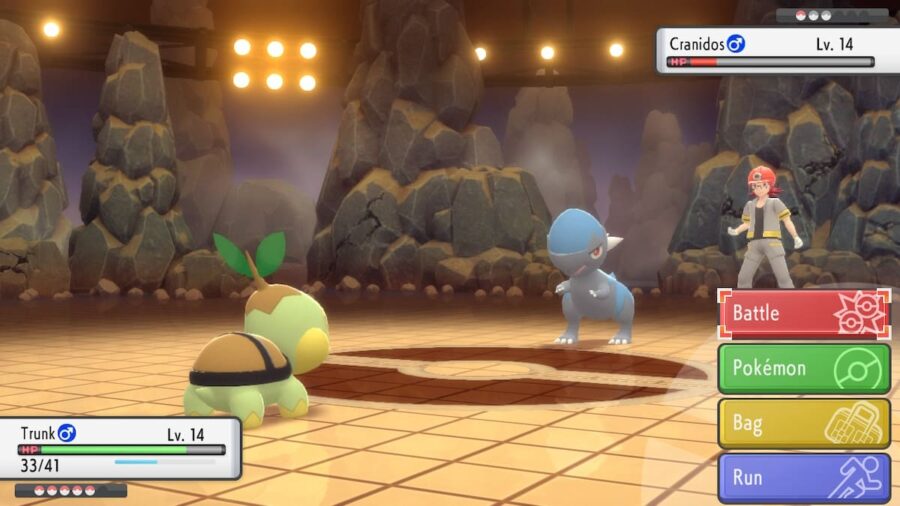 Roark's team consists of a lvl 12 Geodude, a lvl 12 Onix, and a lvl 14 Cranidos, and he will use a single Potion when one of his Pokemon is at low health. The biggest threat is Cranidos, which is not only likely a higher level than your team, but is also a powerhouse with an unexpected move-set.
Geodude and Onix have a dual-weakness to Grass or Water, so Turtwig/Piplup will sweep through them. It also helps that this Geodude doesn't have Sturdy as its ability, so it won't cling on with one HP. But if you don't have Turtwig/Piplup, then Machop can handle them well enough.
Cranidos is a scary Pokemon here, and it has an unusual move-set for a Rock-type gym leader. It has no Rock-type move at all. Instead, it has Headbutt (a Normal-type move), Bulldoze (a Ground-type move), and Leer. This makes Flying-type Pokemon an option and Turtwig even better since Bulldoze doesn't work well against them, but also makes Shinx a bad matchup.
Make use of type advantages and heal your Pokemon if they get too low, and you'll beat Roark in no time! And if you're still having problems, don't worry too much. Train up on some wild Pokemon and try again!
For more Brilliant Diamond/Shining Pearl guides, check out our other fantastic Brilliant Diamond/Shining Pearl guides on Pro Game Guides!