One of the central elements of Pokémon Sword and Shield's battle system is the brand-new Dynamax mechanic – the ability to grow a Pokémon to giant size for three turns, increasing its stats and giving it access to more powerful attacks. Seemingly a key focus of Pokémon League battles, wild Dynamaxed Pokémon can also be found in the Wild Area, requiring a team of several players to take them down in a Max Raid Battle. It looks like Dynamaxing is only possible in some areas of the game, and the player will have to obtain a "Dynamax Band" in order to use it in the first place.
While Dynamaxing seems to be available to all Pokémon species, a select few can reach even more extreme forms through Gigantamaxing. Even among these species, it seems that just a few individual Pokémon actually possess the ability to transform, and you'll encounter many of these special Pokémon in Max Raid Battles! We've been shown a few of these new Gigantamax forms in trailers, with more arriving in the recent series of leaks.
WARNING: Spoilers for Pokémon Sword and Shield to follow, including details from the recent leaks!
Here's a list of the Gigantamax Pokémon we've seen so far, along with everything we know about how to obtain and use them:
Charizard (Fire / Flying)
Charizard's Gigantamax form is first seen in the hands of the Galar region's Champion Leon, so while we don't yet know how we'll obtain this Pokémon, it'll probably be something to do with the Champion himself.
Signature Move: G-Max Wildfire (Fire)
This Fire-type move inflicts damage as well as causing extra damage to the opponent over the next four turns (unless the opponent is Fire-type, in which case this secondary effect won't activate).
Pikachu (Electric)
Gigantamax Pikachu is available to players who own Let's Go Pikachu – just having save data for the game on your Switch will grant you a Gigantamax-ready Pikachu. It's currently unknown whether there are other ways to obtain this Pokémon.
Signature Move: G-Max Volt Crash
This Electric-type move deals damage and paralyses all opponents.
Eevee (Normal)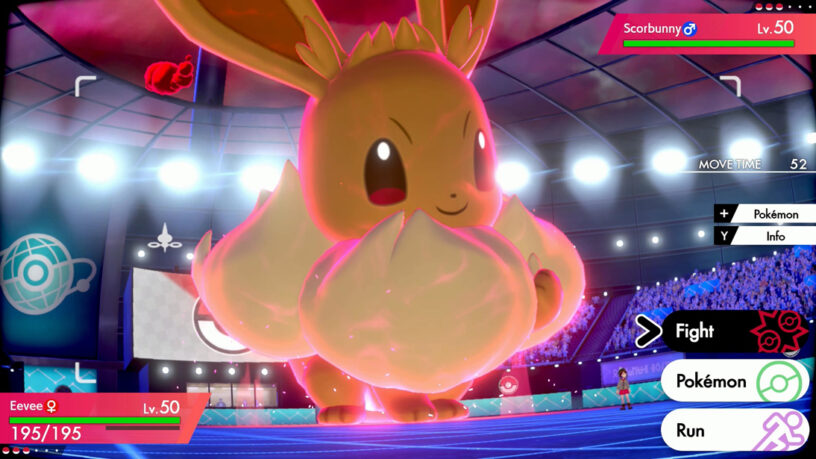 Similarly to Pikachu, Gigantamax Eevee is a bonus available to Let's Go Eevee players. Again, we aren't yet sure if there are other ways to get this Gigantamax form.
Signature Move: G-Max Cuddle
This Normal-type attack causes damage and causes infatuation in any opposite-gendered opponent.
Meowth (Normal)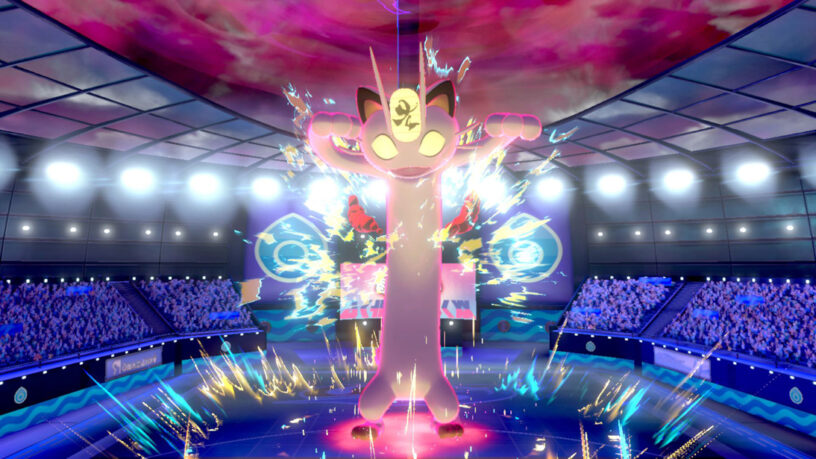 You can get a Gigantamax-capable Meowth via the online Mystery Gift service between the 15th of November and the 15th of January. We don't know of any other ways to obtain this Meowth just yet!
Signature Move: G-Max Gold Rush
Meowth's Normal-type move inflicts both damage and confusion, and also greatly increases the prize money received from battle.
Butterfree (Bug / Flying)
Butterfree's Gigantamax form is available in the wild through Max Raid Battles – and as a limited-time event, it'll appear more frequently to players of both Sword and Shield for a limited time after release! This window runs from the games' launch on November 15th until early January.
Signature Move: G-Max Befuddle
This Bug-type move damages the opponent and may cause poison, paralysis, or sleep.
Corviknight (Flying / Steel)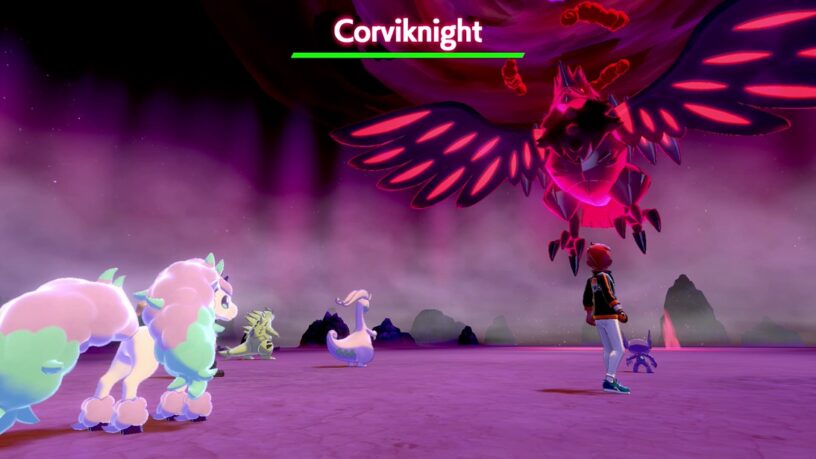 Corviknight's Gigantamax form is available in Max Raid Battles, but is very rare. However, it'll occur more often for players of Pokémon Shield between November 15th and early January 2020!
Signature Move: G-Max Wind Rage
This Flying-type attack damages the opponent and removes the effects of moves like Reflect and Light Screen from the opponent's party.
Drednaw (Water / Rock)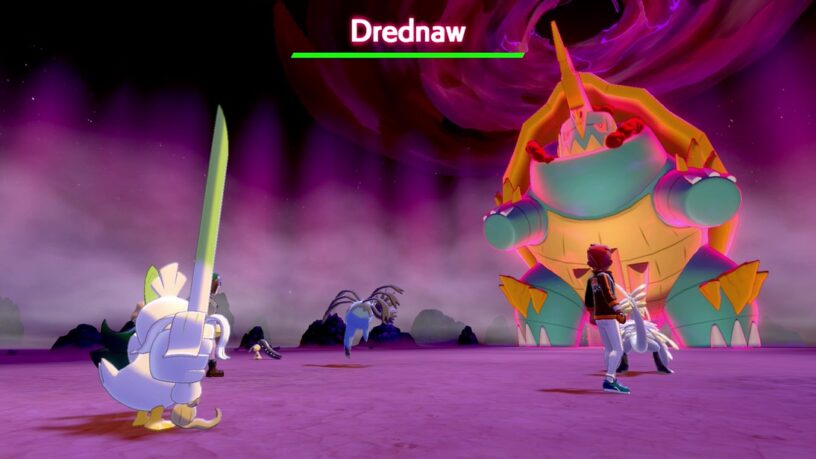 Drednaw can also be found occasionally through Max Raid Battles, but like Corviknight and Butterfree, Drednaw will be more common from release through to early January – this time to players of Pokémon Sword.
Signature Move: G-Max Stonesurge
As well as dealing damage, this Water-type move scatters sharp rocks around the battlefield, so that opponents will take damage upon entering battle.
Alcremie (Fairy)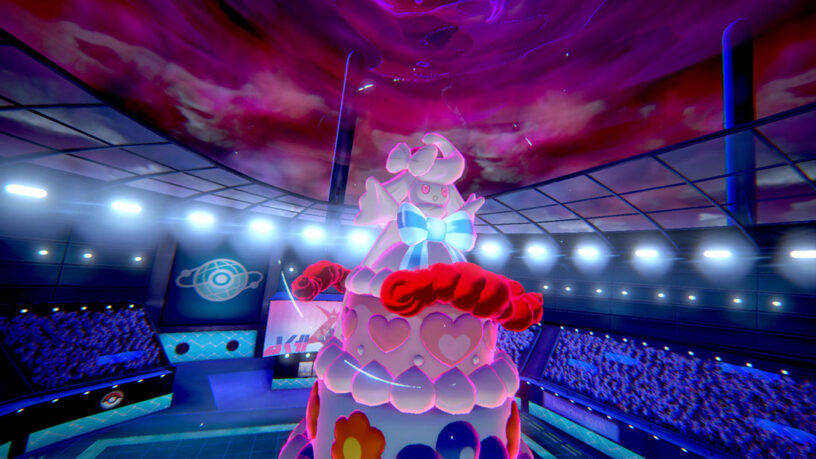 Alcremie is also available via Max Raid Battles, with no other methods confirmed as of yet.
Signature Move: G-Max Finale
This Fairy-type attack heals all Pokémon on Alcremie's side as well as causing damage to its opponent.
Leaked Gigantamax Forms
From the recent series of leaks, we've found out that Machamp (Fighting), Kingler (Water), Lapras (Water / Ice), Garbodor (Poison), and the new Pokémon Hatterene (Psychic / Fairy), Duraludon (Steel / Dragon), Centiscorch (Fire / Bug), and Coalossal (Rock / Fire) will be receiving Gigantamax forms as well. We've also seen a potential Gigantamax form of Appletun, and it's still possible that even more are on the way! We don't have much information about any of these forms yet (such as how and where to find them, or what their signature attacks are), so there's bound to be a few more surprises left in store.