We're taking a look at how-to surf in Pokemon Sword and Shield. While you might be looking for the traditional method of surfing to travel across water, it doesn't really exist in this new generation of games. You will instead need to get an upgrade for your bike that allows you to pedal your way across lakes and streams.
How-to Get a Bike
Play through the story and get to the Pokemon Nursery on Route 5. Go to the right from there and you will encounter a bridge which is blocked by Team Yell. Help the doctor defeat the group that is trying to steal his bike. The man will be so grateful that he will then give you the bike...
How-to Use the Bike
Hit the + or - button to hop on your bike. You can then ride around using the joystick. As you ride, you will notice you build up a green energy around the pedals. Once this has accumulated, you can press the B button to turbo boost! This can be upgraded further by the Watts Trader that appears around the Wild Area.
How-to Surf in Sword and Shield
As I mentioned in the introduction, you can't actually Surf as it was traditionally. In the past you'd have to use the Surf HM on a Pokemon that allowed you to hop in the water, or more recently you'd unlock the ability to jump on a Pokemon that would swim you around. In Sword and Shield you will instead need to acquire an upgrade for your bike that allows you to travel on water!
To get the ability to ride on water, you will need to get fairly deep into the game and to the snow area at the top right of your map. This is after the sixth gym, so you might need to progress through the story to get it. You will inevitably come across the same doctor that you got your bike from on Route 9 that's being blocked. You can watch the scenario in action with this video (spoilers):
Beat Team Yell again and the doctor will upgrade your bike, and you can now ride onto the water. You don't need to do anything particular, you just get on your bike and ride right into the water and it will change modes automatically!
How-to Get to Lake of Outrage
You can only get to this area after you've obtained the ability to Surf! Once you've gotten that, fast travel to the location just south of Hammerlocke in the Wild Area.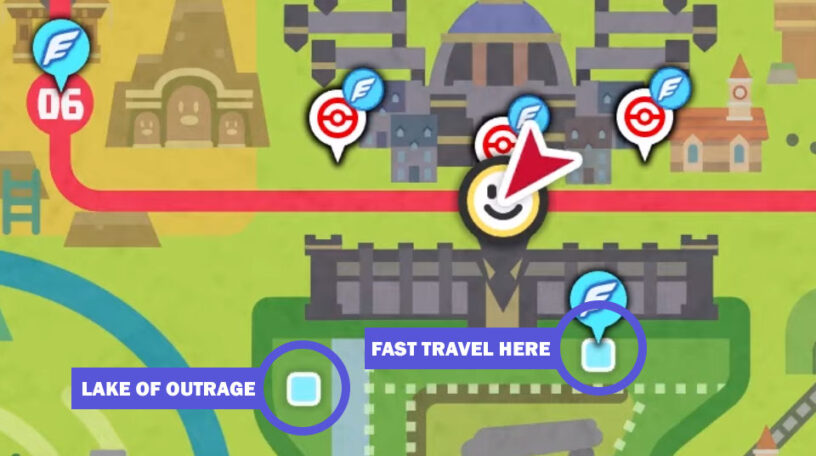 Head to the west on your bike and then ride over the water area that's creating a natural barrier from Giant's Cap to Lake of Outrage! That's pretty much it, once you enter the waters there you will officially be in Lake of Outrage. You can ride across to the land area where some pretty rare Pokemon can spawn. Ditto, Hitmontop, Drakloak, and some others will show up in this area depending on the weather. Be sure to check it out once you get a chance!