Do you love calming and cute mobile games? Then you need to play the mobile game Purrfect Tale, a laid-back life simulation game filled with cats, cute clothing, and lots of love. You can play this game on iOS and Android mobile devices.
If you are looking for cod or hearts, then this is where our Purrfect Tale codes come into play. We've searched and curated all available codes, allowing you to get more accessories, get further in the game, and make your home even more beautiful. Enter the codes on our list exactly how they are written or you may get an error message. If a code is not working but is in the Working section, let us know so we can move it!
Why not get some great codes for other games that can be enjoyed on mobile. Get these codes from Cookie Run: Kingdom Codes (May 2022) – All CRK Codes, Blue Archive Coupon Codes (May 2022), and Genshin Impact Codes (May 2022) – New 2.6 codes added!
All Purrfect Tale Codes List
Purrfect Tale Codes (Working)
Here's a look at all the working Purrfect Tale codes.
HAPPY1STANN - Redeem this code for a First Anniversary Celebration Cake.
badmouse - Redeem this code for 666 Cod.
gumino1 - Redeem this code for 888 Cod.
lovinggummi - Redeem this code for 10 Hearts.
Purrfect Tale Codes (Expired)
These Purrfect Tale codes are no longer valid.
DATEWITHMO - Redeem this code for Heart and Cod.
happy1106 - Redeem this code for Heart and Cod.
sorry2022 - Redeem this code for Heart and Cod.
happy2022 - Redeem this code for Heart and Cod.
How to Redeem Purrfect Tale Codes
It's quite simple to redeem codes for awesome rewards in Purrfect Tale. To do so, simply go to the exact area shown in the photo below.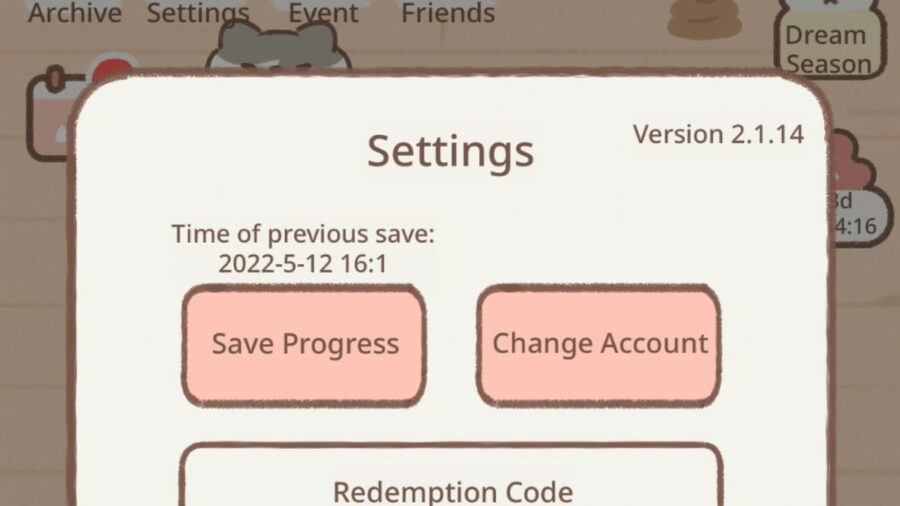 Click on the Gear icon Settings button at the top of the screen. It will open a new window, where you can select Redemption Code.
Type your code in the textbox and hit Enter to redeem the code.
How can you get more Purrfect Tale codes?
The best way to get more codes is to check out the game page for Purrfect Tale on Facebook. They will post codes here occasionally. You can also simply bookmark this page and check it at any time that works for you.
Why aren't my Purrfect Tale codes working?
Developers have complete authority over codes in Purrfect Tale, and some may expire more quickly than others. If you find a code not working, it may be a spelling error, a code that is not yet active to the public, or a code that had a short period of existence and is now expired.
To help remedy this, bookmark this page and check back often to see whether Purrfect Tale has a new code!
What is Purrfect Tale?
In Purrfect Tale, you play as a character (you choose the name of the character) who owns many cats, has a bare-bones home with lots of potential, and also starts out with a basic wardrobe and design. It's your job to play gachas, take care of your cats, and complete other tasks to get rewards and improve your home and world.
Want more mobile game content? Pro Game Guides has you covered with FarmVille 3 Codes (May 2022).