Rage Mage is a mobile card battler with a difference. Here, cards are one-time items you use to collect gear. Once your gear is strong enough, you set out to fight enemies in auto battles, collecting more loot and leveling up in the process. Soon you'll be dueling other players in PVP, raiding islands for more loot, and joining a guild as you rise up the leader boards!
Rage Mage codes can reward you with in-game items, including Diamonds, Gem Tokens, Cards, and more. Cards are used to find new equipment and weapons, Diamonds to improve many aspects of your character, including wings and cards, draw gacha percentages, and Gem Tokens reward free Gems. Be quick, though, as most codes last about a week. If you love free mobile games, you should also check out BTS Island: In the SEOM.
All Rage Mage Codes List
Rage Mage Codes (Working)
These are all the working Rage Mage codes.
CRUCIBLE—Redeem for Diamonds, Gem Tokens, and Cards (New – expires February 5, 2023)
Rage Mage Codes (Expired)
These are expired codes for Rage Mage.
DISTILLER—Code has expired
WELCOMEMAGE—Code has expired
HAPPYMONDAY—Code has expired
Related: Panilla Saga Codes
How to redeem codes in Rage Mage
Follow the instructions below to redeem codes in Rage Mage.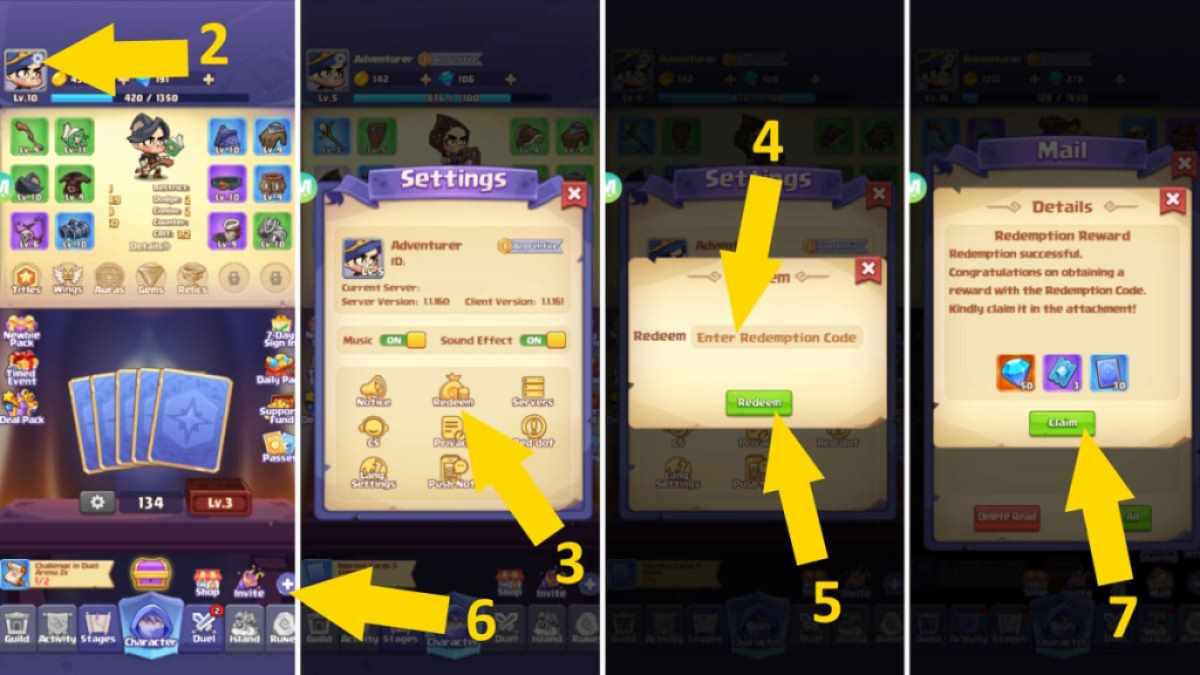 Launch Rage Mage on your device.
Click your avatar in the top left of the screen.
In the settings box, click the Redeem button.
In the Redeem box, enter the code exactly as it appears in the list above.
Press the green Redeem button to claim your reward.
Go to your Mailbox by clicking the + button at the bottom right of the main screen, then click the envelope.
Open the redemption Reward email and click Claim to get your reward!
How can you get more Rage Mage codes?
If you're on the lookout for more Rage Mage codes, you should check out the Rage Mage Facebook page. It often posts a weekly code, as well as other useful information. There is also an unofficial Rage Mage Discord Server with a lot of great advice and codes.
Why are my Rage Mage codes not working?
Rage Mage codes need to be entered exactly as you see them here, so it is best to cut and paste them directly where possible. It can be easy to mistake a number for a letter or miss a capital letter, either of which can invalidate a code. If you've definitely entered it correctly and it still won't work, it has probably expired. We can't help with expired codes except to say to check back soon because we'll be out looking for replacements.
Other ways to get free rewards in Rage Mage
There are lots of ways to get more free rewards in Rage Mage. You can click the purple chest at the bottom-middle of the home screen and watch an ad to claim a Perks Chest. On the same page, middle right, you can click the 7-Day Sign In icon to claim a daily reward, click Daily Pack for a free daily gift, and if you share the game on social media, you can claim the weekly Sharing reward (the icon next to your Mail icon).
What is Rage Mage?
Rage Mage is a gacha-style fantasy battler from Modo Global. You flip through a card deck to get randomized gear to equip your character before sending them into auto battles to gain more cards and rewards. As you level up, more aspects of the game become available, including treasure islands, guilds, crafting, and exploring.
If you're looking for codes for other games, we have a ton of them in our Roblox Game Codes post! You can also get a bunch of free stuff via our Roblox Promo Codes page. And in the meantime, take a look at the latest news to stay up-to-date on all things entertainment.