Updated: September 1, 2023

Checked for codes!
Have you ever wanted to be the creator and collector of the most bizarre and creepy aliens? You can now in Alien Tycoon, where you can build a factory dedicated to the production of rare and wonderful alien species. Watch your back, though, because there is an alien liberation movement that wants to destroy your factory, so charge up that ray gun before your get turned into slime.
The codes you can redeem in Alien Tycoon will give you Alienbux. Alienbux is used to build new parts of your Tycoon and buy weapons and skins for your character. Claim these codes to provide you with that head start over other players.
Aliens are loose in Roblox, and these codes will help you take down the invasions single-handedly. Take the fight to the invaders in Roblox Alien Shooter Simulator Codes, Roblox Alien Simulator Codes, Roblox Alien (Chapter 1) Codes, UFO Universe Codes, and Roblox Space Base Tycoon Codes.
All Alien Tycoon Codes List
Working Alien Tycoon Codes (Active)
HALLOWEEN—Redeem for a Alienbux Boost (New)
SUS—Redeem for a 20 minute Alienbux Boost
UPDATE1—Redeem code for Alienbux Boost
RELEASE—Redeem code for Alienbux Boost
ALIEN—Redeem code for Alienbux Boost
BOX7—Redeem code for Alienbux
Expired Alien Tycoon Codes
There are currently no expired codes.
Alien Tycoon Frequently asked questions
Here's everything you need to know regarding Alien Tycoon codes.
How to Redeem Roblox Alien Tycoon Codes
It's easy to redeem codes for free rewards in Alien Tycoon. Follow our guide below.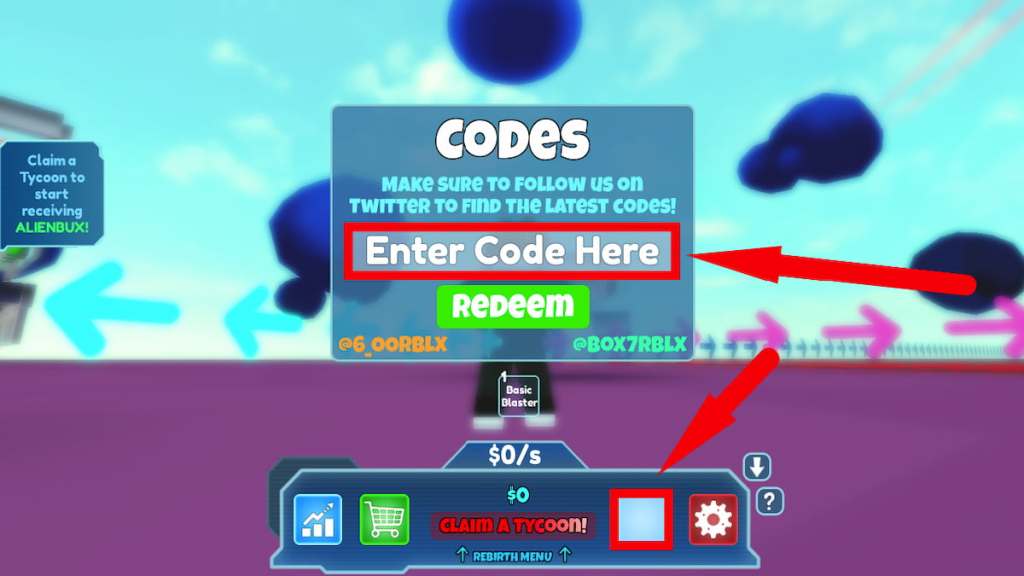 Launch the game.
Follow the arrows to claim a place to build your Tycoon.
Once the Tycoon is claimed, you can redeem the codes.
Click on the Twitter Icon at the bottom of the screen.
Enter codes into the Enter Code Here box.
Click Redeem to redeem your rewards.
How can you get more Alien Tycoon codes
To get all the latest codes for Alien Tycoon, follow the developer Box7! Studios on social media platforms like Twitter @Box7rblx and join their Box! Discord Server. At Pro Game Guides, we have you covered with the most up-to-date list of codes for your Tycoon, so bookmark this page and never miss out on another free reward again!
Why aren't my Alien Tycoon codes working?
There may be a few reasons why you can't redeem your Alien Tycoon codes. These codes could have expired already, and the developer will decide how long they stay active, so make sure to claim the codes on the list before they vanish with those rewards. The codes may be mistyped or misspelled in the text box. Make sure your spelling and punctuation are correct before clicking on that redeem button. To avoid typos, copy and paste the codes from our list.
How to get more Alienbux in Alien Tycoon
To get more Alienbux is simple in Alien Tycoon. You will need to set up your alien factory first by following the arrows and standing on the button that says Claim Tycoon. Once you have your base set up, step on the next button to start building your Tycoon. The more you unlock for your Tycoon and build it up, the more Alienbux you will claim every minute.
What is Alien Tycoon?
Alien Tycoon is a tycoon game where you can build and manage your very own alien-producing factory. Produce different species of aliens and get rich by creating the largest factory possible. Once you have enough built onto your factory, you can become an alien or go out and battle aliens trying to destroy your factory. Climb the leaderboards and become the wealthiest Alien Tycoon on the server!
If you're looking for codes for other games, we have a ton of them in our Roblox Game Codes post! You can also get a bunch of free stuff via our Roblox Promo Codes page.