UFO Universe is a unique simulator Roblox game where you operate your own UFO. In the game, you use your UFO's tractor beam to attack objects and collect resources inside them. With those resources, you can purchase higher-grade equipment to increase your attack rate, attack damage, and the amount of resources you collect.
This is where our codes list comes into play. With the codes we have listed below, you can get exclusive rewards that boost your progression in the game. Some codes provide small stacks of resources, like Gems and Coins. Others provide multipliers that, when activated, greatly increase the amount you collect from the objects you attack.
While you're using our UFO Universe codes list, don't forget to use our other codes lists for similar simulator games on Roblox! We have the most up-to-date codes for games like Soda Simulator X, Boom Simulator, and Pet Simulator X! Or, if you want codes for games that follow the alien theme, be sure to check out our codes for Alien Shooter Simulator!
All Roblox UFO Universe Codes
Updated August 8, 2022

Added a new code.
Roblox UFO Universe Codes (Working)
Here's a look at all the working Roblox UFO Universe Codes.
streamchat—Redeem for Coins and an Event Egg (New)
SORRY4DELAY—Redeem for a Coin Potion and a Damage Potion
3kLIKES—Redeem for a Coin Potion and a Damage Potion
2kLIKES—Redeem for a Coin Potion and a Damage Potion
1KLIKES—Redeem for 500 Gems
robuilder—Redeem for 500 Gems
Release—Redeem for 100 Gems
Roblox UFO Universe Codes (Expired)
These Roblox UFO Universe Codes no longer work.
Roblox UFO Universe Codes Frequently Asked Questions
How to Redeem Roblox UFO Universe Codes
Redeeming codes for free rewards in Roblox UFO Universe is easy.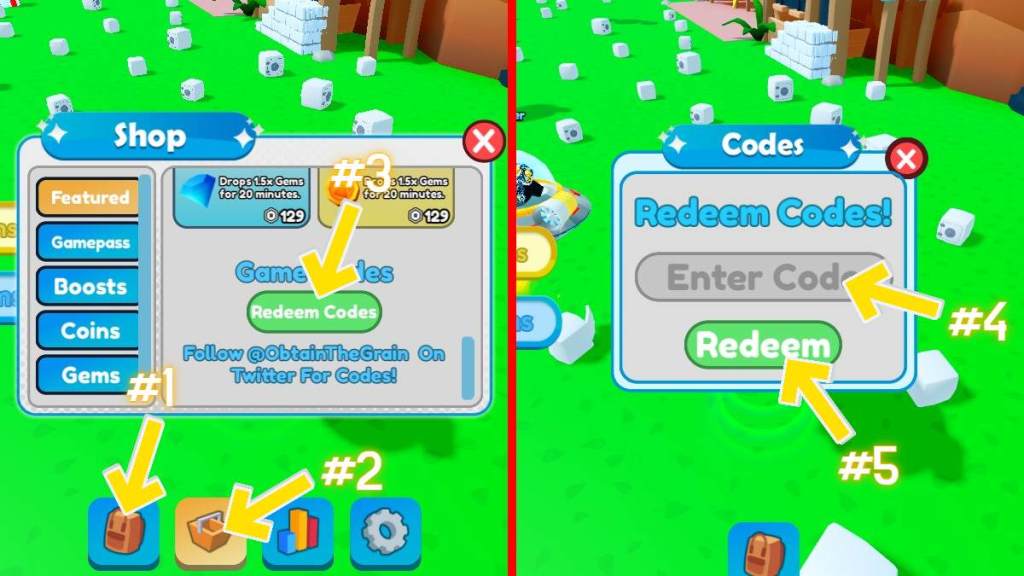 In the game, press the Inventory button on the bottom of the screen.
Press the Shop button in the menu that opens.
Scroll to the bottom of the Shop window and press the Redeem Codes button.
In the text box, enter the code exactly as it appears in the list above.
Press the Redeem button to claim your reward!
How can you get more Roblox UFO Universe Codes?
UFO Universe developer Obtain the Grain is very active on social media, and typically shares any new codes on their official Twitter account, or in direct communication with the fanbase on their official Discord server. Those are the fastest methods for obtaining codes as soon as they drop.
Like many Roblox developers, Obtain the Grain provides new codes for in-game rewards when thresholds are crossed for likes and follows on their game. You can do both on the UFO Universe Roblox page. When you interact with the developer and show their support, it often inspires them to put more work into new content and updates!
Why aren't my Roblox UFO Universe Codes working?
The most common cause of invalid codes is that they are entered incorrectly by the user. To avoid this problem, try copying and pasting the code directly from our site into the game. Many Roblox games make their codes case-sensitive, so even the smallest typo can stop it from working properly. The game notifies the player if they have already used a code or if it is expired. If you enter a code and it doesn't specifically say one of these things, then you have probably entered it incorrectly.
What is Roblox UFO Universe?
UFO Universe is a popular simulator game on Roblox. It is similar to many other Roblox simulator games in that your goal is to build your stats and collect resources to progressively increase your income and get the best equipment. As you purchase better equipment, it further increases the amount of resources you collect When you feel like you've gotten as far as you can go, you can rebirth your character and do it all over again, essentially providing you with limitless gameplay!
If you're looking for codes for other games, we have a ton of them in our Roblox Game Codes post! You can also get a bunch of free stuff via our Roblox Promo Codes page.