The Dragon Ball Z inspired Roblox game Zenaki Origins exists upon a massive map that can be overwhelming at first but is relatively easy to maneuver once you get the hang of it. Within this map are numerous story and side quests for players to take on and complete for rewards. For a list of all Zenkai Origins locations and the quests that they offer, continue reading below.
Map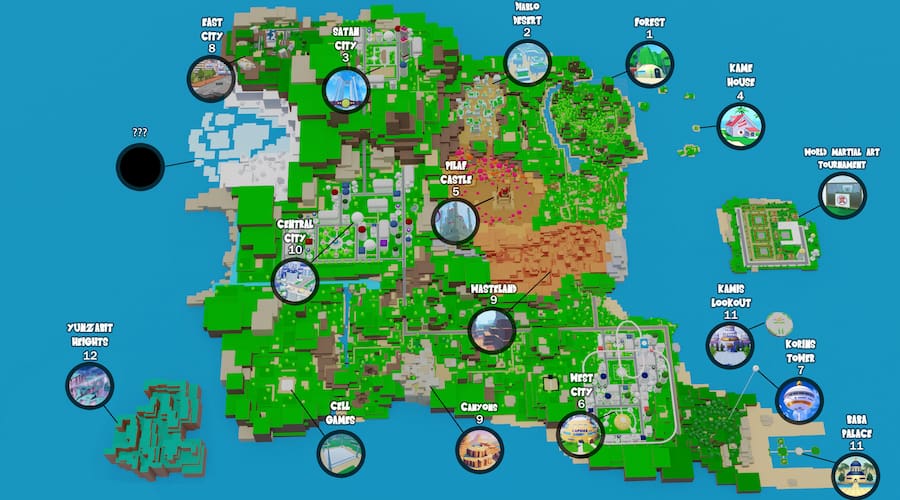 Locations and quests
As seen in the image above, this map contains numerous notable locations for players to discover. Not every marked location will offer a quest, but I will mention any on the list below.
Forrest

Chi Chi's House

First story quest from Chi Chi

First Village

Diablo Desert

Desert Cave

Victor and Ryan can be found in a desert cave and will offer two quests

Satan City

General

Sharpner and a Police Officer will offer quests

Kame House

Master Roshi will teach you the way of a True Fighter and give you your second story quest

Pilaf's Castle
West City

General

Numerous quests to be found

Capsule Corp

Bulma the Dragon Radar Seller

Korin's Tower

Sacred Village

Small village below Korin's town

Top of Korin's Tower

Korin will give you your third main story quest

Kami's Lookout

General

Kami will offer you the ability to meditate after completing her quest

Hyperbolic Time Chamber

Goku will help you train and get stronger

East City

General

The East City has been attacked by androids, a dying civilian will give you a daily quest

Wasteland
Central City

General
Shop

Here you can purchase clothes and accessories

Baba Palace

Baba the fortuneteller can be found here

Yunzabit Heights

An island known as the crash site for Namekian where evil creatures are stores

??? - An area of the map that's currently vacant
For more Zenkai Origins content, check out our guides on how to charge Ki in Roblox Zenkai Origins, the best races in Roblox Zenkai Origins, or all controls in Roblox Zenkai Origins!