Updated: November 1, 2023

On the lookout for the most recent codes!
Anime Power Tycoon puts an interesting spin on the Roblox tycoon genre. While you must build up your tycoon, you also need to calculate for combat, as this title is combat-based. Create a powerful tycoon off your favorite anime and defeat your opponents to become richer and stronger.
Codes in Anime Power Tycoon will give you various rewards. These have expiration dates, so make sure you use them before they expire. Below is a list of available codes that will give you Cash and more in Anime Power Tycoon.
If you're looking for other Roblox content, check out Anime Squad Simulator Codes, Anime Training Simulator Codes, and Anime Dimensions Codes on Pro Game Guides. We have many other Roblox Code guides on our site, so feel free to browse and check out other Roblox titles.
All Anime Power Tycoon Codes List
All Anime Power Tycoon Codes List (Working)
UPD21—Redeem for 10K Cash (New)
UPD20—Redeem for 10K Cash
UPD19—Redeem for 10K Cash
40MVISITS—Redeem for 20K Cash
ANIMEPOWER—Redeem for 10K Cash
30MVISITS—Redeem for 10K Cash
UPD18—Redeem for 10K Cash
UPD17—Redeem for 10K Cash
UPD16—Redeem for 10k Cash
UPD15—Redeem for 10k Cash
UPD14—Redeem for 10k Cash
UPD13—Redeem for 10k Cash

15MVISITS—Redeem for 20k Cash
UPD12—Redeem for 10k Cash
UPD11—Redeem for 10k Cash
CHAINSAWMAN—Redeem for 10k Cash
HALLOWEEN—Redeem for 30k Cash
UPD10—Redeem for 10k Cash
10MVISITS—Redeem for a Boost
ANIMEPOWER—Redeem to get 2.5k Cash
All Anime Power Tycoon Codes List (Expired)
UPDATE8—Redeem for 10k Cash
UPDATE7—Redeem for 10k Cash
UPDATE6—Redeem for 10k Cash
UPDATE4—Redeem for 5k Cash
RELEASE—Redeem to get 5k Cash
UPDATE1—Redeem to get 5k Cash
1MVISITS—Redeem to get 20k Cash
UPDATE3—Redeem to get 5,000 Cash
How to redeem codes in Anime Power Tycoon
Redeeming codes in Anime Power Tycoon is super easy. These will give you cool prizes like coins, gems, accessories, and more. Here is how to redeem codes in Anime Power Tycoon and receive rewards.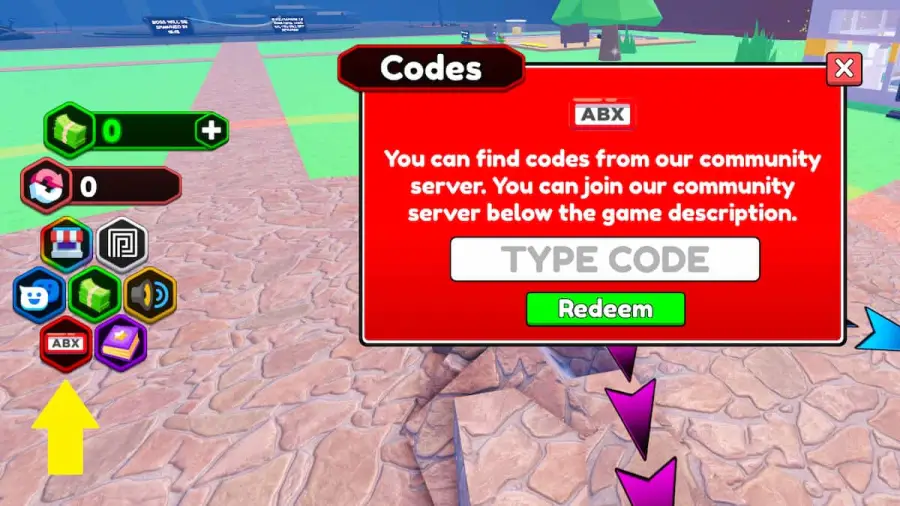 Click the ABX icon on the bottom-left side of the screen.
Select the Type Code text box.
Input your code and hit Redeem.
How to get more Anime Power Tycoon Codes
To get new codes and receive updates from the developer, join the official Anime Power Tycoon Community Group and the Discord. Once new codes are added, we will update this list as they go live. Bookmark this page to stay up to date and get free stuff from codes.
Why aren't my Anime Power Tycoon Codes working?
The developer controls Anime Power Tycoon codes and how long they are active. Some codes may expire faster than others, so be sure to use them as they go live. If a code no longer works, see if it is expired, isn't active yet, or if you made a spelling mistake. Check back at this page to see if any new codes have been added or have expired. If you notice that a code no longer works, please let us know so we can verify and update this list accordingly.
What to do with Cash in Anime Power Tycoon
Cash is the most important resource in Anime Power Tycoon. You use this to build your base, adding droppers, multipliers, decorations, and more. You can earn more and speed up your cash inflow as you spend your cash.
What is Anime Power Tycoon?
Anime Power Tycoon is a combat-based tycoon game that lets you build up tycoons based on your favorite anime and manga. Claim One Piece, Naruto, Demon Slayer, and other popular anime as your tycoon and upgrade it to increase your power. Defeat friend and foe to become the ultimate anime tycoon boss.
For more information on Roblox, check out Anime Adventures Codes and Anime Fighters Simulator Codes on Pro Game Guides.