In Pixel Piece, you are given a specific race for your character by chance when you begin the game. These races give additional passive buffs and sometimes abilities you can utilize in battle. Each race is unique and has different chance percentages to obtain. The harder it is to roll them, the better chance they are more powerful. However, we put together a tier list to help you determine which race you might want to try for and how it can help you.
Pixel Piece Race Tier List
This is our tier list of all the races in Pixel Piece, from S-tier to C-tier, based on their roll chance and how many and how useful their buffs are:
| S-Tier | A-Tier | B-Tier | C-Tier |
| --- | --- | --- | --- |
| Oni | Mink | Skypian | Human |
| | Fishman | | |
Oni
We consider the Oni the highest-tier race in the game, not only because it is the hardest to roll for, with a 2% spin chance, but because they are simply built differently than the rest. Onis are physically stronger, with higher physical strength, added damage resistance, and boosted overall health. They can tank damage better than the other races and gain Haki Exp faster as well, allowing you to gain new abilities at a quicker rate. They are also capable of evolving into the Elder Oni.
1.3x Increased Physical Strength
1.2x Damage Resistance
1.4x Haki Experience Gain
+100 Health
Ability to Evolve into Elder Oni
Mink
The Mink is undoubtedly the highest-rated race, with a 3% spin chance. This race is faster and has more physical strength than others, with the expectation of the Oni race. It also features its own combat style, with powerful, speedy attacks to deal to your enemies. Not to mention, you can don the fitting rabbit ears and tail for style.
+100 Stamina
1.2x Increased Physical Strength
Electro Combat
Fishman
This race may seem like a closer fit with the Skypians; however, its unique ability to boost your Exp gain makes it a step up from B-tier in our minds. Leveling is extremely important in Pixel Piece, and it can take quite a bit of farming, which is why the Fishman race is a decent race to roll with a 10% roll chance. Not only does it help you level up quicker, but you will have increased swimming speed and your own combat style.
Increased Swimming Speed
1.3x Exp Gain
Fisherman Karate
Skypian
The Skypians are probably some of the coolest-looking races with their angel-like wings, and they can provide some helpful features like the ability to glide from high heights and their increased agility. However, their boosts are not quite on par with the others, and it has an easier roll chance, with a 15%, which is why we deem it a B-tier race.
Glide from far heights
+25 Stamina
+25 Health
Increased Agility
Human
The Human race is the most common race you can roll in the game with a 70% chance. It's no wonder that it is the most mediocre of the races and placed at the lowest tier on our list, but that doesn't mean it is entirely useless. The Humans have some passive buffs that can come in handy in battle and eventually evolve into the Cyborg race.
1.3x Stamina Regeneration
1.2x Health Regeneration
Ability to Evolve into Cyborg
Related: Pixel Piece Level Guide – How to max level in Pixel Piece
How to change your race in Pixel Piece
You receive a race by chance as you begin the game, but you always reroll it any time you want by spending some Robux.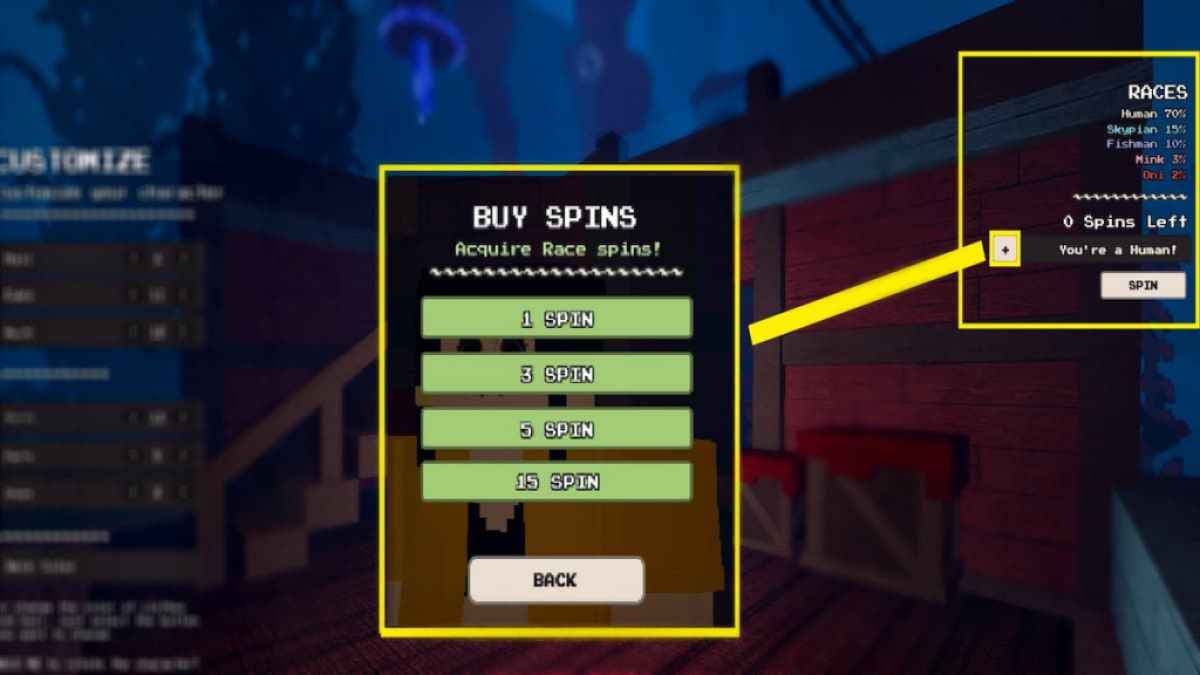 On the main menu, press the Customize button to enter the character customization menu. On the top right corner, you will notice the races. This will tell you what race you are and allow you to spin for more. However, if you don't have any spins available, you must purchase some by pressing the + button. You will have to use Robux to purchase them, or you can keep an eye out on the Pixel Piece codes to perhaps get a few free.
We hope this helps you figure out what race you want to try to roll for. Keep in mind that some races are still under construction, and the abilities listed under them might not yet be added to the experience but will with future updates. We will update this page again if new races are added, so keep checking back.
Looking for more Pro Game Guides Pixel Piece content? Check out our guides on Roblox Pixel Piece Gamepass Guide – Are they worth it? or How to get Geppo (Sky Walk) in Pixel Piece – Roblox!