Fruit Battlegrounds is a Roblox fighting game that you'll like if you're a fan of anime titles like One Piece. If you wish to become the greatest warrior, there is much to learn about this title. You can learn a lot from other players and get advice straight from the developer. To get that information, all you need to do is to find out Fruit Battlegrounds Discord, Trello, and Social links.
What is the Fruit Battlegrounds Discord link?
To get into the Fruit Battlegrounds community, head to the Fruit Battlegrounds Discord server. Here, you can talk with other players about the game, share experiences, learn new strategies, and get information about game updates straight from the developer.
What are Fruit Battlegrounds Social links?
You can find more on Fruit Battlegrounds by visiting official accounts on social networks. For more videos, visit the YouTube channel @zakssj8781, and for quick information on the game, follow the developer on Twitter @ZakSSJ. This way, you'll be up-to-date on everything about this Roblox title.
Related: Fruit Battlegrounds Codes
What is the Fruit Battlegrounds Trello link?
Fruit Battlegrounds has an easily accessible Trello board where you can find info about colors, titles, special skills, world bosses, and more. To learn more about this Roblox game, check out the Fruit Battlegrounds Trello link and learn how to become great in this fighter game.
How to use Fruit Battlegrounds Trello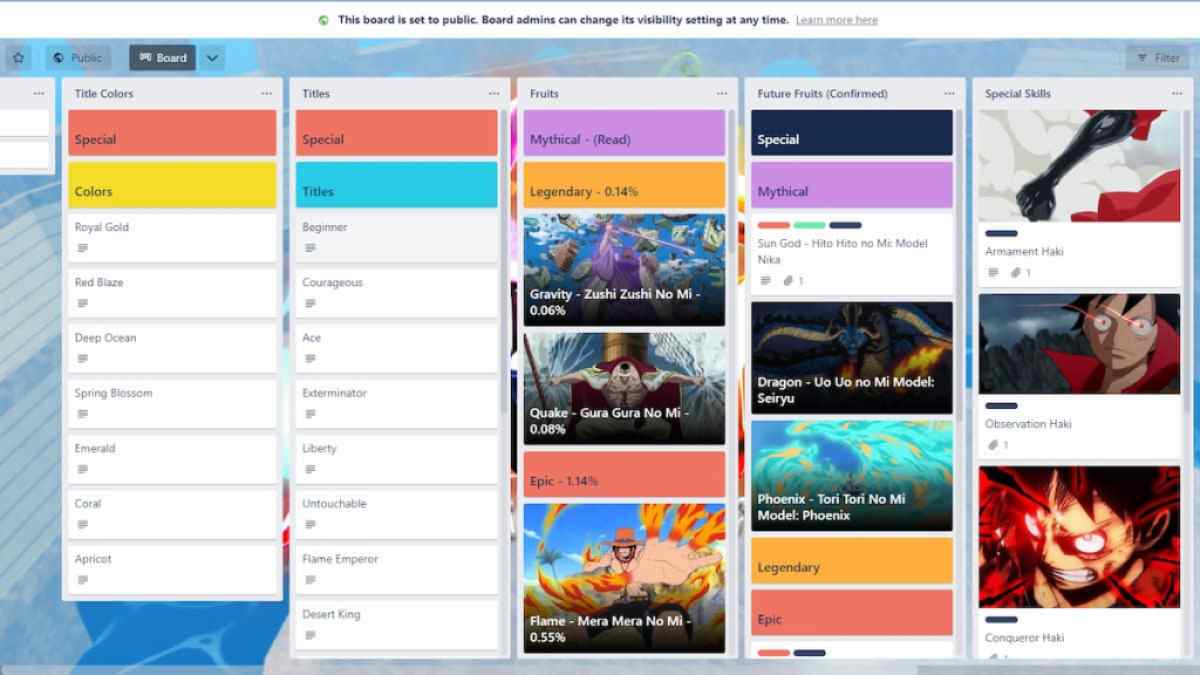 You can use the Battlegrounds Trello board by simply clicking on the link. You don't have to create an account to access it, as it's open to the public. You'll see many cards divided into columns when you open the board. Each column represents one topic, so you can easily find what you're looking for. When you find a post with the needed information, simply click on it.
If you're looking for codes for other games, we have many in our Roblox Game Codes post! You can also get a bunch of free stuff via our Roblox Promo Codes page.