It's the spooky season again, and all the ghosts have come out to play in Halloween Race Clicker! Can you outrun all the creepy night creatures and avoid being killed while running through this race course? Remember to equip your pumpkin head pet to help you gather more resources and run faster.
The codes you can claim in Halloween Race Clicker will give you a Boost to help you click more in the game. In addition, these codes will provide you with resources in the game to spend on buying boosts and pets; these codes are great if you are a beginner and will give you a significant increase at the start of the race.
Race-clicking games on Roblox are popular among players, so claim these codes and leave the rest of the players in the race behind. Try these codes in Speed Race Clicker Codes, Race Car Clicker Codes, Anime Race Clicker Codes, Skydive Race Clicker Codes, and Backrooms Race Clicker Codes.
All Halloween Race Clicker Codes List
Updated October 12, 2022

Had a speen run past some ghosts to grab these codes.
Halloween Race Clicker Codes (Working)
Here's a look at all the working Halloween Race Clicker codes.
RELEASE—Redeem for 2x Click Boost
Halloween Race Clicker Codes (Expired)
These Halloween Race Clicker codes no longer work.
There are currently no expired Halloween Race Clicker codes.
Halloween Race Clicker Frequently asked questions
Here's everything you need to know regarding Halloween Race Clicker codes.
How to redeem Halloween Race Clicker codes
Redeeming codes in Halloween Race Clicker is easy. Follow our guide below.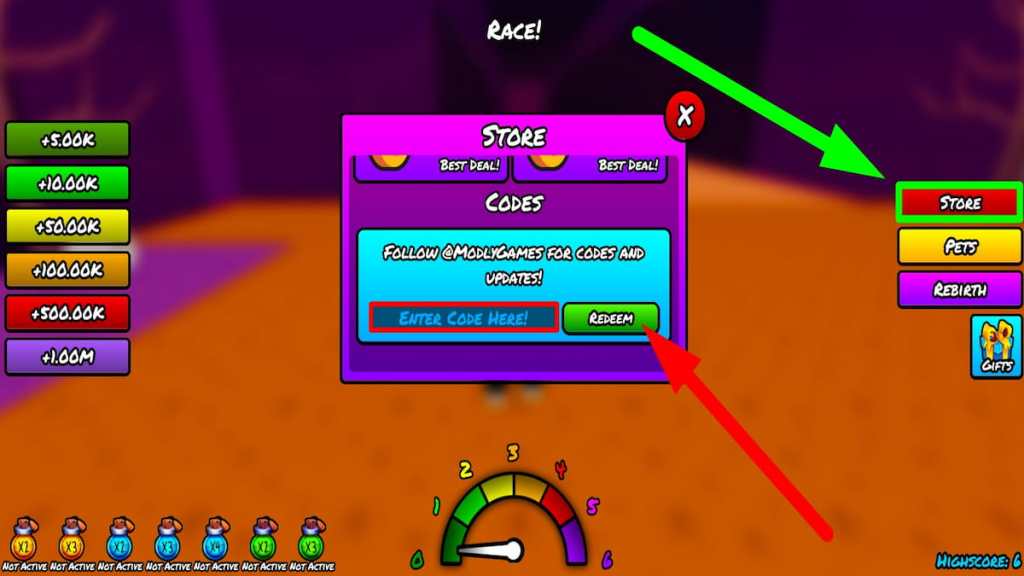 Launch Halloween Race Clicker on Roblox.
Click on the Store button on the right-hand side of the screen.
Scroll down to the bottom of the store menu window.
Enter codes into the ENTER CODE HERE! text box.
Click the green REDEEM button to claim your rewards.
How to get more Halloween Race Clicker codes
To get the latest Halloween Race Clicker codes from the developer Modly Development, follow them on Twitter @ModlyGames and join their Modly Games Discord Server. Also, bookmark this page for all the latest codes from the developer, and visit us often here at Pro Game Guides!
Why aren't my Halloween Race Clicker codes working?
There may be several reasons your Halloween Race Clicker codes aren't working. The codes may be mistyped in the text box or missing punctuation. Please copy and paste the codes from our working list to avoid making any mistakes before clicking the REDEEM button. The codes may be expired, codes in most Roblox experiences are time-sensitive, and you could miss your rewards if you do not claim them as soon as they are released.
How to run faster in Halloween Race Clicker?
To run faster in Halloween Race Clicker is easy. Before the race begins, a timer and a mouse pointer will appear on the screen to indicate that you should start clicking. Click as fast and as many times as you possibly can before the start of the race. The more you race, the more wins you will receive per race, you can use these wins to upgrade your character and purchase items in the shop to make your avatar faster.
What is a Halloween Race Clicker game?
A Halloween Race Clicker is a race-clicking game. Click as fast as you can to run fast and reach the end of the race before the time limit of two minutes runs out. Can you run through this course and avoid being killed by all the monsters on this course? The faster you finish the course, the higher you will place on the leaderboards in the game.
If you're looking for codes for other games, we have many of them in our Roblox Game Codes post! You can also get a bunch of free stuff via our Roblox Promo Codes page.