Royale High is all about being yourself and letting your true colors shine through, which is why the experience prioritizes the ability to express uniqueness through clothes, hairstyles, accessories, makeup, and more. Another way that players can showcase their individuality is through their Profile Journal, a feature that many Royale High users may not know how to access. In the brief guide below, we'll be showing you how to edit, customize, and decorate your journal so that it fits you perfectly.
Royale High journal tips and tricks
How to access your journal in Royale High
If you've ever played Royale High, chances are you've clicked on another player and opened their journal at least once. Inside of these journals are personality facts, questions, answers, rules, pictures, badges, stickers, and much more that can help you get to know that specific player. After reading through another player's journal, you may have wondered, "What does my journal look like? How do I even find it? Do I have to buy it?" Don't worry, these are all fair questions that we'll be answering below!
Once you've spawned into Royale High, locate the navigation menu on the right-hand side of your screen and select Dress Up.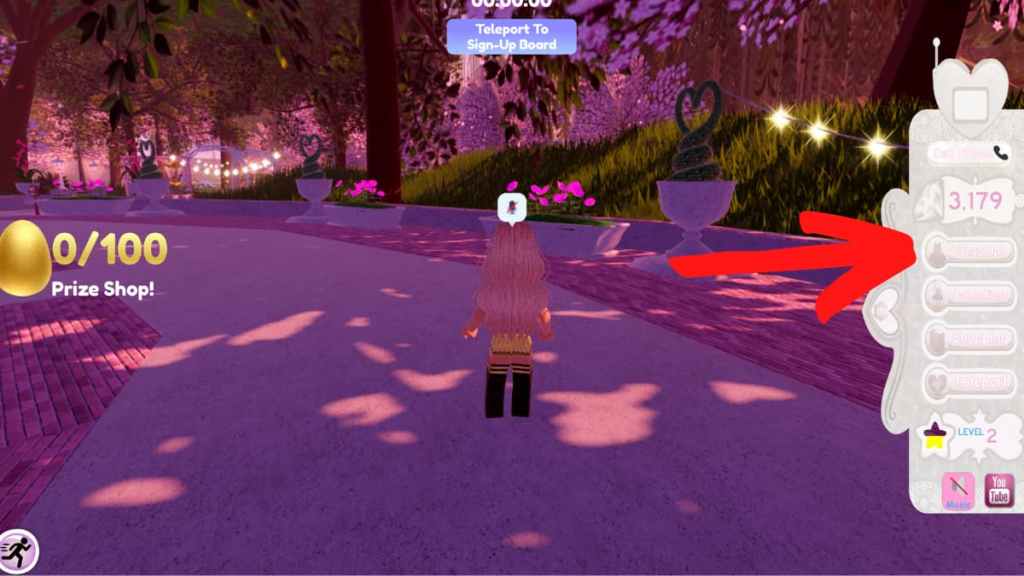 Doing so will open the Character Customization menu. From inside this menu, look for and select the Profile button.
Related: All halo badges in Royale High
This will pull up your character's journal. To open the journal, simply click anywhere on its cover.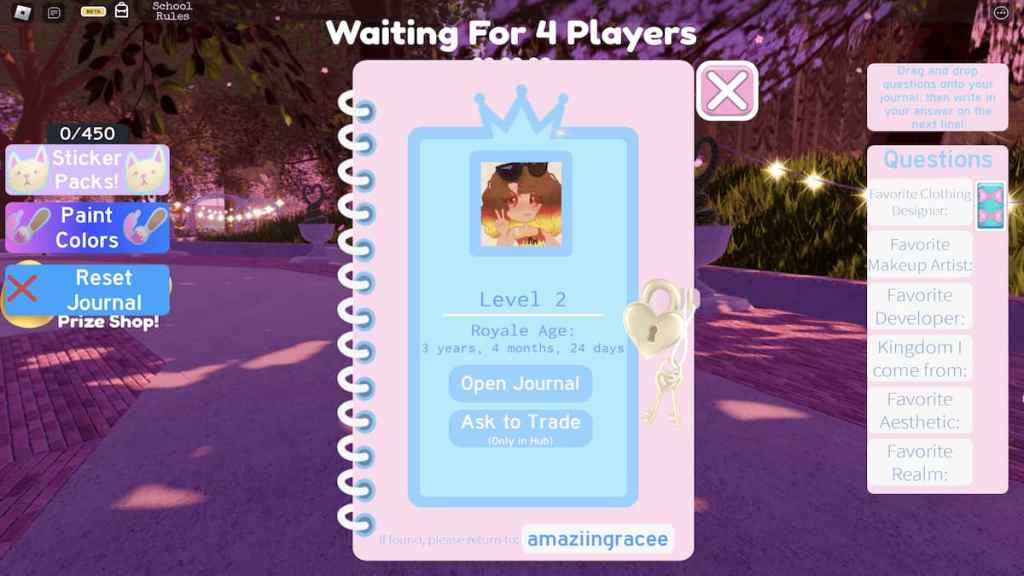 How to edit your journal in Royale High
Once you've opened the journal, you should see all of the Royale High badges that you've earned displayed on the left, followed by multiple blank notebook pages as you flip to the right. If you've ever edited your journal before, your information will appear on these notebook pages.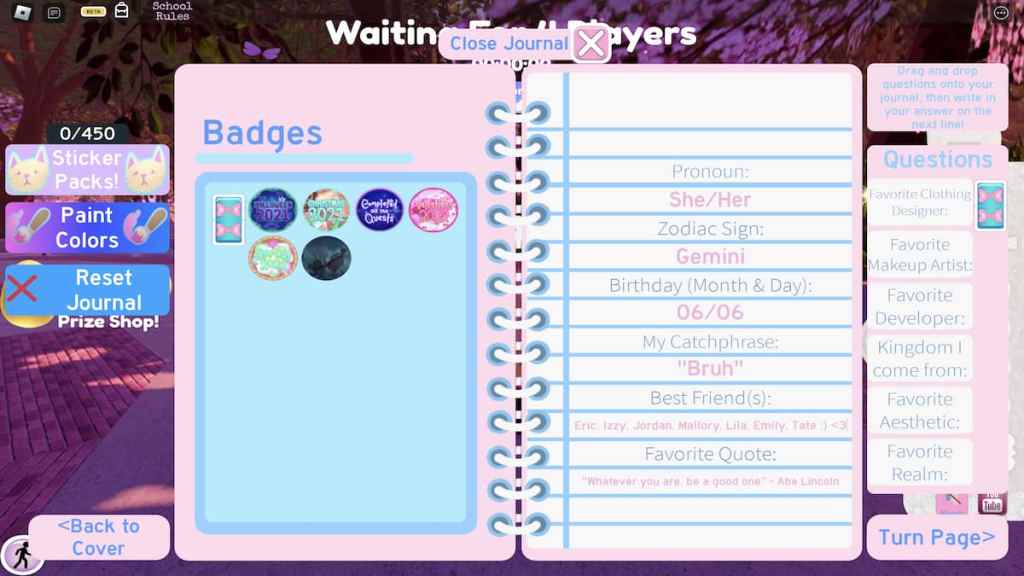 To add more information and personality to your journal, you can answer any of the questions listed on the right. To add a question to your journal, simply select it from the list and drag it anywhere on the page. Once the question has been added to your journal, select the ✍️ emoji to type in your answer. You can add and answer as many or as few questions as you want—it's your journal after all!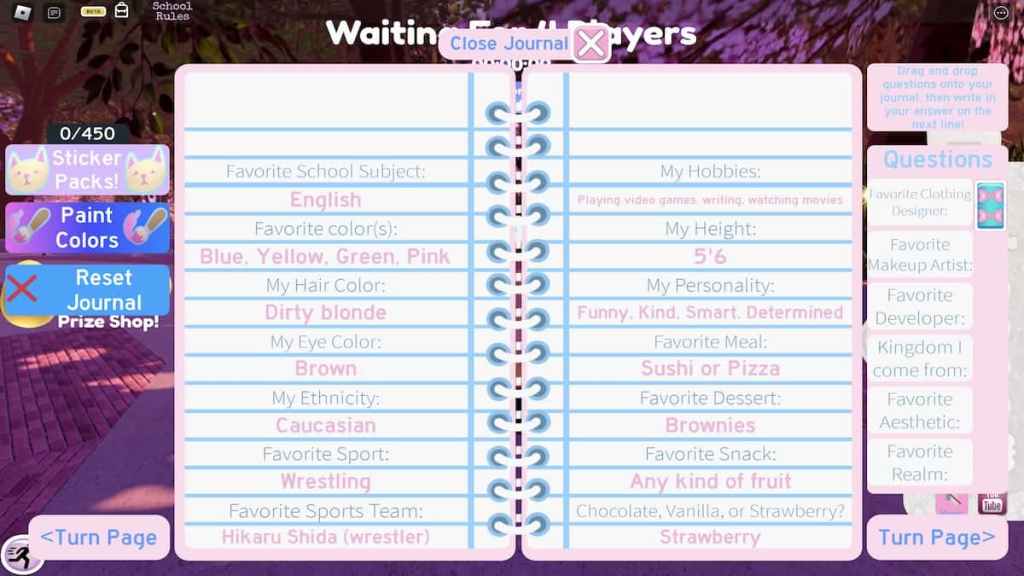 Related: When is the Royale High Halloween update? – Royaloween 2022
How to decorate your journal in Royale High
So far, all of the customizations that we've added to this journal have been done for free. Unfortunately, if you want to continue customizing your journal with colors, stickers, and pictures, you'll need to spend Robux on two in-game gamepasses, both of which can be found below.
Name:

Paintbrush Pass!

Description:

The Paintbrush Pass unlocks many different features including.. 💙 Changing your cellphone case and keyboard colors! ❤️ Paint your Roleplay Name & Heart Indicator when you type! 💛 Make a colorful unique profile! 💚 Paint your locker for free as many times as you want!

Price:

Name:

Sticker Packs Pass!

Description:

18 themed Sticker Packs with 176 different fun stickers (and growing) to decorate your Profile Journal with!

Price:
End
That's all there is to it! You can now decorate and customize your Profile Journal at any time. When you're done decorating, simply close the journal to save your changes. And remember, never add any personal information to your journal including your full name, street address, password, etc.!
Looking for more Royale High content? Check out our recent guides on How to get the Ocean's Blessing badge in Royale High or How to get the ⚡ badge in Royale High here on Pro Game Guides!