Owing to the fact that Roblox is a huge online platform running thousands of experiences concurrently for millions of users, errors are going to happen. Some of these errors are easy to fix, while others can have you scratching your head. When that happens, we're here to help. Below we discuss how to fix error code 267 in Roblox if you've just had it happen to you.
What is Error Code 267 and 10 ways to fix it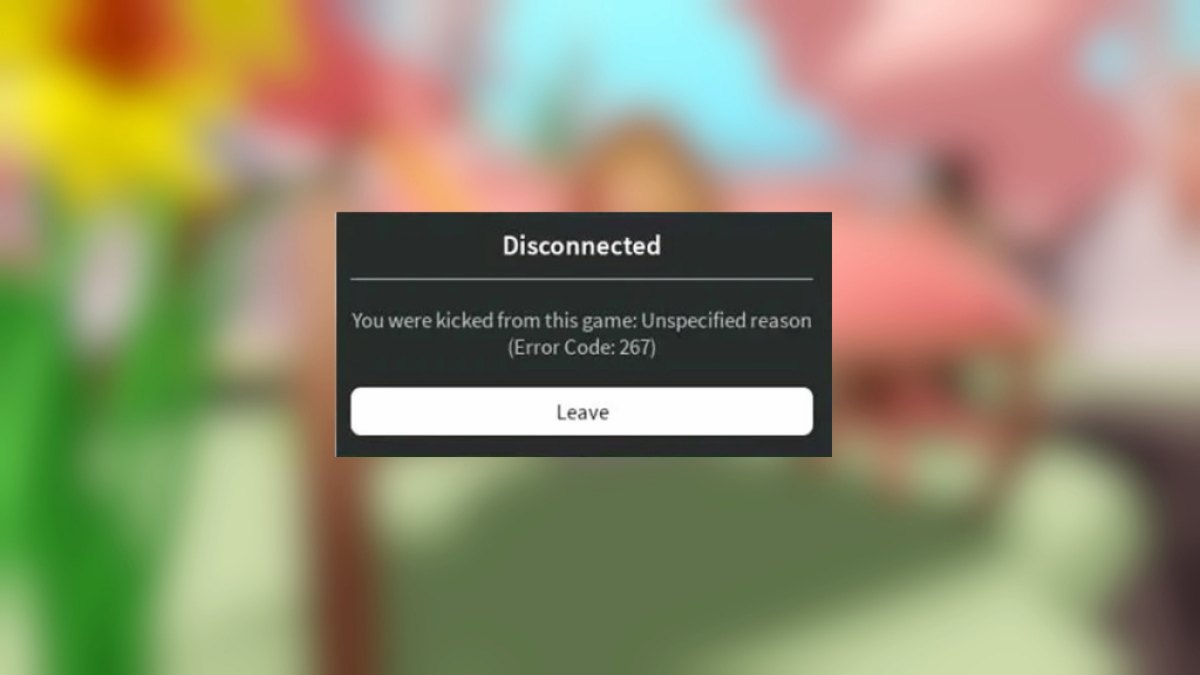 Roblox error 267 is usually linked to the user being kicked out of a Roblox experience. This can be caused by multiple reasons, but it usually boils down to the game thinking you have done something it finds suspicious enough that it feels the need to remove you from the game. Devs put script into their experiences to stop people from hacking or exploiting them and triggering that script will give Code 267 as the result. But some legal activities also trigger it. To fix Error code 276, try the following:
Blank game: If the code also includes the text blank game, it means the developers have taken it down, or it has been removed. Hopefully, it will be back, so keep an eye on it. But there's nothing you can do at this point.
Remove added scripts: It can be a simple mistake to add a piece of third-party script to a Roblox experience to change things up without realizing it is against the developers' wishes. If you've added some script to the experience that has kicked you, remove it and try again.
New account: Roblox has reported that some developers won't allow accounts to connect to their experience if they are less than 30 days old, to avoid players creating new accounts to quickly get around bans. In this case, you can just wait it out until your account is old enough.
Banned or kicked: If you've not been playing fair in Roblox, you'll likely know it. In this case, you'll likely be banned for a minimum of 30 days. If you think this has happened, but it is in error, you can try to contact the game's developers via their Roblox page.
Try a different server: If the game also has private or multiple servers, you can try to access another one. If this is possible, it may be that you received the code in error. You can retry the original server once more or stay with the new one.
Try a different browser: Try to connect to Roblox via a different internet browser. (If this fixes the issue but you want to continue to use the original browser, follow steps three and perhaps four below). Note that Google Chrome is the suggested browser to use by Roblox.
Browser update: Make sure that your internet browser is fully up to date. This should happen automatically when your device updates, but you can check in the Settings menu of your chosen browser to be sure.
Browser settings: If your browser has an ad blocker, you can try to disable it and see if that fixes the problem. Also, check to ensure Roblox is not on your list of blocked sites in Security Permissions. If not, you can also try to Reset and clean up the browser in the Settings menu. An add-on may be causing the issue.
Slow internet: If a 267 error simply says disconnected as the reason, it may be due to your internet running so slowly that the game couldn't function properly. You may need to disconnect other devices or pause downloads.
Reinstall Roblox: The process for this will depend on your device, but uninstalling and reinstalling Roblox is a simple way to ensure you're trying to log in with a clean install. Even if you didn't add any illegal script, something may have managed to corrupt it for you.
If none of the above works for you, you can always create a new Roblox account. This is very much a last resort though, as you'll lose all the progress you made on the original account.
You can also get free codes to help you in all your Roblox adventures by going to the Roblox Promo Codes page, or by checking out the Roblox Game Codes page here at Pro Game Guides!