Royale High is an RPG-style Roblox dreamworld where you can travel across the land completing quests, dressing up however you wish, and hanging out with your friends. You can use a huge array of dress-up features to match your mood and do anything from attending school classes to burning around the sea on a jet ski, all while collecting Diamonds and increasing your knowledge and level. Some tasks are easier than others, though, so here I'm going to give you the lowdown on how to get a Mermaid Tail in Royale High.
Can you get mermaid tails in Royale High?
Mermaid Tails was an item that you used to be able to buy for Diamonds up until around 2019. You'll still see them on some players, but the original ones can no longer be purchased, and annoyingly you can't trade for them either. However, the good news is that there is a way to get a Mermaid Tail. It looks a little different, but it is still cool. All you need to do is complete a quest, then get creative in the Dress Up and Emotes menus to complete the look.
Related: Best Royale High halo designs
First, you'll need to get the Swimmer Flippers by completing the Trash Quest. To start the quest, teleport to Diamond Beach and walk over to the Lifeguard in the hut on stilts on the beach. Talk to him, answering positively to the questions, and he'll give you a quest to collect 75 pieces of garbage from the beach. Return to him once you've collected it all, and he will reward you with the Swimmer Flippers.
How to make the Swimmer Flippers into a Mermaid Tail
Don't worry; you've done the hard part! Simply complete the following steps to create your Mermaid Tail: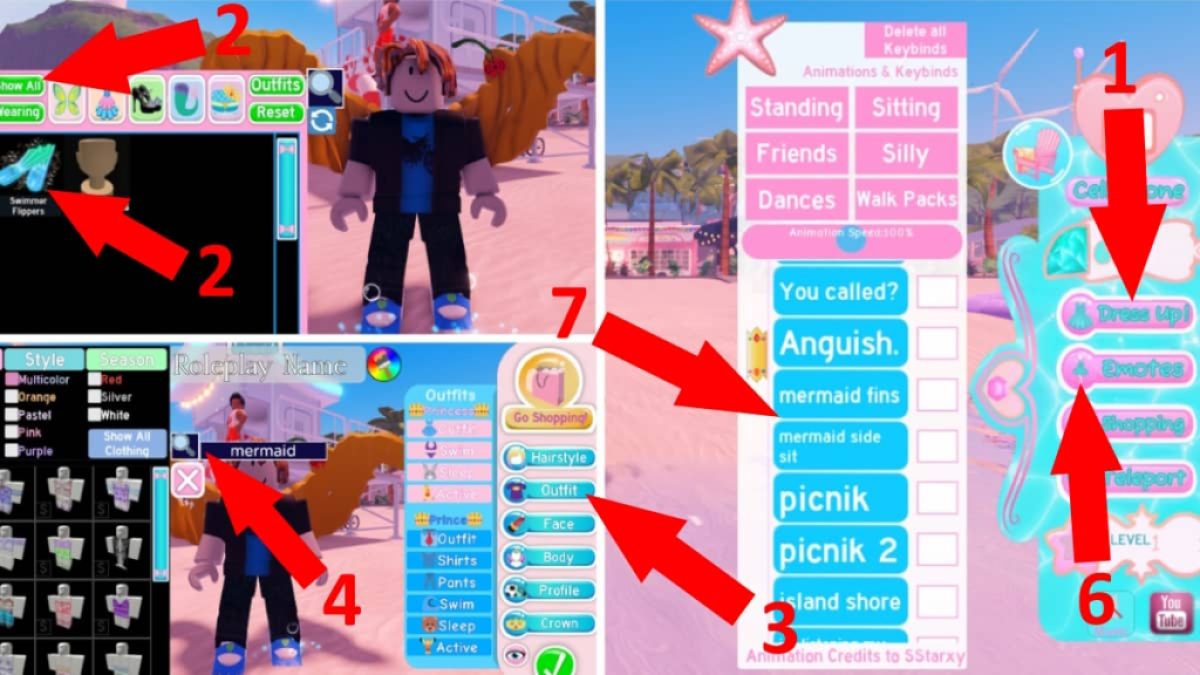 Select Dress Up from the main menu.
Click Show All and equip your Swimmer Flippers.
Select Outfit from the right menu.
Click the Search icon and type in mermaid – no need to press enter afterward.
Scroll through the results and click on the Outfit you like. I'd suggest making sure the whole of the leg area is covered, and it will usually look better if they have a scale pattern.
Once equipped, come out of Dress Up mode and click Emotes.
Click Sitting, scroll down to mermaid fins and mermaid side sit, and voila! You're a mermaid.
The great thing about this method is that you have total control over how it looks, unlike the paid mermaid legs, where you had to buy each look. Have fun dressing up!
Looking for more on Roblox Royal High? Check out Roblox Royale High halo rarity tier list and How to get the Ocean's Blessing badge in Royale High – Roblox here at Pro Game Guides!