AJ Striker has left us some treasure in Be a Toy during Week 2 of Metaverse Champions. Find out how to get AJ Striker's Crate Drop (available April 21 to April 30) below.
How to get AJ Striker's Chest in Be a Toy
To get AJ Striker's Crate Drop in Be a Toy, you need to collect the four pieces of the egg that are hidden around the map and bring them to AJ Striker. To join a match for this game, use the following link: Be a Toy!
The greatest challenge in this quest is that it's a sandbox physics game, so when you join a server, many of the objects are hidden or misplaced. This makes it hard to collect all the pieces. We were only able to complete it by hosting a private server, and that may be what you need to do to finish it.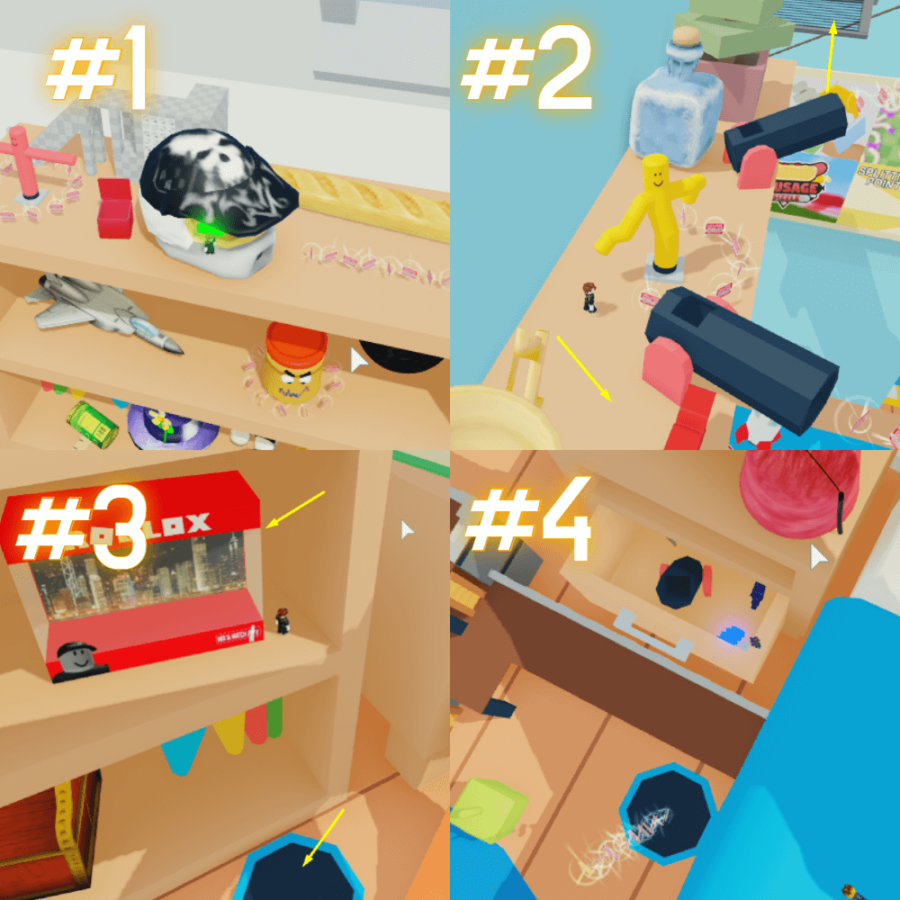 In the image above, you'll see all the locations of the the four egg pieces. To pick them up, you need to click on them. It may not look like you grabbed them, but if you did it correctly, they will float with your character as you walk around. The list below provides more detailed instructions on how to reach them.
#1 - Green: This piece is on the tallest shelf, which is across from the window. In the back corner of the shelf is a ladder to reach the top. Climb up it and push the Helmet off the shelf to get the Green Piece that's hidden underneath.
#2 - Red: This is on the top shelf across the room from the Green Piece. To get there, take the vent that is in the corner near the floor. It will pull you up to the top shelf and shoot you out. Walk around the objects up here to find the Red Piece hiding behind the Roblox sign.
#3 - Yellow: This piece is on the same shelf as the Green Piece, but a couple levels down. Use the trampoline on the floor in front of the shelf to bounce up a couple levels. The Yellow Piece is hiding behind the Roblox box.
#4 - Blue: The Blue Piece is in the dresser in the opposite corner of the shelf that holds the Green Piece. You can get up to the dresser by double-jumping. If you look inside, you'll find the Blue Piece next to the Cannon.
After you have brought all four pieces to AJ Striker, your task is complete! The egg will automatically pull itself together and then AJ will give you his Crate Drop.
For all Metaverse Champions Mission Guides, be sure to check back with Pro Game Guides. If you're looking for codes for other games, we have a ton of them in our Roblox Game Codes post! You can also get a bunch of free stuff via our Roblox Promo Codes page.