Fey Yoshida needs your help in Roblox God Tycoon against some dangerous monsters. We've got all the tips you need to defeat these foes and earn Fey Yoshida's Terror Case #1 (available April 14 to April 22) below.
How to get Fey Yoshida's Terror Case in God Tycoon
To get Fey Yoshida's Terror case in God Tycoon, you must defeat 10 Scary Monsters in the cave where the meteor crashed. This mission is all combat-based and will require quick movement.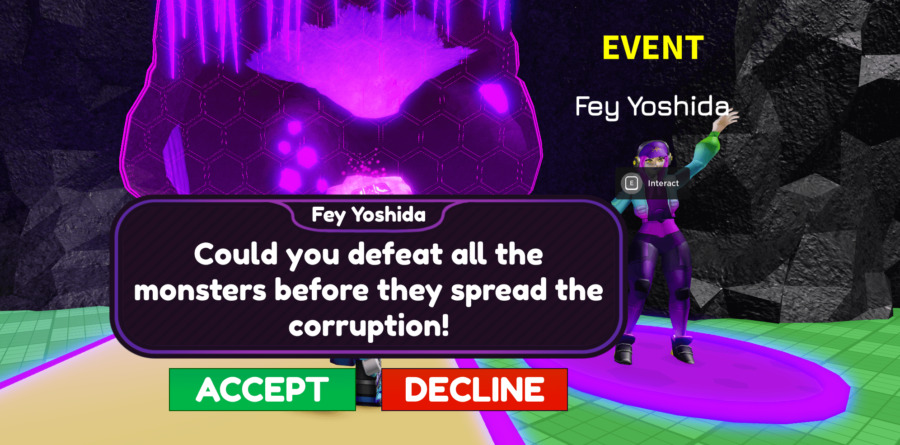 You are provided with two weapons: a Sword and a Fireball. When opting for the Sword, you should only prioritize one Scary Monster at a time since you will be fighting in close quarters. Grab the attention of one too many Scary Monsters and they will surround you in no time.
Range is your main advantage with the Fireball. You can shoot from long range while grabbing the attention of many Scary Monsters at once. As you run around, continue shooting the Scary Monsters down one by one until you have defeated 10 of them.
Related: How to get Wren Brightblade's Treasure Chest in Speed Race | Roblox Metaverse Champions
Some tips:
No matter the weapon, always be moving. You should never stand still at any point while in the cave.
Scary Monsters respawn when defeated after some time. Respawned enemies threaten to deal large amounts if you are caught off guard.
Fighting the Scary Monsters with other players will help you defeat them faster while ensuring you stay alive during the whole duration of the mission.
After you have defeated all 10 of the Scary Monsters, you will be rewarded with Fey Yoshida's Terror Case #1. This item will also appear in your Avatar inventory along with a game Badge.
For all Metaverse Champions Mission Guides, be sure to check back with Pro Game Guides. If you're looking for codes for other games, we have a ton of them in our Roblox Game Codes post! You can also get a bunch of free stuff via our Roblox Promo Codes page.