Secret achievements and trophies make the gaming world go 'around, and Roblox badges are no different! Badges can be earned in almost every experience on the platform and make for quite the collector's item, especially those that are considered ultra rare and/or hidden. In the artistic experience Spray Paint, dedicated (or lucky, depending on how you look at it) players have the opportunity to earn one of these badges, the ??? badge, and it's both exceptionally rare and secret. At the time of this article's publication, less than 15,000 players own this badge; if you want to be one of those prideful few, continue reading below to find out how.
How to earn the ??? badge in Spray Paint
When the number of times its been "Won Ever" is compared to the experience's total visits, the ??? badge is not only the rarest badge in Spray Paint, it's one of the rarest on the entire platform. Since its debut in 2020, Spray Paint has been visited by players nearly 600 million times, which means that, even if we assume that of those 600 million visits, only 15 million of them are counts of first time visitors, and all other return visits are discounted, the ??? badge (at an estimated 15,000 times earned) has been claimed by 0.01% of people who have played Spray Paint.
So, after all that info, how do you even earn this badge!? Despite its rarity, the ??? badge is actually really easy to unlock...in theory. Once you've spawned into Spray Paint, head toward the subway's entrance and to the location pictured below. In front of you should be a chainlink fence with a dark alley behind it.
Related: How to get the Secret finder badge in Epic Minigames – Roblox
When you find it, click the cog icon in the top-right corner of your screen to open the experience's menu; then, select Night Mode to turn it on.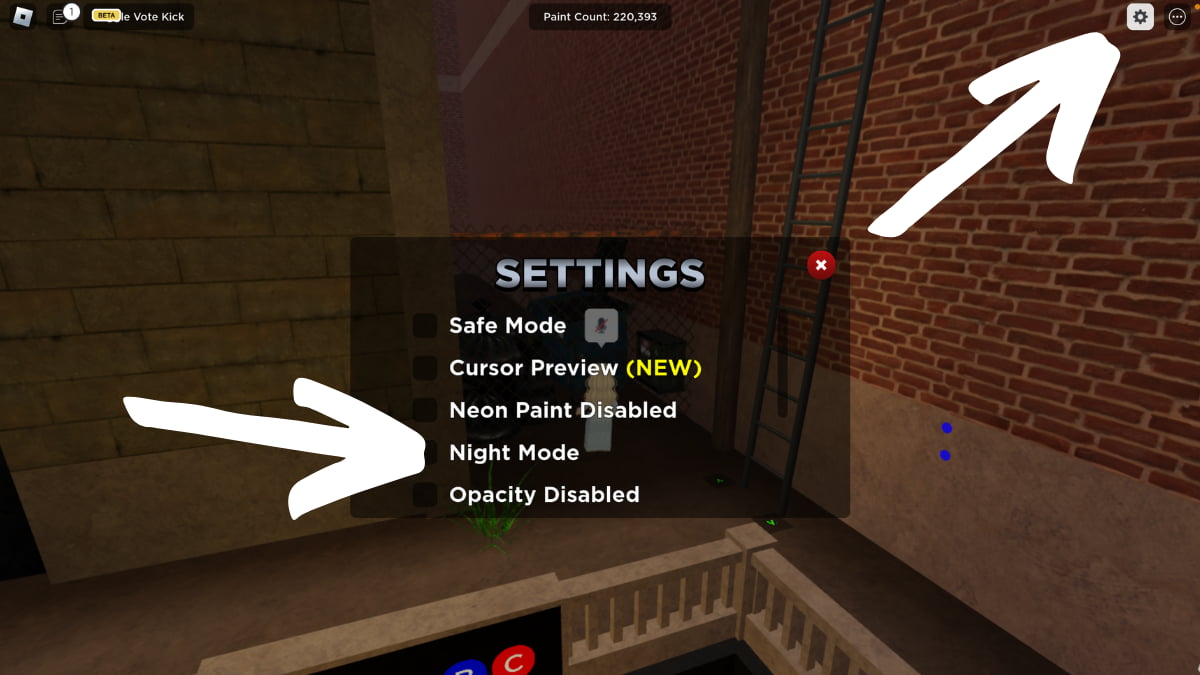 If you're lucky, an NPC holding a knife will appear behind the fence. As soon as the NPC appears, you'll unlock the ??? badge. If the NPC doesn't appear, leave the current server, join a different one, and repeat the same process. This could take tens, hundreds, or even thousands of tries and is completely luck based, so don't give up if you don't get it right away!
Looking for more badge hunting content? Check out some of our other guides on How to get the Lucky Day badge in Banana Eats – Roblox or How to get the Find Pink! badge in Crewmates! – Roblox here on Pro Game Guides!