In order to get the Gun ingredient in Roblox Wacky Wizards, players must reach Level 9 in their spellbook. Once that level has been reached, the gun ingredient will automatically appear on your crafting table as a permanent item.
Many veteran players who have logged time into Wacky Wizards before the Levels Update might already have surpassed Level 9, but this might not be the case for new players. In that case, there are plenty of ways to increase your rank from 0 to 9 fast.
To reach Level 9 fast, players can complete multiple objectives:
Discover new ingredients
Brew new potions and fill out your potions book
Defeat bosses like Mr. Rich
Complete quests from Oz the Wizard and Glinda the Witch
Completing the objectives above will increase your level fast, and it just takes some time naturally playing the game. We recommend discovering all of the ingredients as fast as possible since it will allow you to brew most, if not all, of the potions in-game.
How to check your Level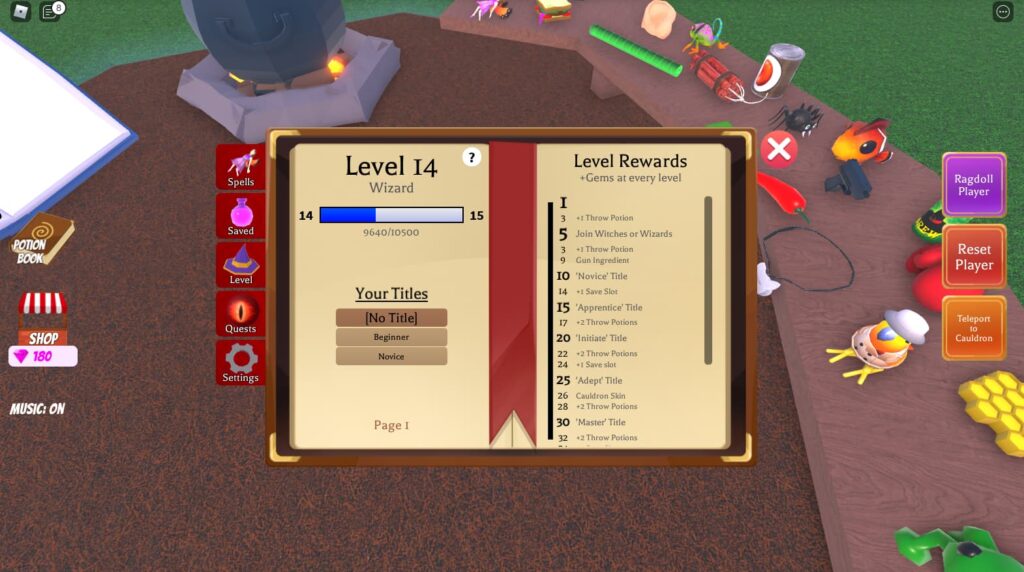 To check your level in Roblox Wacky Wizards, press the Potion Book button on the left side of the screen. This will open up your list of potions, along with a bunch of menu options. Look for the Level tab on the left side of the Potion Book to bring up the Level menu.
From here, you may check your level rank at any time. To the right of your level is a long list of rewards you get for ranking up. In addition to the Gun ingredient, you can also earn titles every five levels, along with skins, extra save slots, and more.
Check out our Roblox Wacky Wizards page for all of our guides on specific quests and ingredients, like How to get the Frog ingredient in Roblox Wacky Wizards and How to get the Honey ingredient in Roblox Wacky Wizards.