The Gucci Garden Event has been an explosively popular event for Roblox. One of the features of the event is exclusive items, like the Dionysus bag. But how do you get them?
How to Get the Gucci Garden Event Gucci Dionysus Bag
Here's how to get the exclusive Gucci item!
What Happened to the Dionysus Bag?
When the Gucci Garden Event began, the Dionysus Bag was available for sale for R$380. Now, players can no longer buy the item from the event area itself, as it has gone to Limited status. Anyone who wants to purchase the bag will have to pay more Robux to get the limited purse.
How To Get the Dionysus Bag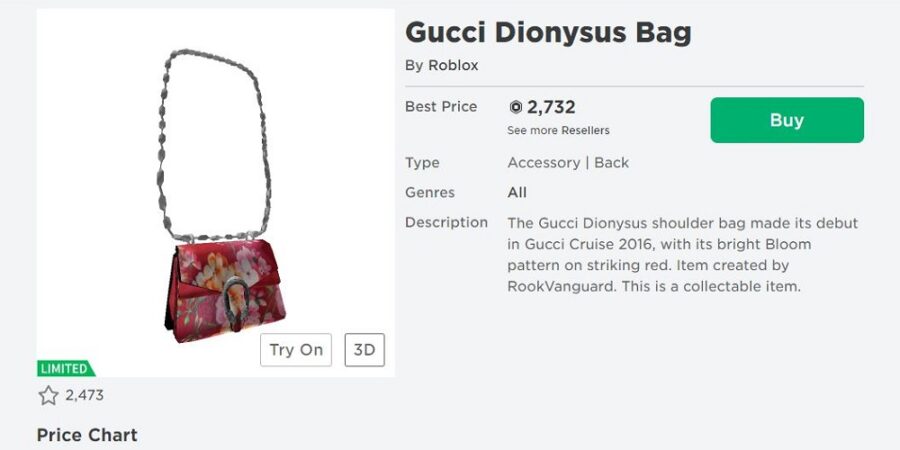 You will need to purchase the Dionysus bag from the Roblox Avatar Shop. The purse can be found if you search for either Gucci or Dionysus. From there, you can find the bag available for purchase for resale. Since other players are setting the resale price, it can be very volatile. If the price is extremely high and you cannot afford it, maybe try searching again in a few minutes to check for a better deal.
Related: Roblox Gucci Garden: How to get the free Gucci Denim Wide Brim Hat
Other Options
If you cannot afford to buy the Dionysus bag at current resale prices, you may wait until towards the end of the event and hope the prices go down. If you just wants a Gucci item, there are still future releases in the Gucci Garden Event, such as the Gucci Headband on May 21.
Want to read more about Roblox? Check out Roblox Keybinds & Keyboard Controls on Pro Game Guides.