In Roblox Theme Park Tycoon 2, players will have to create a Theme Park with various rides, stalls, and activities to attract guests. You will unlock multiple rides and unique items along the way by completing a few Achievements, and one of them includes the Teleporter. Teleporters are unlocked by completing the Spin to Win achievement, which is used to travel instantly from one location to another. Although guests cannot use Teleporters, these items make it easier for the player to move from one location to another. Here's how players can unlock the Teleporter quickly in Theme Park Tycoon 2!
How to complete the Promode Achievement in Roblox Theme Park Tycoon 2?
It's ideal to get the Promode Achievement unlocked first before getting the Teleporter as this will reward players with the Spinning Roller Coaster. The Promode Achievement is completed after players build and open a tracked ride primarily using the Advanced Editor in Roblox Theme Park Tycoon 2! To complete this Achievement quickly, build a small Roller Coaster using the Advanced Editor. You can choose any of the rides from the Roller Coaster tab, and make sure to select the Spherical Manip tab from the advanced editor.
Related: How to unlock the Monorail in Roblox Theme Park Tycoon 2
How to get the Teleporter in Roblox Theme Park Tycoon 2?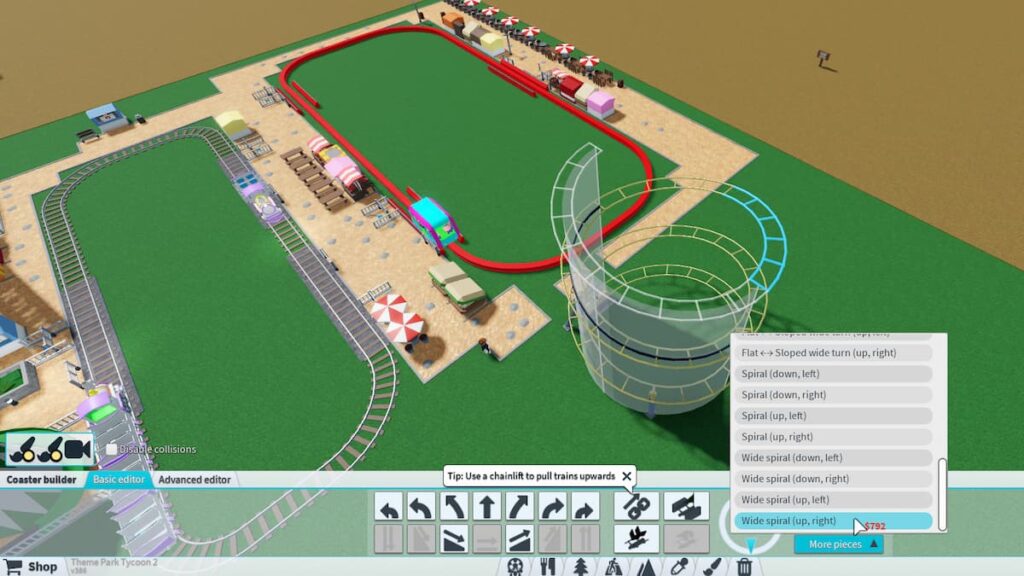 Completing the Promode Achievement will also allow players to practice with the Advanced Editor, using complex features like Chainlift, Boosts, and Breaks. To acquire the Teleporter, you must build a spinning ride that can spin faster than 360 degrees. The easiest one to make is the Spinning Roller Coaster, and players can ideally build a helix that takes the ride to a specific height, before coming down. Players will need a lot of money fast to build this ride, so we recommend saving for a while before taking on this project.
In the Editor, players will get to see an option called More Pieces, and here you will find the Spiral and Wide Spiral track options. Use the Wide Spiral Up to build the track up to a certain height, and the Wide Spiral Down to gradually bring it down. This will create a helix-like structure shown in the image reference above, allowing your ride to get more than 360 degrees. Complete the Roller Coaster, and put it in testing mode once before opening it to all guests. After it's ready, players will complete the Spin to Win Achievement and unlock the Teleporter.
Wondering how to make your Theme Park attractive to get a five-star rating? Check out How to get a five star park rating in Roblox Theme Park Tycoon 2 on Pro Game Guides!