Updated September 27, 2023
Checked for new codes!
Test your Roblox avatar's leg strength on this Jump Clicker experience! How far can you reach before plummeting back down to the ground? Collect as many clicks as possible before taking to the skies and crossing as many checkpoints before gravity starts to take hold. This race is for those who are not afraid of heights!
The codes you redeem in Jump Clicker will give you Stars. Stars are used for speed boosts to help you cross as many checkpoints as possible before you start to slow down and fall back down. These stars can help you get a boost in power for your first attempts at the jump course.
Roblox clicking experiences have codes to help you gather clicks to help you beat the other players in the game. Claim these codes for an early game boost in Race Jumpers Codes, Roblox Jetpack Jumpers Codes, Roblox Jumping Legends Codes, Anime Race Clicker Codes, and Race Clicker Codes.
All Jump Clicker Codes List
Jump Clicker Codes (Working)
Here's a look at all of the working Jump Clicker codes.
silentnight—Redeem for a Darkened Pumpkin Pet (New)
spookystart—Redeem for a Ghost Pumpkin Pet
blackcat—Redeem for a free Black Cat Pet
10KLIKES—Redeem for 1k Stars
1KLIKES—Redeem code for 100 Stars
STARTER—Redeem code for 50 Stars
COMMUNITY—Redeem code for 100 Stars
Jump Clicker Codes (Expired)
These Jump Clicker codes no longer work.
There are currently no expired Jump Clicker codes.
Jump Clicker FAQ, Answered
Follow our guides for all your questions on Jump Clicker answered.
How to Redeem Jump Clicker Codes
It's easy to redeem codes for free rewards in Jump Clicker.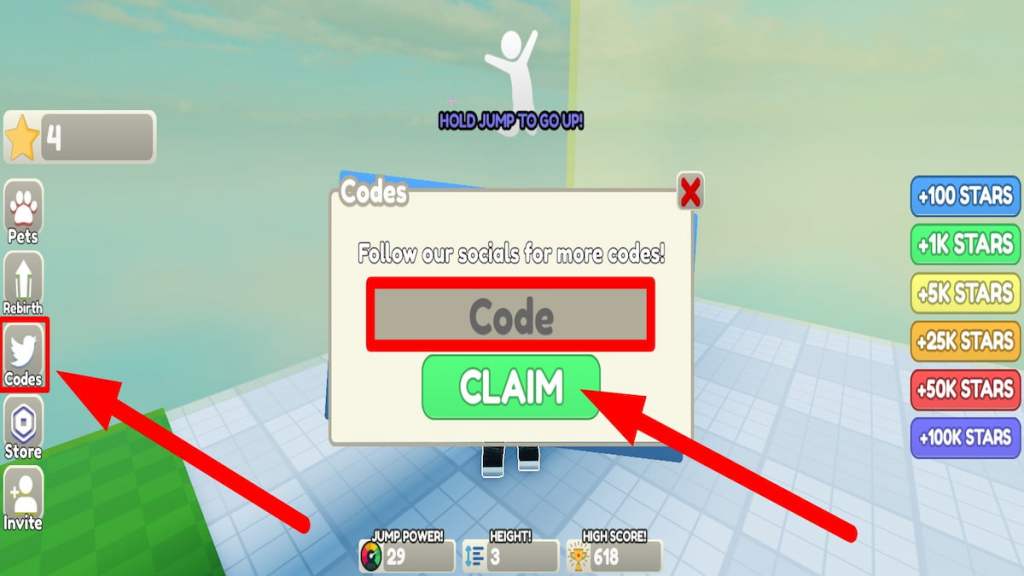 Launch Jump Clicker.
Click on the Twitter Bird icon on the left-hand side of the screen.
Enter the code into the Code text box.
Click the green CLAIM button to redeem your reward.
How to get more Jump Clicker codes
To get the latest Jump Clicker codes, follow the developer Jumping Juniors and join their Jump Clicker Discord Server. At Pro Game Guides, we have all the developers' codes, so bookmark this page to never miss out on another freebie again!
Why aren't my Jump Clicker codes working?
There could be several reasons why your Jump Clicker codes aren't working. When you type the codes in the text box, these codes could be missing punctuation or have the wrong spelling. Copy and paste the codes from our list to avoid making mistakes before you click on the claim button. These codes may be expired, and developers decide when they get taken down, so claim the codes as soon as you see them on our list.
What do Stars do in Jump Clicker?
Stars in Jump Clicker will give you a boost to your speed when you start jumping. While jumping, you can activate the Star boost to give you more speed and jump higher and finish further than the other players in the game.
What is a Jump Clicker game?
A Jump Clicker game is a clicking game where you need to click as much as possible before you jump. Collecting clicks will give you jumping and speed power to jump higher and faster than the other players in the game. Can you reach the end of the course in the quickest time to reach the top of the leaderboards?
If you're looking for codes for other games, we have a ton of them in our Roblox Game Codes post! You can also get a bunch of free stuff via our Roblox Promo Codes page.