Junk Simulator is about digging. Whether you prefer to dig the traditional way with a shovel or blast your way down with a bomb, you will fit right in. Gather junk and dirt to earn cash for shovel upgrades, pets, and more. To help you out, you can also use these codes.
Codes in Junk Simulator will give you various Happy Boys, cash, and scraps, so keep an eye on them. These will also have expiration dates, so you must use the codes before they expire. We have compiled a list of available codes so you can earn gems and more in Junk Simulator.
If you're looking for more Roblox content, check out Roblox Monster Ghoul Codes, Roblox Big Brain Simulator Codes, Roblox Yeet Legends Codes, Roblox Mowing Masters Codes, How to get the free Tiki Shoulder Buddy avatar accessory in Roblox | Microsoft Rewards, and more on Pro Game Guides. These Roblox code pages will certainly help you out.
All Junk Simulator Codes List
Updated June 17, 2022

Added new codes
All Junk Simulator Codes List (Working)
stinky4ever—1x Happy Boy, 10,000 Cash, 500 Scraps
All Junk Simulator Codes List (Expired)
There are no expired Junk Simulator codes at this time.
Roblox Junk Simulator Codes FAQ
Here's everything you need to know about Roblox Junk Simulator codes.
How to redeem codes in Junk Simulator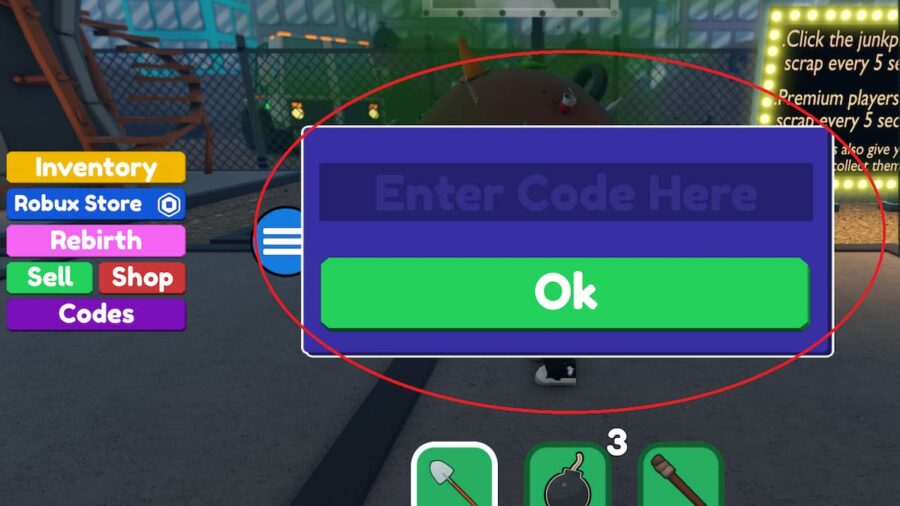 Codes in Junk Simulator are useful for getting resources and rewards quickly. Here is how to redeem codes in Junk Simulator.
Click on the three lines icon on the left side of the screen.
Select Codes.
Enter the code and hit confirm.
How to get more Junk Simulator Codes
The best way to get more codes is to join the Junk Simulator Twitter, Discord, or Community Group. These are the best ways to get more codes for Junk Simulator. You can also check back at this page for more codes as they get released!
Why aren't my Junk Simulator Codes working?
The developer controls codes for Junk Simulator and determines how long they are active. Some codes may expire quicker than others, and some may not work with others. If a code does not work for you, double-check if there is a spelling error, the code isn't active yet, or it has already expired. To help solve that issue, bookmark this page and come back often to see if Junk Simulator has added new codes or if some are expired.
What is Junk Simulator?
Junk Simulator is a Roblox game all about digging and collecting rewards. Use your trusty shovel or explosive bombs to dig. You will gather dirt and junk that you can sell for various rewards. These include pets, shovel upgrades, and more.
For more information on Roblox, check out Best boat designs in Roblox Build A Boat For Treasure and Roblox Adopt Me! collabs with 'Minions: The Rise of Gru' to release exclusive Zodiac Minion Egg on Pro Game Guides.