Mini Mart is a chill and entertaining tycoon on Roblox where you are in charge of your own mini-mart! Set up shop by building shelves, growing crops to stock, and selling as many as possible to earn a profit and continue growing your business. You will need to work hard to save up the money used to expand and build more units in your mart.
Our list of Mini Mart codes below can be a very beneficial method for earning money quickly and easily without any grind or hassle whatsoever. Entering a code can redeem you free rewards, such as money, so you can get a head start on your shop!
Codes can be so helpful in collecting valuable materials and resources to help you jumpstart your adventure. Check out our lists of codes available for other great Roblox experiences just like this, such as Roblox Shopping Simulator Codes (June 2022), Roblox My Supermarket Codes (June 2022), and Roblox Grocery Store Tycoon Codes (June 2022).
All Mini Mart Codes List
Updated June 21, 2022

Added a new code
Mini Mart Codes (Working)
Here's a look at all the working Mini Mart codes.
like10k––Earn $2,000 in-game dollars.
Mini Mart Codes (Expired)
These codes for Mini Mart no longer work.
There are no expired codes for Mini Mart.
Mini Mart FAQ
Here's everything you need to know regarding Mini Mart codes.
How to redeem Mini Mart codes?
Redeeming codes in Mini Mart is super straightforward and will only take you a second!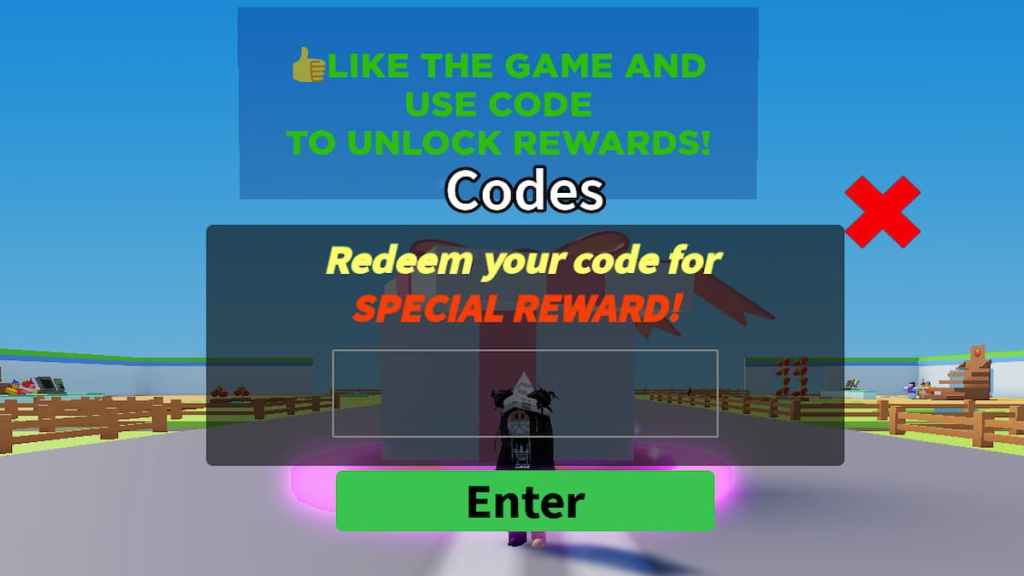 Once you hop into the game, head away from your shop toward the street. Right in the center should be a giant present with a neon purple circle around it, and above it is a notification to like the game and use codes for rewards.
Walk into the present (the menu will open for you)
Click into the empty box
Type your code
Press the green Enter button for your reward!
How can you get more Mini Mart codes?
Codes for Mini Mart can change regularly as new updates are introduced to the game or the 'like' goal is met. Keep an eye on the game description! The developer places the codes there as they added for easy access and no extra digging. You can also click on the developer's name, SmartGuy, underneath the game title to head over to their group page, where you can stay up-to-date with any Mini Mart news.
Why aren't my Mini Mart codes working?
If you are having trouble getting your code to work, be sure to copy and paste it into the box. Codes are usually case-sensitive, so they won't work if there is even the slightest typo.
Unfortunately, codes can also expire with little to no warning. If the code is expired, let us know so we can keep the list as updated as possible for your convenience!
What is Mini Mart?
Mini Mart is a casual tycoon game on Roblox where you own a mini-mart. Like most tycoons, save up your money and use it as you step onto the appropriate squares to build shelves, crops, and other units in your shop. Be sure to stock your shelves with products by collecting your freshly grown produce and other prepared objects and placing them in their aisles. You will get more and more customers as your business expands, and watch as they flood into your store and buy your stocked merchandise. You will do it all––from standing behind the register, growing the crops, and building the accommodations. This fun experience will keep you entertained for hours as you strive to be the best shop on the block!
How can you get Workers in Mini Mart?
Workers are a great addition to your Mini Mart because they will harvest your crops for you, so you don't have to keep going back and forth. You can click the blue icon on the right side of the screen, where a person with a hat is symbolized, and take a look at all the Workers available for purchase in the game. However, these are only available for Robux. As long as you don't mind spending a bit, this could speed up your sales and benefit your mini mart!
If you're looking for codes for other games, we have many of them in our Roblox Game Codes post! You can also get a bunch of free stuff via our Roblox Promo Codes page.