See what it's like to run your own supermarket in Rock Panda Games's My Supermarket, a game that puts you in the shoes of a store manager. In it, you must impress your customers by keeping the shelves stocked and by upgrading your store to have an inviting atmosphere and friendly service. All of this seems simple enough, but you'd be surprised at how demanding your customers can be!
Fortunately, you have help running your market. Similar to Rock Panda Games's My Hello Kitty Cafe, you can obtain special cosmetic items for your store to impress your customers and keep them coming back! Some codes also grant you heaps of cash or even staff members, which could give you the small boost you need to purchase the next big upgrade.
All My Supermarket Codes List
Updated December 22, 2022

Added new codes and updated page.
My Supermarket Codes (Working)
These are all the working My Supermarket codes.
LIKEPANDADB2—Redeem for Susan Staff Member (New)
LIKEPANDARX2—Redeem for 2 Garden Pansy (New)
LIKEPANDALA2—Redeem for 2x Lavender (New)
LIKEPANDADE2—Redeem for LED Flower (New)
LIKEPANDAGH2—Redeem for Cute Panda (New)
LIKEPANDALA2—Redeem for 2x Lavender
LIKEPANDARX2—Redeem for 2x Garden Pansy
LIKEPANDAFG2—Redeem for 2x Greenwood
LIKEPANDAVF2—Redeem for Venus Flytrap
My Supermarket Codes (Expired)
These are expired codes for My Supermarket.
ONEYEARGO—Redeem for rewards
LIKES0404EA—Redeem for a special reward
LIKES10000WO—Redeem for Panda Parking Permit
LIKES5000HN—Redeem for Henry staff member
RPGLIKES200SW—Redeem for 1,000 Cash
RPGLIKES500LD—Redeem for 2,000 Cash
RPGLIKES1000XJ—Redeem for 5,000 Cash
LIKES2000FF—Redeem for 10,000 Cash
LIKES3000KN—Redeem for 2x Sunflower
LIKES7500SJ—Redeem for 2x Snowflake Chandelier
LOVEPANDA2021—Redeem for Romantic Decor
Related: Roblox Mini Mart Codes
How to redeem codes in My Supermarket
Follow the instructions below to redeem codes in My Supermarket.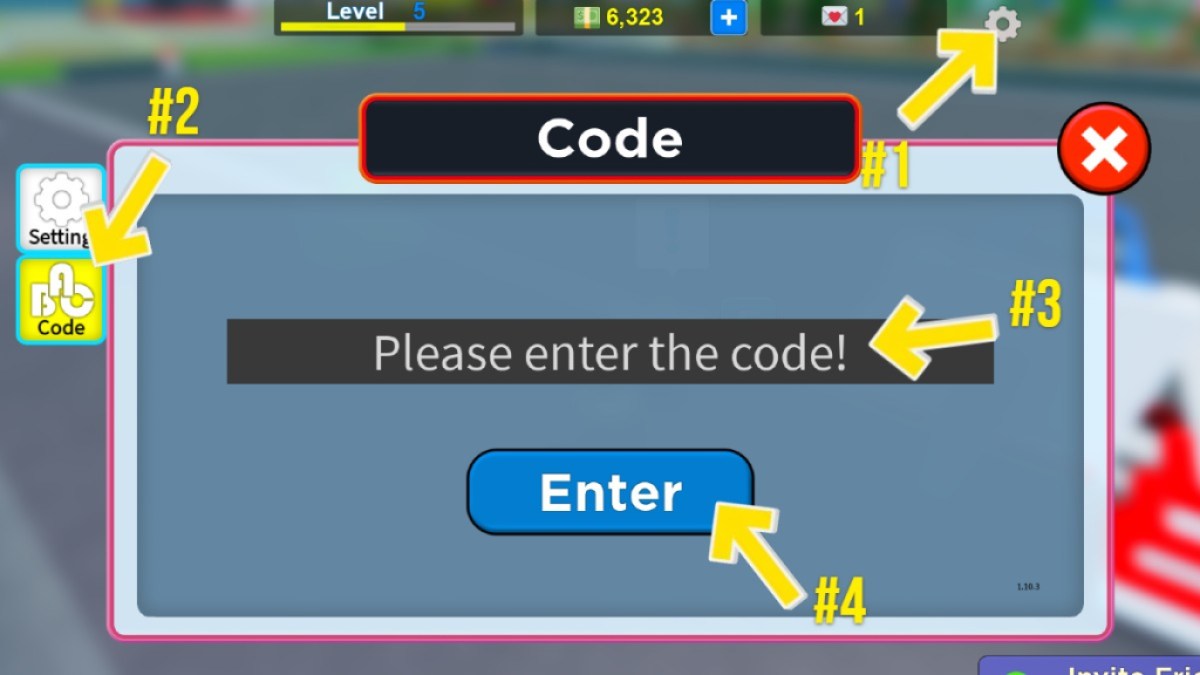 First, complete the tutorial. Then, press the Gear button on the top of the user interface.
Select the ABC Code tab on the left side of the settings menu.
In the text box, enter the code exactly as it appears in the list above.
Press the Enter button to claim your reward!
How can you get more My Supermarket codes?
Rock Panda Games, a well-known developer in the Roblox community, developed My Supermarket. They often release codes for all their games on the official Rock Panda Games Twitter. If you don't see any recent codes there, you can also go through their official Discord server to see if any new codes show up there and to make sure you aren't missing any active codes.
Why are my My Supermarket codes not working?
The most common cause of invalid codes is that it's past their expiration date. But, My Supermarket informs you if a code is expired when you enter it. If you enter the code and it says it is "Invalid," you have likely typed it wrong (they're case sensitive), or you haven't completed a task that requires you to use codes. To avoid typos, copy and paste the codes from our list directly into the game.
Other ways to get free rewards in My Supermarket
You can get a boost to your income by inviting friends to play with you in the game. For every person on your Roblox friends list playing the game with you, you get a five percent boost to your income from sales in your market. You can play with up to four friends for a max boost of 20 percent! Additionally, you are given progressively better wards in your daily claim for every consecutive day of playing My Supermarket!
What is My Supermarket?
My Supermarket is a management game developed by Rock Panda Games where you must focus on managing your daily life as a store owner. It is geared toward people who prefer a more passive approach to success and features no competitive play. Rock Panda Games developed another more popular game called My Hello Kitty Cafe, which is of a similar genre to My Supermarket. Be sure to follow the game's development on their Roblox group page and YouTube channel!
If you're looking for codes for other games, we have a ton of them in our Roblox Game Codes list! You can also see all general Roblox awards on our Roblox Promo Codes page.