We have unlocked our inner cuteness in My Hello City Cafe. We decorated, managed this cafe, and had to make sure to keep our customers happy all the time. The cuter we made our store, the more we could unlock to make it even more attractive! Baking and feeding our customers unlocked more cuteness so that our cafe is the only cafe the customers came to! As a Hello Kitty fan, this is a must-play!
With several in-game ways of leveling up and unlocking new decorations like Gacha Tickets, Diamonds, and Sunflowers, we have collected all the codes so you can focus on your sweet cafes start-up.
We have the cutest games for you and the code lists to match. Try these codes to help you get your dream store that your inner fuzz ball can imagine. Roblox Koala Cafe Codes, Roblox Penguin Tycoon Codes, Roblox Pet Zoo Codes, Roblox Crown Academy Codes, and Roblox Bakery Simulator Codes.
All My Hello Kitty Cafe Codes List
Updated May 25, 2023

Checked for new codes today.
My Hello Kitty Cafe Codes (Working)
600KHAPPYDAY—Redeem for 3 Gacha Tickets (New)
HAPPYGIFT—Redeem for a 200 Million Visits Photo
500KSMILES—Redeem for a Pompompurin Ceiling Light
M1HK1CC1ATS—Redeem for a Gacha Ticket
LIKEKITTYHL2—Redeem for 3 Gacha Tickets
LIKEKITTYXR2—Redeem for 3 Gacha Tickets
SMALLGIFT—Redeem for the 100 Million Visits Photo

LIKEKITTYXK2—Redeem for a Pompompurin Mascot.
thankyou—Redeem for 300 Gems.
LIKEKITTYFD2—Redeem for 3 Gacha Tickets.
LIKEKITTYKD2—Redeem for 3 Gacha Tickets.
LIKEKITTYDD2—Redeem for the Artistic Waffle decoration.
LIKEKITTYQD2—Redeem for a Pompompurin Photo decoration.
LIKEKITTYCD2—Redeem for a Gacha Ticket.
LIKEKITTYGD2—Redeem for 3 Gacha Tickets.
LIKEKITTYED2—Redeem for 300 Diamonds.
LIKEKITTYAD2—Redeem for a Sunflower.
LIKEKITTYBD2—Redeem for 100 Diamonds.
My Hello Kitty Cafe Codes (Expired)
These codes are no longer valid.
bebalnakret—Redeem for a free Gacha Ticket
HACMUSETTER—Redeem for a free Gacha Ticket
PRA3NDKB1UNNY—Redeem for free Gacha Tickets
R6P8GM5KH2KC
PDABP62—Redeem for a Gacha Ticket.
cctxbp—Redeem for 5 Gacha Tickets.
My Hello Kitty Cafe FAQ, Answered
Below is everything you need to know about My Hello Kitty Cafe codes.
How to redeem My Hello Kitty Cafe codes
It's easy to redeem free rewards in My Hello Kitty Cafe. To do so, follow the instructions below.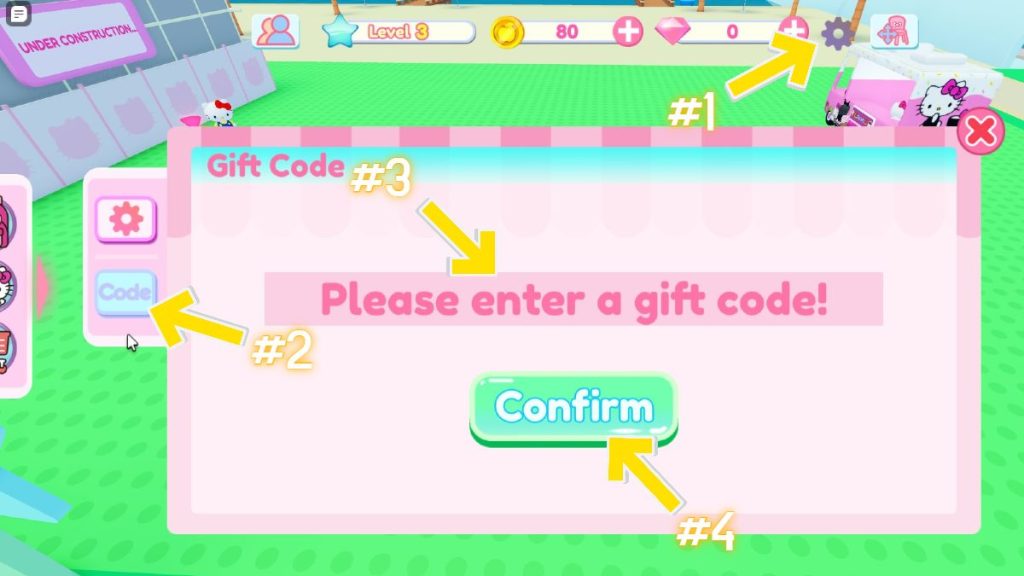 In the game, press the Gear button on the top of the screen to open the Settings menu.
Press the Code tab on the left of the Settings window.
In the text box, enter the code exactly as it appears in the list above.
Press the Confirm button to claim your reward.
How to get more My Hello Kitty Cafe codes?
Getting the latest codes for My Hello Kitty Cafe is simple. Follow the developer Rock Panda Games on the following social media pages, Twitter @RockPandaGames, their YouTube channel Rock Panda Games, and their RockPandaGames Discord Server. Alternatively, we here at Pro Game Guides have all the latest codes, so make sure to follow us here because we update our lists daily!
Why aren't my My Hello Kitty Cafe codes working?
There are a few things that you can do to make sure you don't miss out on a code. Make sure that your spelling and punctuation are correct. It would be easier to copy and paste the code from our list. Return here often to check this list and claim the codes before they expire. Codes are time-sensitive and can expire within hours!
What is a My Hello Kitty Cafe game?
In a My Hello Kitty Cafe game, you become the manager of a super cute cafe where you need to bake and keep your customers happy. The better the service and goods, the better your rating will be to upgrade your cafe and keep it busy!
You can also get more free codes to help you in all your Roblox adventures by going to the Roblox Promo Codes page. We have you covered when it comes to all things Roblox and Roblox Anime!