With the help of the cutest and fluffy Koalas in Roblox Koala Cafe, you can build your dream Cafe with the themes from down under. Make your Cafe the best for your customers by building it up and making it the most attractive to them. The more extensive and efficient your Cafe, the more Tokens you can make to expand it. Now chew on these codes!
Our Roblox Koala Cafe Codes compilation has the most up-to-date list of codes you can redeem for new Pets and Tokens. Use these Pets and Tokens to help build your Cafe into a money-making empire. Eventually, you can decorate and expand to your liking!
If you enjoy running your Cafe and building it up to do the best service that pleases you and your customers, we have a list of other Roblox games you can serve to your heart's content. Try these games and their codes to get the boost you need to make your establishment the way you would like. Roblox My Hello Kitty Cafe Codes, Roblox Donut Bakery Tycoon Codes, Restaurant Tycoon 2 Codes, Roblox Burger Tycoon Codes, and Roblox Dream Island Tycoon Codes. 
All Roblox Koala Cafe Codes List
Updated July 19, 2022

Added new info
Roblox Koala Cafe Codes (Working)
TWITTER—Redeem for Tweety Pet
PET—Redeem for 500 Koala Tokens
Roblox Koala Cafe Codes (Expired)
1MIL—Redeem for Goodie Bag
Pride22—Redeem for Koala Tokens
HAPPY4THOFJULY—Redeem for Koala Tokens
BOO—Redeem for Halloween Pet Crate
FALL2021—Redeem for Fall Pet Crate
VIVA—Redeem for Axolotl Pet

AWARDS21—Redeem for 250 Koala Coins and Award Pet
FISH—Redeem for 250 Koala Tokens
FUN—Redeem for 1 Pet Crate and 500 Koala Tokens
FIREWORKS—Redeem for Koala Tokens
HAPPYEASTER—Redeem for Koala Tokens
AREA51—Redeem for Koala Tokens
Roblox Koala Cafe FAQ
Here's everything you need to know regarding Roblox Koala Cafe codes.
How to Redeem Roblox Koala Cafe Codes
It's easy to redeem codes for free rewards in Roblox Koala Cafe. Follow our guide below.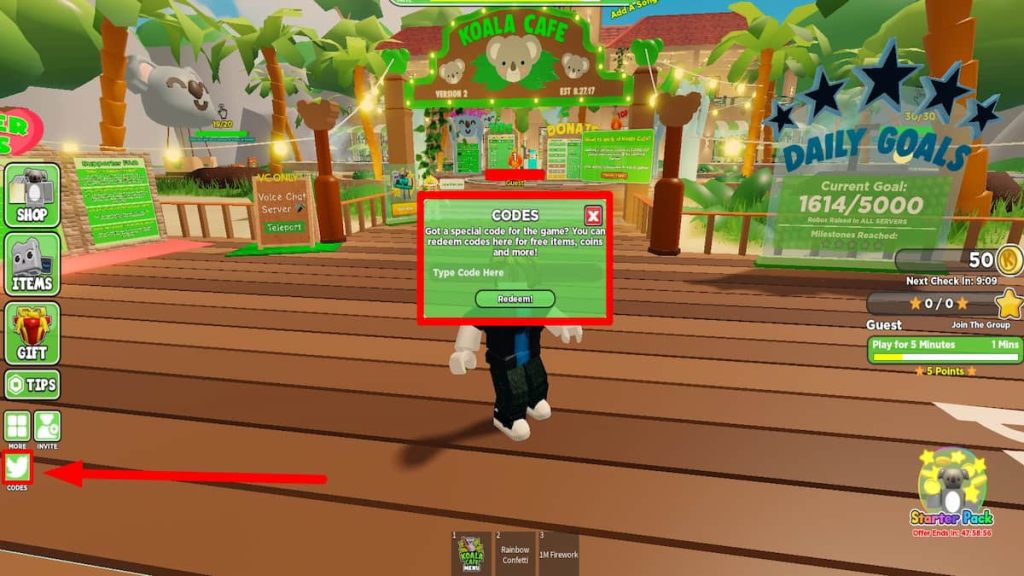 Launch the game.
Press the Codes button, a Twitter icon on the left side of the screen.
A new window will appear where you can enter each working code into the text box.
Press redeem to receive your free rewards.
How can you get more Roblox Koala Cafe Codes?
To get the latest code drops, follow the developer Koala Association on Twitter @KoalaCafe_. Save this page and visit us regularly to get the latest Koala Cafe codes. Pro Game Guides have got you covered. 
Why aren't my Roblox Koala Cafe Codes working?
There could be a few reasons your Roblox Koala Cafe codes aren't working. You could make spelling errors when typing the code into the text box. To fix this, just copy and paste the codes from our list. The codes you are trying to redeem are already expired, stay up-to-date with our codes list and never miss another reward again!
What is a Roblox Koala Cafe game?
Roblox Koala Cafe is a roleplaying game where you work at a job and serve customers bakery and restaurant-themed food to get promoted. The better your service and goods get, the higher your customers will rate you, and that will start putting you on the top of the leaderboards!
If you're looking for codes for other games, we have a ton of them in our Roblox Game Codes post! You can also get a bunch of free stuff via our Roblox Promo Codes page.