What batter way (get it?) to spend your day than flipping pancakes in My Pancake Tycoon! You'll start with just a cash register, a table, and a frying pan. But soon, you'll have chefs, waiters, and cashiers swerving loads of customers as your menu improves and you start to expand your pancake franchise! Can you turn your little startup into a five-star restaurant and claim all the achievements available?
Codes can give you a free injection of cash. Cash is king in My Pancake Tycoon, paying for everything from staff to new tables, kitchen equipment, and decorations to make your restaurant the best on the block. If you love tycoon-style Roblox games, why not also check out our list of Roblox Bakery Simulator Codes.
All My Pancake Tycoon Codes List
Updated December 13, 2022

Added new codes.
My Pancake Tycoon Codes (Working)
These are all the working My Pancake Tycoon codes.
RELEASE—Redeem for 250 cash (New)
My Pancake Tycoon Codes (Expired)
These are expired codes for My Pancake Tycoon.
BETA—This code has expired
Related: Restaurant Tycoon 2 Codes
How to redeem codes in My Pancake Tycoon
Follow the instructions below to redeem codes in My Pancake Tycoon.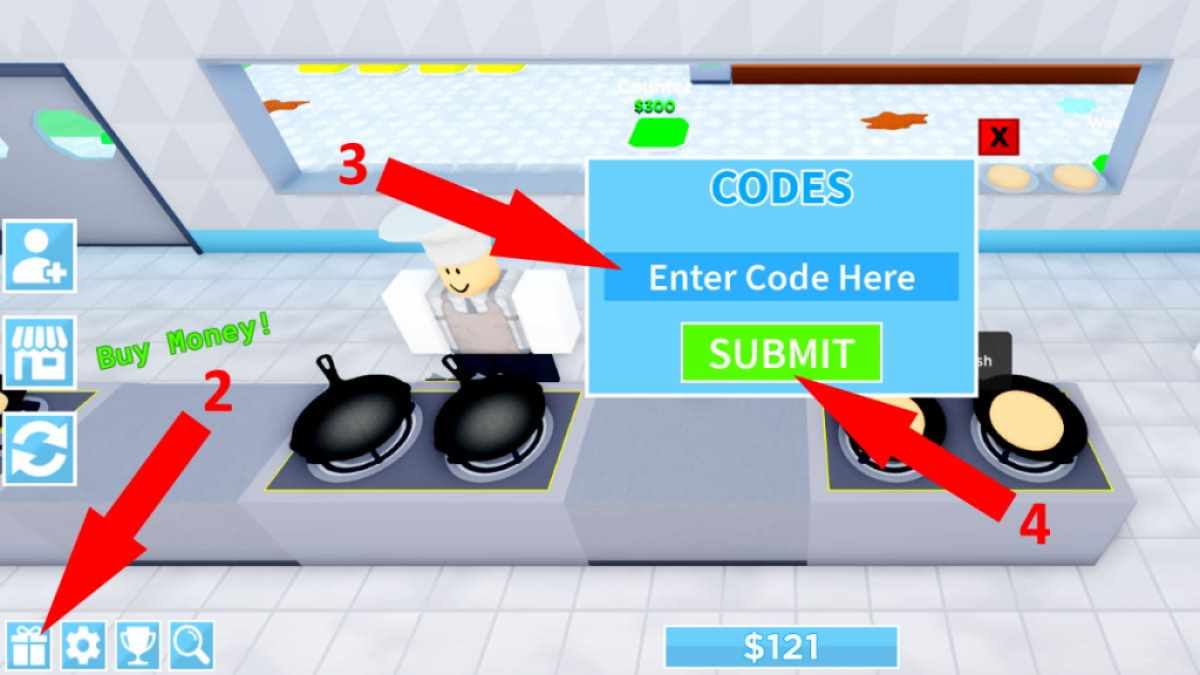 Launch My Pancake Tycoon on Roblox.
Click the blue gift icon in the bottom left corner of the screen.
The pop-up box has a blue text box saying Enter Code Here. Do so, exactly as the code appears in the list above.
Press the green SUBMIT button underneath to claim your reward!
How can you get more My Pancake Tycoon codes?
If you're looking to flip some of your own My Pancake Tycoon codes, try joining the Lightbulb' Roblox Group. Unfortunately, the developer doesn't have a public social media presence or discord server at his time. But you might want to check YouTubers such as the Codezzy YouTube Channel for codes.
Why are my My Pancake Tycoon codes not working?
If you try to use one of our My Pancake Tycoon codes and it doesn't seem to work, check that you've inputted it exactly as you see here. Something as small as a capitalization error or mistaking a number for a letter can make a code invalid. To be sure, try cutting and pasting it from here. If it still doesn't work, it may have expired. This happens to most Roblox codes in the end. Check back soon for more codes, as we're constantly looking for new ones.
How to earn cash fast in My Pancake Tycoon
Early in My Pancake Tycoon you have to make the batter, then the pancake, seat a customer, and serve them just to make less than 50 cash. Instead, once you have your second table and the mop becomes available to buy, simply activate it and click e to equip it. Now, walk over to the nearest food stain on the floor and click the left mouse button twice. As simple as that, you've earned around 20 cash, or half what you get for a pancake which takes many more steps. It's a great way to build up your cash early in the game until you can afford staff to help.
What is My Pancake Tycoon?
My Pancake Tycoon is quite a deep Roblox restaurant management sim. Early on, you'll need to make the batter, start and finish the pancakes in the pan, wash the plates, and also seat and serve the customers. But soon you can hire chefs, cashiers, and waiters to help your business run more smoothly. Rebirths are also available, allowing your replacement restaurant to make money more quickly.
If you're looking for codes for other games, we have a ton of them in our Roblox Game Codes post! You can also get a bunch of free stuff via our Roblox Promo Codes page. And in the meantime, take a look at the latest news to stay up-to-date on all things entertainment.