Updated October 29, 2023

Added a new code!
My Prison is all about building and growing your Prison empire. To do that, players need to earn money to buy objects to care for their inmates and continue to expand their facilities. Players earn money by arresting and keeping prisoners secure in prison. They can make money steadily as they keep their prison running or earn some instantly with codes.
Developers give out codes for players to enter in-game and earn free rewards, such as instant money to help buy items you need. They are easy, quick to enter, and well worth it so you can get a headstart on your prosperous prison.
You can earn other exciting rewards with codes on Pro Game Guides for other great games like this one, such as Roblox Prison Tycoon Codes – Freeze Ray Update!, Roblox Prison Showdown Codes, or Roblox Prison Escape Simulator Codes.
All My Prison Codes List
My Prison Codes (Working)
Screamer23—Redeem for 300 Cash (New)
CarChase—Redeem for 300 Cash
My Prison Codes (Expired)
ThumbsUp—Redeem for 350 Cash
Decorations—Redeem for 350 Cash
floor3—Redeem for 350 Cash
floors—Redeem for 350 Cash
Fireworks—Redeem for 350 Cash
Wanted—Redeem for 350 Cash

Collect—Redeem for 350 Cash
Work—Redeem for 350 Cash
Sick—Redeem for 350 Cash
Infirmary—Redeem for 350 Cash
DELETE—Redeem for 350 Cash
VISITOR—Redeem for 350 Cash
FERRY—Redeem for 350 Cash
LeAdErBoArD—Redeem for 350 Cash
leaderboard—Redeem for 350 Cash
Camera—Redeem for 350 Cash
replay—Redeem for 300 Cash
WeAreBack—Redeem for 250 Cash

Egg—Redeem this for 350 Cash
dogs—Redeem this for 300 Cash
Sorry—Redeem this for 300 Cash
Santa—Redeem for 300 Cash
Xmas—Redeem for 299 Cash
Christmasmonth—Redeem for 300 Cash
calandarsoon—Redeem for 300 Cash
passenger—Redeem for 350 Cash
nicecar—Redeem for 300 Cash
scarehelp—Redeem for 275 Cash
EnergyDustin—Redeem for 188 Cash
halloween—Redeem for $300

screamer—Redeem for Hourly Income Boost
DynamicHeads—Redeem for $250
FULLWINDOWS—Redeem for $300
HaLfPoWeR—Redeem for $275
securityclass—Redeem for $350
LIVEEVENT—Redeem for $250
tweet—Redeem for $400!
finally—Redeem for $350!
museum—Redeem for $300!
reward—Redeem for $275!
My Prison FAQ
Here is everything you need to know regarding My Prison codes.
How to redeem My Prison codes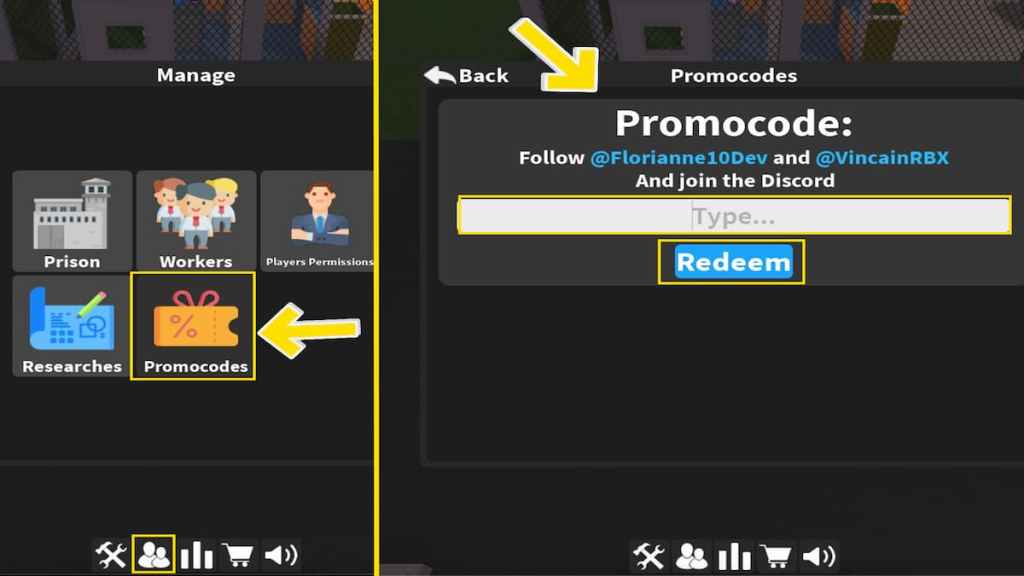 In the game, press the Manage button at the bottom of the screen, symbolized by the silhouette icons.
Click on the coupon icon, Promocodes, at the bottom of the menu.
Type your code in the text box exactly as shown in the list above.
Press Redeem to enjoy your rewards!
How can you get more My Prison codes?
Codes are usually given out regularly as an update, during an event, or as a goal is reached, such as a number of likes reached. Some developers will place the codes directly in the game's description to notify players when a new one is added. However, others might require you to follow them on their social media accounts, such as Discord and Twitter, to stay updated. For your convenience, you can bookmark this page and come back whenever to check when a new code is available.
Why aren't my My Prison codes working?
There are various reasons why your codes may not be working correctly. The main cause is usually that the codes have already expired. Since codes are constantly cycled in and out of the game, they can expire with little to no notice. We try to keep our code lists as updated as possible, but if you notice a change before us, let us know in the comments below, and we will fix it asap.
Double-checking your spelling when typing in codes is also a good idea. They are almost always case-sensitive, meaning the slightest typo could make the code appear invalid. Ensure you are typing it exactly as shown in the list above, or if the game allows, copy and paste to avoid any issues.
What is My Prison?
My Prison is a unique tycoon and simulation game on Roblox that allows players to build, run, and decorate their Prison facility. They must drive out to Crime City and arrest criminals to live in their prison and then care for them by placing proper items and furniture needed to survive, such as enough cells, food, and entertainment. Players can hire guards and other staff to watch over the prisoners and ensure they do not begin a riot and break out of the grounds. It's up to you to keep your prisoners content by upgrading and expanding the prison to create a flourishing empire.
What is the Group Daily Reward in My Prison?
You can also earn more extra rewards daily by joining the Florianne10 Group. Once you join the group, simply jump into the game and claim your Group Daily Reward as it pops up on your screen. These rewards give instant bonus money that can help you save for what you need or keep your business profiting.
If you're looking for codes for other games, we have a ton of them in our Roblox Game Codes post! You can also get a bunch of free stuff via our Roblox Promo Codes page.