Plane Race Clicker is a Roblox title that combines the thrill of racing fast planes with the adrenaline rush of clicking as fast as you can. The two go hand-in-hand because the more you click, the more speed you will build up. Plane Race Clickers features plane upgrades, pets, and the challenge of finishing the course in under two minutes as just some of the things you can do.
Using codes in Plane Race Clickers will give you various rewards, like Rings, which can be used to purchase things in-game. Each code provides a different reward, so you should use any current codes. Keep in mind that these expire, so enter them quickly when they go live to claim your prizes.
If you are looking for more Roblox content, check out Tapper Simulator Codes – Games But Blue and Flying Race Clicker Codes. Pro Game Guides has hundreds of Roblox options to browse through. Feel free to search our site and find exciting Roblox titles like Coin Clicking Simulator X Codes, Race Clicker Codes, and Mining Clicker Simulator Codes.
All Plane Race Clicker Codes List
Updated December 16, 2022

Added a new code.
All Plane Race Clicker Codes (Working)
These are all currently working Plane Race Clicker codes.
MEME—Redeem for 5k Rings (New)
HOLIDAY—Redeem for a Reindeer Pet (New)
HELL—Redeem for 2000 Rings (New)
RELEASE—Redeem for 20 Rings
FLY—Redeem for 20 Rings
100—Redeem for 50 Rings
pets—Redeem for 1,000 Rings
All Plane Race Clicker Codes (Expired)
There are currently no expired codes for Plane Race Clicker.
How to redeem codes in Plane Race Clicker
Redeeming codes in Plane Race Clicker is easy and a good way to get free prizes. When entering codes, ensure that you are entering them exactly as it appears. Here is how to redeem codes in Plane Race Clicker.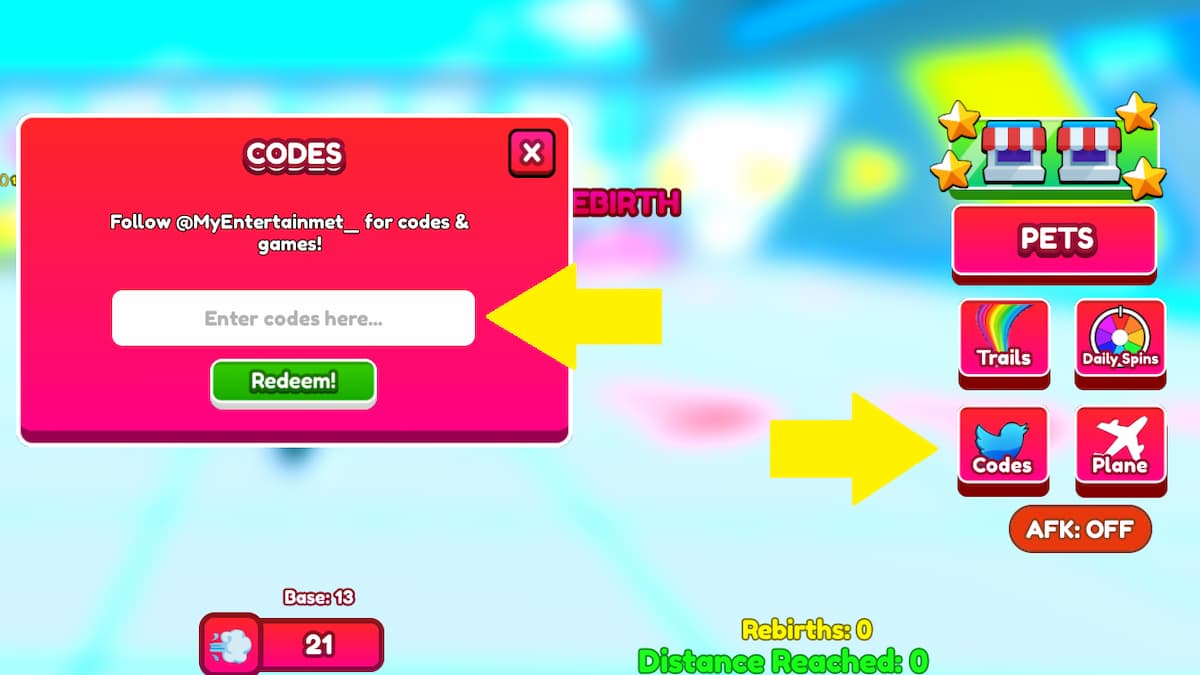 Click the Codes button on the right side of the screen.
Select the Enter codes here... text box.
Input the code and hit Redeem!
How can you get more Plane Race Clicker codes?
There are several outlets for getting more Plane Race Clicker codes. You can follow @MyEntertainment_ on Twitter or join the official My Entertainment Productions Group on Roblox itself. Finally, you can bookmark this page and check to see if any new codes have been added to Plane Race Clickers. Once new codes are released, we will update and add them to our list.
Why are my Plane Race Clicker not working?
All codes for Plane Race Clickers are controlled by the developer, meaning they decide what the code is, what it rewards you with, and when it expires. If you enter a code and it does not work, there are a handful of reasons why. Double-check to see if you have entered the code correctly; misspelling it will not let the code work. The code could be expired and no longer valid, so verify it is on our working codes list. It is also possible that a code has been released but not active yet, and in that case, you should check the socials for Plane Race Clicker to see if an upcoming update will validate the code. If you notice a code not working, please let us know so we can verify and update our list accordingly.
How to get free Rings in Plane Race Clicker
Rings are used in Plane Race Clicker to purchase in-game items, so you will want to earn as many as possible. You can get free Rings through several methods. This includes redeeming codes to get a one-time batch of Rings, using your daily spins when they become available, and competing in races. As you pass through the numbered checkpoints in a race, you will earn free Rings.
What is Plane Race Clicker?
Plane Race Clicker is a Roblox title by My Entertainment Productions. The goal of the game is to build up speed by clicking. You can increase your speed by collecting drops in the lobby, buying planes to multiply your clicks, or purchasing pets and trails for additional bonuses. You can also Rebirth to increase your skill in Plane Race Clicker.
If you are looking for more Roblox game codes, we have tons of options in our Roblox Game Godes post! Our Roblox Promo Codes page will also give you a bunch of free stuff. Be sure to bookmark our Pro Game Guides to stay up-to-date on all things gaming and Roblox.