The islands in Pro Piece Pro Max are full of enemies and bosses to use your fruit powers on. Based on the popular anime One Piece, you can combine and create your character by mixing your favorite hero's strengths. The Marines do not stand a chance against the power of the Straw Hat Pirates once you have eaten that Devil Fruit!
The codes you can claim in Pro Piece Pro Max are for boosts and the in-game currency of gems. Use boosts to help you level up your character and find the fruit spawned worldwide. Gems can be used to purchase weapons at the store and other valuable items to help you progress further.
All your favorite characters and powers are here on Roblox, and you can now become the most feared pirate on the seas. Claim these codes to help you get new Devil Fruit powers in Legend Piece Codes, A Piece Codes, Sea Piece Codes, Cat Piece Codes, and Fruit Piece Codes.
All Pro Piece Pro Max Codes List
Updated July 12, 2023

Added a new code!
Pro Piece Pro Max Codes (Working)
These are all the working Pro Piece Pro Max codes.
NEWM4GMA—Redeem for an OP Boost (New)
SICK0ERT—Redeem for several Boosts (New)
BattlegroundUpdate—Redeem for a Boost
ITSFILLER2—Redeem for 30 minutes x2 Exp and x2 Race Rerolls
GURAGURANOMI—Redeem for 2x Boosts
MOBILESUPPORT99PERCENT—Redeem for a Reroll Increase
ERTKDSJ5JFNA—Redeem for Race Reroll Increase
PROGAMINGUPDATE—Redeem for 3 Race Reroll
2MVISIT!—Redeem for 10 Race Rerolls and All Boosts
NoFeNIX—Redeem for for 30 minutes x2 Exp and x2 Race Rerolls
ErtisLazy—Redeem for 5 Race Reroll Points
Pro Piece Pro Max Codes (Expired)
These are expired codes for Pro Piece Pro Max.
SuperPro—Redeem for 20 minutes of 2x XP, 80 minutes of 2x Drop Rate, and 150 minutes of DF Notifier
Christmas?—for 25 Minutes of Devil Fruit Notifier, x2 Drop, x2 Exp and 25 Coins
ManWhat—Redeem for a 2x XP Boost, 2x Drop Rate Boost, and a DF Notifier
WowFixes—Redeem for a 20-minute 2x Drop Rate Boost and a 100-minute DF Notifier
WowBari—Redeem for 20 minutes of 2x XP, 80 minutes of 2x Drop Rate, and 150 minutes of DF Notifier
GameShutdown—Redeem for Demon Slayer Corps Uniform

MOCHIOMGOMG—Redeem for 80 Minutes DF notifier and 20 min x2 drop
PIKAREWORK—Redeem for 60 Mins x2 Drops and 80 Mins Df Notifier
SORRIFORSHUTDOWN—Redeem for 80 Minutes Df Notifier
OMGHIE—Redeem for 70 Min Df Notifier and 20 Min x2 Drops
MOCHISOON—Redeem for 30 Min x2 Exp
BIGPRO—Redeem for 60 min x2 Drops, 20 Min x2 Exp and 80 Min Df Notifier
SORRYFORFROOTBUG—Redeem for 60 min x2 Drop and 80 Min Df Notifier
CoolgroupforbigcoolpeopleisFR—Redeem for 30 mins x2 Drop Rate
FullReleaseXD—Redeem for 70 Mins Df notifier and 25 mins of x2 Exp
FRUITBAGOMG—Redeem for 61 Min Df notifier
FirstCodeOMG—Reeem for 20 Min of x2 Exp and 60 Min of Df Notifier
Sub2AFM_Gamerz—Redeem for 20 Gems and a Refund Stats

8MVISITS—Redeem for 75 Gems
10KLIKES—Redeem for 100 gems
M3RRYXMAS—Redeem for 100 Gems
Sub2NotMystery—Redeem for 20 Gems
ALMOST6M—Redeem for 50 Gems
BUSOEFFECTS—Redeem for 50 Gems
NEWLVCAPOMG—Redeem for 30 Gems
8KLIKES—Redeem for 50 Gems
Sub2Ghosting9—Redeem for 20 Gems
Sub2SB_TV—Redeem for 20 Gems
UPDATE13OMG—Redeem for 50 Gems
SORRYFORLATE—Redeem for x2 Quest Reward

5MVISIT—Redeem for 50 Gems
Update12—Redeem for 50 Gems
6KLIKES—Redeem for Stats Refund
PROPIECEREALLYHAVEALLY—Redeem for 50 Gems
OwnerIsSus—Redeem for 50 Gems
3MVISIT—Redeem for Stats Refund
SEABEASTISHERE—Redeem for 50 Gems
Update8—Redeem for 50 Gems
14KFAVS—Redeem for 50 Gems
ProPieceReallyHaveCode—Redeem for Stats Refund
7MVISITS—Redeem for a Stat Reset
S0RR94LATE—Redeem for Rewards

H4LL0WEEN—Redeem for Rewards
6MVISIT—Redeem for 50 Gems
CONQREWORK—Redeem for Stats Refund
OMGNEWFROOTS—Redeem for Rewards
Update11—Redeem for 50 Gems
How to redeem codes in Pro Piece Pro Max
To redeem codes in Pro Piece Pro Max, follow the instructions below.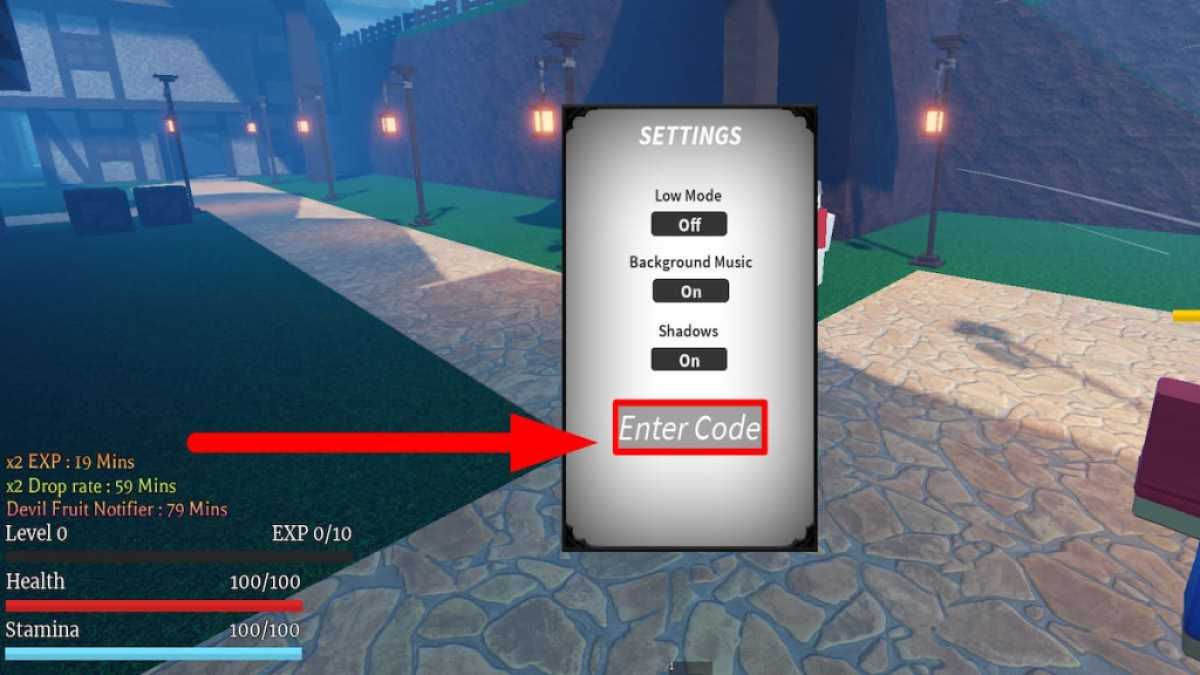 Launch Pro Piece Pro Max on Roblox.
Press the M key to open the Menu window.
Click on the Settings cog on the left of the menu wheel.
Enter each working code into the Enter Code text box.
Press the Enter key to claim your reward.
How can you get more Pro Piece Pro Max codes?
To get the latest codes from the developer ErzT7 join them on their Cool group for big cool people Roblox Group or on their Cool Group For Big Cool People Discord Server. Here at Pro Game Guides, we have you covered with all the latest code drops from the developer, so be sure to bookmark this page, and you will never miss out on another free reward again!
Why aren't my Pro Piece Pro Max codes working?
There may be several reasons your Pro Piece Pro Max codes are not working. These codes are time-sensitive, and they can expire in a few hours. Claim the codes from our working list before the developer expires the codes. These codes could be misspelled or mistyped in the text box. The codes are case-sensitive and have punctuation. Copy and paste the codes from our list to avoid making mistakes before pressing the Enter key.
What are the controls in Pro Piece Pro Max?
To become the strongest character in Pro Piece Pro Max, you must understand the controls to beat down any enemy in your way. Use special abilities from the fruit you collect and other fighting abilities; you can assign these to your ability buttons at the bottom of the screen. Learning these controls will help you become a better fighter almost immediately.
Controls
Double tap W key: Run
Q key: Dodge attack
F key: Block attack
M key: Menu wheel
N key: Haoshoku
K key: Observation
J key: Armament
Double Space: Geppo
What is Pro Piece Pro Max?
Pro Piece Pro Max is a role-playing action game. Explore the familiar shores of the famous islands from the hit anime show One Piece. Complete tasks and level up as you explore the islands and take on more challenging enemies. As you level up, you can unlock powers and abilities from your favorite characters in the show. Can you become the strongest character in the game to climb to the top of the leaderboards?
If you're looking for codes for other games, we have a ton of them in our Roblox Game Codes post! You can also get a bunch of free stuff via our Roblox Promo Codes page.