Roblox Fruit Piece is an action role-playing game inspired by the legendary anime One Piece. Right from the start, you'll get a chance to prove yourself as a hero. As it happens, local villagers need your help with dispatching bandits, but that can be a daunting task for you. First, you have to prepare for your glorious adventure, and for that, you'll need some help. What you need are Fruit Piece codes!
By redeeming codes, you'll get bonuses that will help improve your character. That's especially important at the beginning of the game when you are not as strong as other players. With Fruit Piece codes you'll get a chance to reset stat points (so you can redistribute them better), experience boost, Gems, and much more!
If you like anime games, we have some great guides like Anime Fighting Simulator Codes, Anime Brawl: All Out Code, Anime Fighters Simulator Codes, Anime Mania Codes, and Anime Adventures Codes on Pro Game Guides.
All Fruit Piece Codes List
Updated July 22, 2022

You can save the universe with these codes!
Fruit Piece Codes (Working)
Here's a look at all the working Fruit Piece codes.
1.5KLIKES—Get 50 gems, 10 mins of Experience boost, Beli boost, and Master boost.
100KVISITS—Get 50 Gems, 5 minutes of Experience boost, Mastery boost
100LIKES—Get 10 min Experience boost, and Beli boost
150KVISITS—Get Demon Fruit reset
1KLIKES—Get 50 Gems
BERNOULLI—Get Reset Stat Points
FREEBIES—Get 25 gems, 5 min Experience boost, 5 min Beli Boost, and 5 min Mastery boost
FREEGEMS1—Get 50 Gems
LASTSHUTDOWN—Get 15 minutes of Mastery boost
LIKE4MORE—Get 5 min Experience boost and Beli boost
NEXTUPDATEHYPE—Get 15 minutes of Experience boost
RESETDF1—Get Devil Fruit reset
RESETDF—Get Devil fruit reset
RESETSP—Get Stat points reset
SORRY4SHUTDOWNS—Get Stat points reset
SORRY—Get 15 min Mastery boost
THANKYOU—Get Stat points reset
TWINNEM—Get Stat points reset
UPDATE1HYPE—Get Devil fruit reset
UPDATE1OUT—Get 15 minutes Of Experience Boost, and 15 minutes of Beli Boost
UPDATE2HYPE—Get Devil fruit reset
WELIVE—Get 100 Gems, 10 mins of Experience boost, Beli boost, and Mastery boost
WORKINGONUPDATE—Get Stat points reset
Fruit Piece Codes (Expired)
These codes for Fruit Piece no longer work.
15KVISITS
1KVISITS
ALABASTA
BUGFIXES
DFRESET1
SHUTDOWN2
SORRY4SHUTDOWN
SPRESET1
TESTING
UPDATE1
Roblox Fruit Piece Codes FAQ
Here's everything you must know about Roblox Fruit Piece codes.
How to redeem Fruit Piece Codes
Redeeming codes for free prizes in Fruit Piece is easy, just follow the steps below: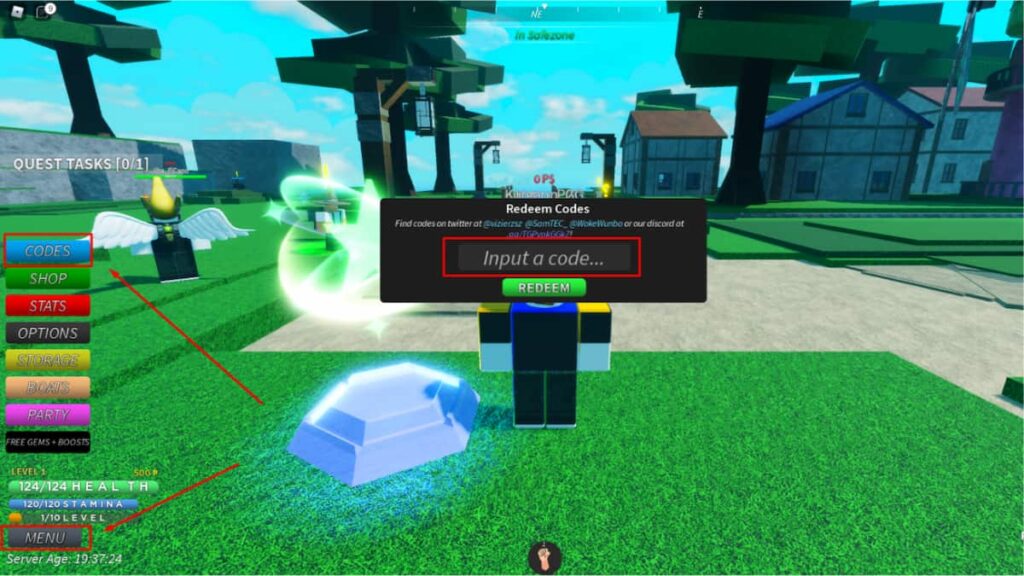 In the game, press the Menu button in the bottom left corner of the screen.
When Menu options appear, press the Codes button.
In the text box, enter the code exactly as it appears in the list above
Press Redeem button to claim your reward!
How to get more Fruit Piece Codes
If you want to keep track of all new Fruit Piece codes, bookmark this page and check it often. We'll update this article as soon as new bonuses arrive. It's also a good idea to follow developer's official Twitter and Discord pages for codes and game updates.
Why aren't my Fruit Piece Codes working?
Most Fruit Piece codes expire after a while, so redeem them as soon as possible. These codes are all active now, but let us know if you find some that no longer work so we can remove them. Another reason for codes not working can be a typo. To avoid making grammar mistakes copy and paste codes from our active list into the redeem text box.
What is Fruit Piece?
Roblox Fruit Piece is an action game for fans of the popular manga One Piece. To be successful, you must solve the quest, defeat enemies, and use gained experience to level up your character. In that fight, you'll use Devil fruits that give you diffrent bonuses and abilities.
What kinds of Devil fruit are in Fruit Piece?
At the moment, there are 10 diffrent kinds of fruit in Fruit Piece Roblox game. Those fruits are:
Barrier fruit
Fire fruit
Ice fruit
Invisible fruit
Light fruit
Lightning fruit
Magma fruit
Quake fruit
Sand fruit
Slow fruit
If you're looking for codes for other games, we have a ton of them in our Roblox Game Codes post! You can also get a bunch of free stuff via our Roblox Promo Codes page.