Our Roblox Anime Fighting Simulator Codes post has the most up-to-date list of codes that you can redeem for a whole lot of Yen. This is a quick and easy way to gain up some currency that will have you leveling up your character in no time!
How-to Redeem Codes in Anime Fighting Simulator
If you want to enter codes into Anime Fighting Simulator to gain some free currency, you just need to look for the bright blue Twitter icon on the left side of the screen. Click on that and you should see the following screen: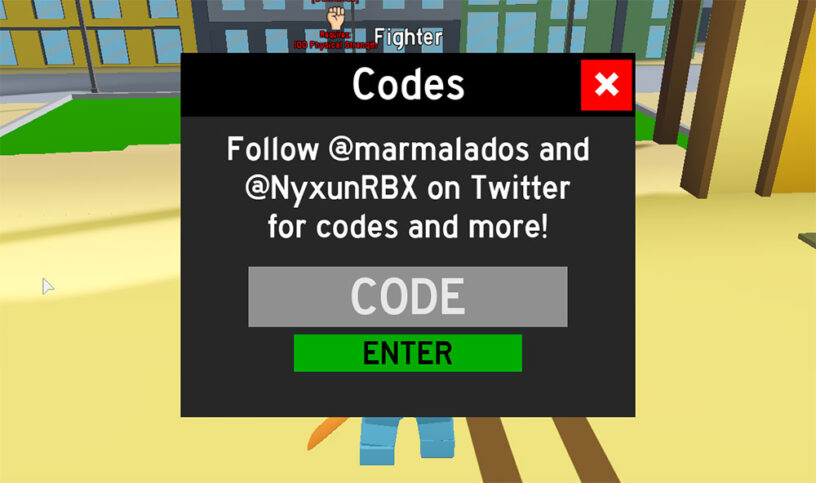 Copy one of the codes below and paste it into the "Code" area that is shown in the image above. Click the Enter button and you will get yourself some free currency to help you level up your character!
Anime Fighting Simulator Codes
Here's a list of all the redeemable codes that are still active in Anime Fighting Simulator:
NEW - Chikara Shards: glorious400
Chikara Shards: ilovetobreath
Chikara Shards: marvelous350thousand
Chikara Shards: TwitterRewards2
500 Yen: fav75
500 Yen: sub2tplanetmilo
500 Yen: subtomrrhino
500 Yen: sub2razorfishgaming
500 Yen: subtokelvingts
If you want codes as soon as they are released, then follow Nyxun and Marmalados on Twitter!
New Servers Only
You'd have to join up to a new server or create your own server for the game to redeem these codes.
400 Yen: 10klikeswow
200 Yen: ty41milvisits
Expired Codes
Chikara Shards: 500kmembers
Chikara Shards: w0w300klikes
Chikara Shards: impeccabletwo75
Chikara Shards: astounding225
Chikara Shards: TwitterRewards
Chikara Shards: mighty200k
Chikara Shards: 1seventy5kay
Chikara Shards: rollback
Chikara Shards: one50klikes
Chikara Shards: ty4100k
Chikara Shards: christmas19
500 Yen: 50fantastic
500 Yen: seventyfivek
If you're looking for codes for other games, we have a ton of them in our Roblox Game Codes post! You can also get a bunch of free stuff via our Roblox Promo Codes page.