Updated October 2, 2023

We went on an adventure to bring you new codes!
Anime Brawl: All Out is the perfect blend of strategy and anime, ticking all the boxes for what I'd like in a Roblox experience. It's a game where I can acquire unique anime fighters and place them in certain positions on a grid, leaving it up to me to decide where they'll be most effective. I could fight against waves upon waves of enemies, my anime characters will attack automatically, and they'll charge up their special, which I could then unleash to deal massive damage! Of course, all the characters I got are from popular anime and manga, such as Dragon Ball Z, One Piece, Naruto, and more!
This is where our ABAO codes come into play. Use them, to acquire Coins and Gems to summon new anime units, to have a chance to defeat the single-player, or play it co-op! Or focus on PvP and get the most powerful units you can! If you get multiple versions of the same character, you can evolve them so they can become stronger.
If you're a massive anime fan like we are, then our other anime-inspired Roblox titles are perfect for you. Check out the following games, Anime Guardian, Anime Battle Simulator, Anime Impact Simulator, Anime Fighting Simulator, and Anime Warriors Simulator!
All Anime Brawl: All Out Codes List
Working ABAO Codes
Here's a look at all the working Anime Brawl: All Out codes.
wiki—Redeem for 350 Gems
trello—Redeem for 350 Gems
SubTigreTV—Redeem for 500 Gems
sennagames—Redeem for 200 Gems
10likes—Redeem for 350 Gems
10visits—Redeem for 200 Gems
Expired ABAO Codes
These Anime Brawl: All Out codes are no longer working.
boss—Redeem for 200 Gems
givemecoins—Redeem for 500 Coins
gklgames—Redeem for 200 Gems
sun—Redeem for 200 Gems
world5—Redeem for 350 Gems
coop—Redeem for 350 Gems

10klikes—Redeem for 350 Gems
juser
toadboi
yoyo
graciousgift—Redeem for 100 Gems
yearofthetiger—Redeem for 100 Gems
release—Redeem for 120 Gems
Anime Brawl: All Out FAQ
Here's everything you need to know about Anime Brawl: All Out and Anime Brawl: All Out codes!
How to redeem Anime Brawl All Out codes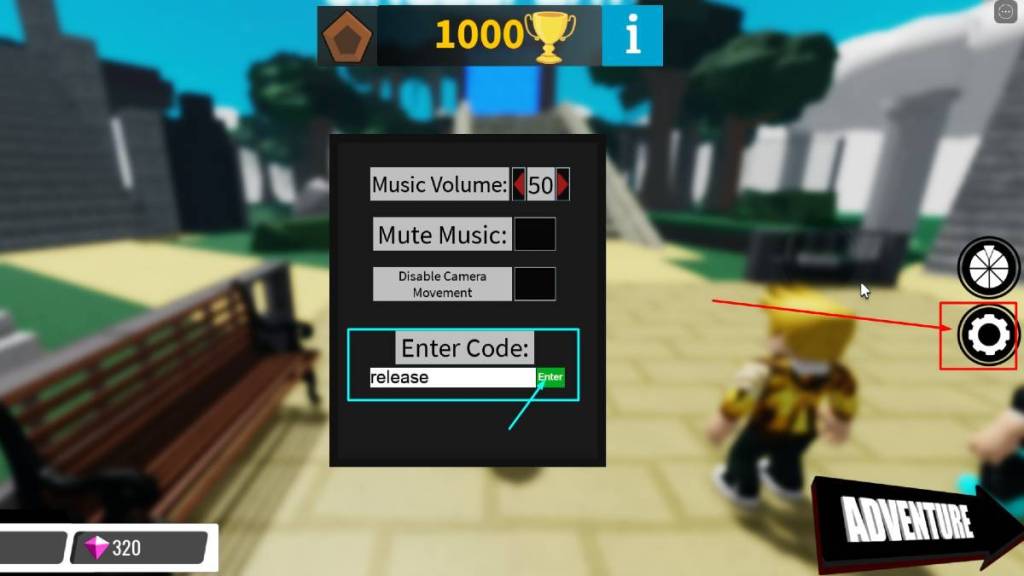 It's easy to enter codes for free rewards in Anime Brawl: All Out. When you launch the game, press the Settings (the cog) button on the right side of the page (highlighted in red above). The settings window will pop up. Enter the code exactly as it appears in the list above, then press the green Enter button (highlighted in blue above) to redeem your reward!
What are Anime Brawl: All Out codes?
Anime Brawl: All Out codes will give you a boost to your coins and gems. This currency is one of the main ways to get new characters to help you out battling foes and make the next fight easier. The more coins and gems you have, the higher the chance of getting a higher star character, or you can evolve the same character to make it even more powerful!
How can you get more ABAO codes?
The best way to get more codes is to join the official Fish Bean Studio Discord server, where you can talk about Anime Brawl, get instant announcements, and get codes straight away.
Why aren't my Anime Brawl: All Out codes working?
If your Anime Brawl: All Out codes aren't working, there is a change they have been misspelled. If this happens, it's best to copy and paste the code directly from our list above into the code text box.
If the code is correct, then the code is expired and will no longer work. To ensure you get the most up-to-date code, bookmark this page and check back often to get the latest codes for Why aren't my Anime Brawl: All Out codes working!
What is Anime Brawl: All Out?
If you love collecting anime fighters, making them stronger, and unleashing powerful attacks, then Anime Brawl: All Out is for you. Play through a single-player campaign as you face off against waves of enemies, as your character automatically fights. Upon winning, you'll earn coins and gems that you can spend to summon new anime fighters, and if you're lucky, you may even get a Five-Star anime character!
If you're looking for codes for other games, we have a ton of them in our Roblox Game Codes post! You can also get a bunch of free stuff via our Roblox Promo Codes page.