It's time to gather the energy from the universe for Roblox Anime Battle Simulator. You will need to fight through the biggest and most challenging enemies in this world to become the greatest anime hero of all time. Get companions from your favorite anime to aid you in your journey to that next transformation. We have a list of codes for you that will help you grow your powers to over 9000!
To become the best anime superhero you can be, you will need to gather Gems and power-ups. This code list will give you those currencies so you can level up your stats and your companions. The latter will aid you in your battles through this dangerous world.
We always ensure that your favorite anime Roblox games are covered and that you have the latest codes to help you with those early-level grinds. Try these codes to get your favorite skin or summon in these Roblox titles: Project Menacing Codes, Roblox Anime Dimensions Codes, Roblox Anime Journey Codes, Shinobi Battle Grounds Codes, and Anime Plush Simulator Codes. You can also browse Pro Game Guides for even more content and codes.
All Anime Battle Simulator Codes List
Update June 24, 2022

Updated with new info
Anime Battle Simulator Codes (Working)
update2—Claim for 30 minutes and 1.5 Yen.
deathgems1—Claim for free Gems.
mightyone—Claim for 30 minutes of x2 unlock speed.
loadingfix—Claim for free Gems.
Anime Battle Simulator Codes (Expired)
SecondChance—Claim for Skill Points Reset
UseCodeDessi—Claim for a 1.5 Yen Boost for 30 minutes and 500 Gems.
luckyhatch—Claim for times 2 Luck Boost for Prisms.
resetpts1—Claim for resetting your skill points.
gemboostme—Claim for a 1.5 Gems boost for 30 minutes.
resetstats—Claim for a reset of your stats.
Roblox Anime Battle Simulator FAQ, Answered
Here is everything you need to know regarding Roblox Anime Battle Simulator codes.
How to Redeem Anime Battle Simulator Codes
It's super simple to redeem Anime Battle Simulator codes, just follow our guide below to find out how.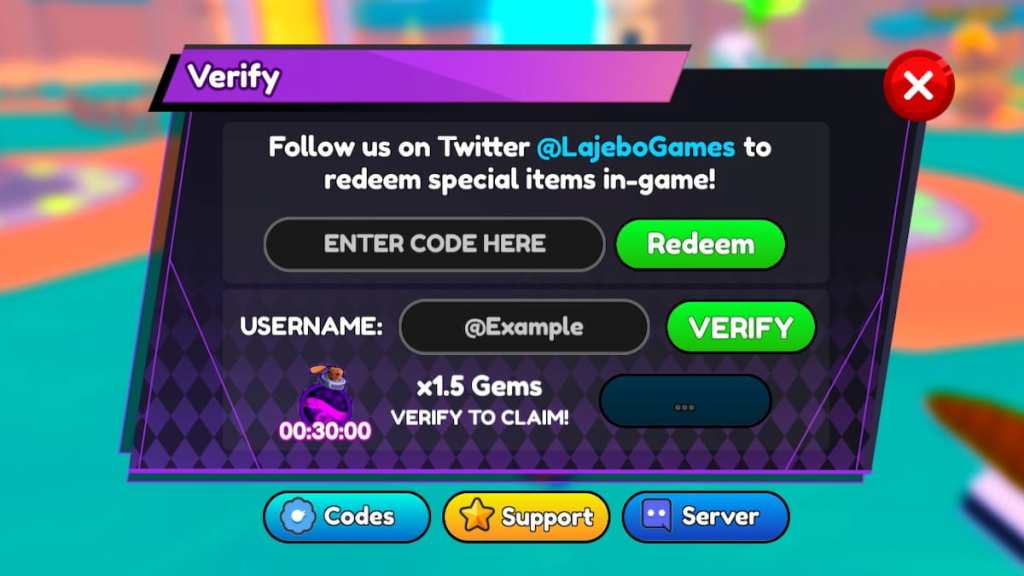 Launch the game.
Click on the Twitter Bird icon that says Verify.
Type code into Enter Code Here text box.
Click the green Redeem button to claim the code.
How to get more Roblox Anime Battle Simulator Codes
To get more Roblox Anime Battle Simulator codes, follow the developer Lajebo Games on their social media pages, including @LajeboGames on Twitter, MetaBlox on YouTube, and the Lajebo Games Discord Server. You can also return here for the latest codes, just bookmark this page and check back regularly for an up-to-date list of working and expired codes.
Why aren't my Roblox Anime Battle Simulator codes working?
These codes are time-sensitive, so make sure to claim them when you see a new code on our list or the developer's social media pages. You could have also misspell the codes, so always make sure the punctuation and grammar are correct when typing the codes into the text box. If you're sure a Working codes no longer works, leave a comment below. We'll verify that the code is expired and update the page accordingly.
What is Roblox Anime Battle Simulator?
Roblox Anime Battle Simulator is a fighting-style game. You start by choosing one of your favorite anime heroes. Once you have selected one, it is up to you to fight your way around this open world to become the strongest. There are bosses worldwide, and you will have to defeat them all. The more you level up, the more worlds you can unlock and companions you can collect for your journeys ahead.
You can also get more free codes to help you in all your Roblox adventures by going to the Roblox Promo Codes page. We have you covered when it comes to all things Roblox and Roblox Anime!