Updated September 25, 2023

We looked for new codes!
In Roblox Shinobi Battleground, players will get to choose their favorite Shinobi from the Naruto universe to engage in various game modes. Shinobi Battlegrounds is an arena FFA style game where players can perform special Jutsu moves, use weapons, and perform enhanced combos with character abilities. There are several characters that players can choose, and to unlock them you will need the in-game currency called Yen. Similarly, to unlock new weapons and skins, players will need yen, and this is where codes come in. 
Shinobi Battleground codes are redeemable and reward players with Yen. Players can essentially redeem codes to get the Yen currency, a few extra spins, and also in-game cosmetics. Having a few extra spins allows players to unlock items, accessories, and characters in-game. After redeeming these codes, you will be able to purchase new characters like Kakashi, Itachi, Garaa, and so on.
Besides codes, we cover other Roblox games extensively. If you are wondering how to get Shards in Anime Fighters Simulator, how to get the Fire Rage Orb in All Star Tower Defense, or even how to upgrade characters quickly in All Star Tower then we have you covered. We also have comprehensive guides on all Royale High Mermaid Halo answers, how to get all free items in Roblox Gucci Town, and even how to survive Build A Boat For Treasure every time.
All Shinobi Battlegrounds Codes List
Shinobi Battlegrounds Codes (Working)
!BattleGrounds - Redeem code for 150 yen
!1010 - Redeem code for 100 yen
!Temari - Redeem code for 75 yen
!ITACHI - Redeem code for 5 spins
Shinobi Battlegrounds Codes (Expired)
!fix2
!fix1
!KobiPlays
!IbeAlpha
!IbeBattleGrounds
!BugFixes
How to Redeem Shinobi Battlegrounds Codes
To redeem codes in Shinobi Battlegrounds, players must first join the Shinobi Battlegrounds Group. Once that's done, follow the steps mentioned below to redeem any code: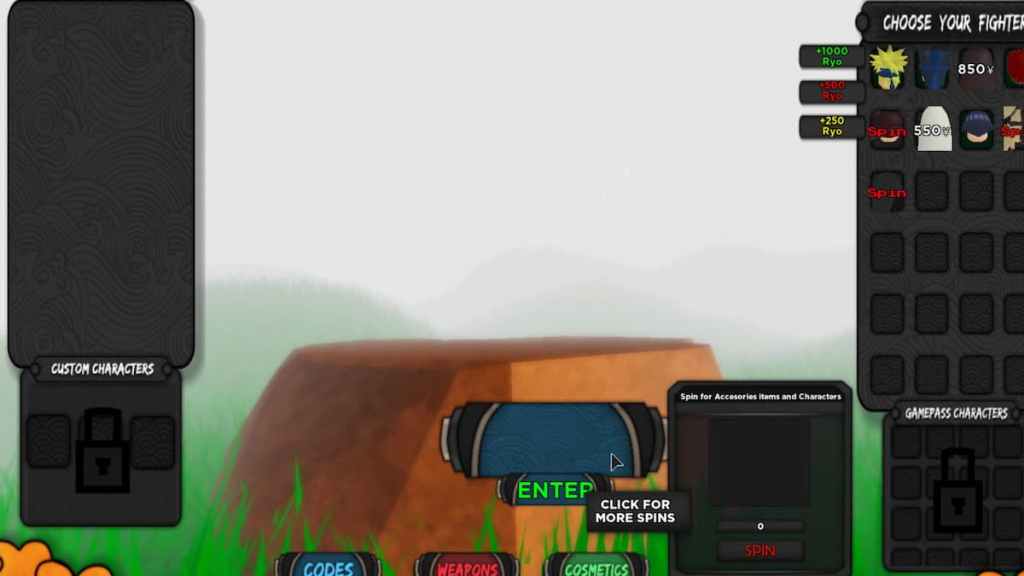 Launch the game, and visit Character Customization
You will see three options below: Codes, Weapons, Cosmetics
Select Codes to get the keyboard pop-up and you will see an Enter Codes Here text box section
Type in the code and press Enter to redeem your reward
How can you get more Shinobi Battlegrounds Codes
Knowing or predicting code release timings can be difficult as developers add these codes at different times. The best way to stay ahead of new code releases is to follow the official Shinobi Battlegrounds Group. We also recommend players follow DaZen Studios official Twitter as well as the game developers and founders to stay updated.
Why aren't my Shinobi Battlegrounds Codes working?
Players may often find that some of the codes are not working in Shinobi Battlegrounds. This may happen if the specific code has expired, or if you have already redeemed it before. At the same time, players should keep in mind that all these codes are case-sensitive, and they will not work with typos. Double-check the code before entering and enjoy your in-game reward!
What is Roblox Shinobi Battlegrounds?
Shinobi Battlegrounds is an arena FFA style game inspired by iconic characters from the Naruto universe. Here, players get to choose their favorite Shinobi, along with exceptional weapons, skills, and abilities. You will have to fight against others with your Shinobi, and we recommend players try out the public practice modes before jumping into a match.
If you're looking for codes for other games, we have a ton of them in our Roblox Game Codes post! You can also get a bunch of free stuff via our Roblox Promo Codes page.