Lead an army of your favorite heroes from a myriad of popular animes in Anime Warriors Simulator! Your goal? Collect the most powerful characters and use them to progress through a world filled to the brim with enemies. Get the team you need through any means necessary to boost yourself through the game.
Our codes list below can play a big part in getting you where you want to go. Use these codes to get any resource you might need, or to give yourself massive multipliers that will make progress a breeze. Collecting anime characters and leading them to victory has never been easier!
While you're using the codes for Anime Warriors Simulator, don't forget to look at our huge selection of lists of codes for other similar Roblox simulator games. We have the latest codes for boosts and money in popular games like Brawl Legends, Anime Brawl: All Out, Soda Simulator X, and Ninja Star Simulator!
All Anime Warriors Simulator Codes List
Updated May 15

Added one new code
Anime Warriors Simulator Codes (Working)
clansupdate—Redeem for 1 Ultra Lucky Boost, 2 3x Damage Boosts, and 2 3x Yen Boosts (New)
bizarre175—Redeem for 1 Ultra Lucky Boost, 2 3x Damage Boosts, and 2 3x Yen Boosts
sorceryworld—Redeem for Boosts
levelpatch—Redeem for Boosts
DungeonFix—Redeem for several Boosts
update3dungeon—Redeem for several Boosts
code150—Redeem for several Boosts
Update2Heroes—Redeem for several Boosts
big100—Redeem for Boosts, Coins, and more rewards
sorry4shutdown—Redeem for several Boosts
update75—Redeem for several Boosts
luck40—Redeem for several Boosts
super20—Redeem for several Boosts
likes10—Redeem for several Boosts
Release—Redeem for several Boosts
Anime Warriors Simulator Codes (Expired)
How to Redeem Anime Warriors Simulator Codes
It's easy to redeem codes for free rewards in Anime Warriors Simulator. To do so, follow the instructions below.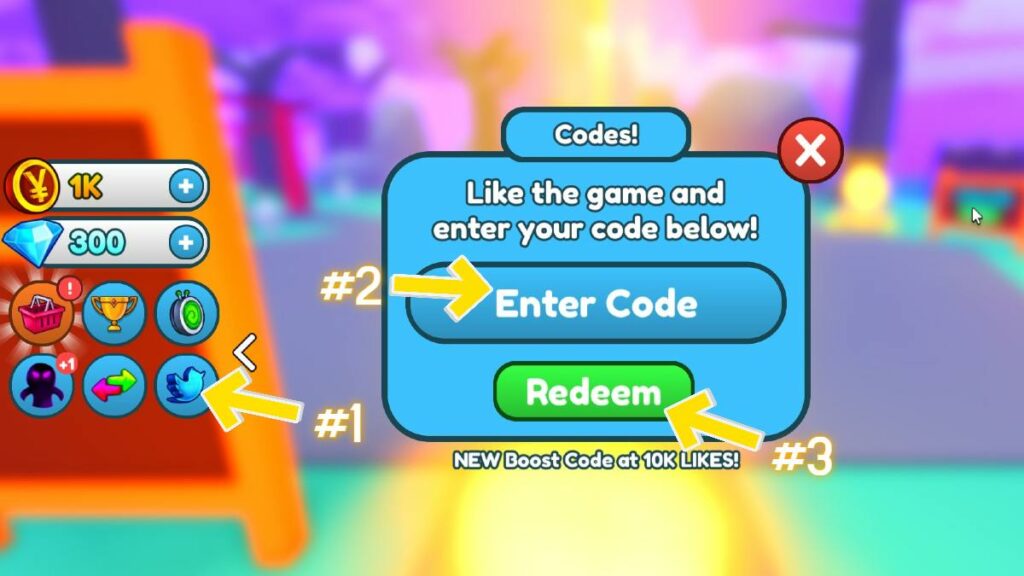 In the game, press the Twitter Bird icon on the left side of the screen.
In the text box, enter the code exactly as it appears in the list above.
Press the Redeem button to claim your reward!
What are Boosts in Anime Warriors Simulator and how do I use them?
Boosts are the most common reward for redeemed codes. They give multipliers in the game that can greatly increase the rate at which you earn Yen, deal damage, and receive high-quality drops. This makes it much easier to get massive amounts of Yen and Gems, and could be the extra push you need to get the rare characters you always wanted. To use them, press the Shop icon and scroll down to the Boosts section. Press the Use button next to the type of Boost you want to use and start swinging!
How do I get more Anime Warriors Simulator codes?
The best method to get the latest codes is to bookmark this page and check back regularly for updates. We do the tedious part of collecting the codes and present them all in one short list so you don't have to waste your time searching!
However, if you want the codes even faster, you can monitor for updates on the social media platforms for the developer (Enclamatic Simulations). They have a Twitter account, but it is infrequently updated. Instead, it's better to use their official Discord channel and look in the codes channel!
What is Anime Warriors Simulator?
Anime Warriors Simulator is an incredibly popular Roblox game that is a cross between simulator games and combat-based anime games. You start off as a lone wanderer in a wasteland of enemies, but soon get to put together a team of heroes that you obtain via rolls. With luck and perseverance, you can eventually build a team of heavy-hitting heroes from your favorite anime franchises!
If you're looking for codes for other games, we have a ton of them in our Roblox Game Codes post! You can also get a bunch of free stuff via our Roblox Promo Codes page.