Updated July 24, 2023

Updated page.
Master one of the most popular types of weapons in the world in Ninja Star Simulator, where you must craft powerful weapons to become the ultimate ninja. As you play the game, you'll notice there are two resources that take precedence over everything else: Gems and Coins. You need these to craft ninja stars and unlock more space to make even more powerful stars from them.
Fortunately, our codes list below can make all of that a breeze. With these Ninja Star Simulator codes, you can boost your income of either resource with multipliers that greatly increase the amount you earn. This is different than most other simulator games with codes that simply grant you cash. With the codes below, the amount you earn in game is determined by how long you play with the boost active!
While you're using our codes list for Ninja Star Simulator, don't forget to check out our huge list of codes for other popular Roblox games. We have the latest codes for games similar to this one, such as Soda Simulator X, Shopping Cart Simulator, Pet Simulator X, and Burn Everything Simulator!
All Roblox Ninja Star Simulator Codes List
Ninja Star Simulator Codes (Working)
Here's a look at all the working Ninja Star Simulator codes.
lively—Redeem for 30 minutes of 2x Gems (New)
stars—Redeem for a 2x Coins Boost (New)
spring—Redeem for a 2x Gems Boost
party—Redeem for a 2x Coins Boost
intresting—Redeem for a 2x Gems Boost
golden—Redeem for 2x Coins Boost
gift—Redeem for 2x Coins Boost
welcome—Redeem for 3k Gems
thanks—Redeem for 6k Gems
double—Redeem for a 2x Gems Boost
Ninja Star Simulator Codes (Expired)
These codes are no longer valid.
Roblox Ninja Star Simulator Frequently Asked Questions
How to Redeem Ninja Star Simulator Codes
It's easy to redeem codes for free rewards in Ninja Star Simulator. To do so, follow the instructions below.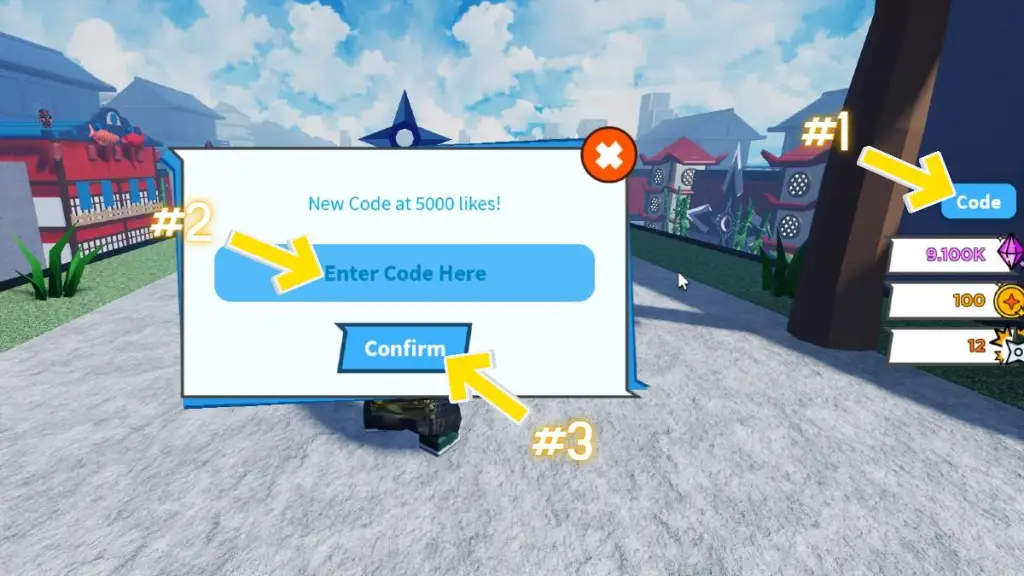 In the game, press the Code button on the right side of the screen.
In the 'Enter Code Here' box, enter the code exactly as it appears in the list above.
Press the Confirm button to claim your reward!
What are Chests in Ninja Star Simulator and how do I open them?
Chests are a bonus feature in Ninja Star Simulator that are awarded to players for playing the game for a certain amount of time. The longer you play the game, the more valuable the chests are that you can open. To open them, press the Chest icon on the left side of the screen. The window that opens tells you how long you need to play to open each chest. When you have played long enough, you'll see the chest can be opened in this window. Select the chest you want to open and press the Open button to roll for a reward!
How do I get more Ninja Star Simulator Codes?
Developers often add codes to games based on the support of their community. Ninja Star Simulator developer Bear Game announces new codes when they cross major thresholds for Likes and Favorites the receive on the game's Roblox page and for followers they have on the game's official YouTube channel. If you interact with the community on the Discord server, that also encourages the developer to add more content to the game!
What is Ninja Star Simulator?
Ninja Star Simulator is Roblox simulator game where you need to craft the ultimate Ninja Star to deal maximum damage. It differs from other simulator games in that you craft what you need by combining previous Ninja Stars that you've already acquired. As your Ninja Stars become more refined, they deal extra damage and make it easier to combine and craft even more powerful weapons!
If you're looking for codes for other games, we have a ton of them in our Roblox Game Codes post! You can also get a bunch of free stuff via our Roblox Promo Codes page.